Grade 10 students invented a Multifaceted Window fire exit after a city fire tragedy that killed more than 70 factory workers.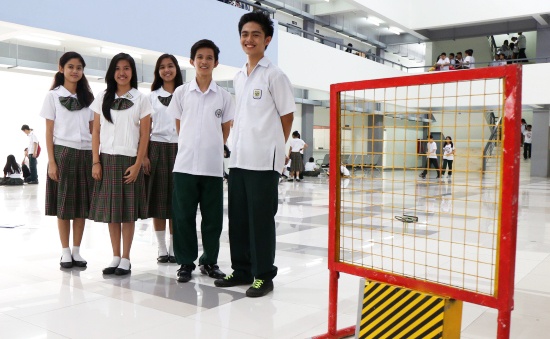 Students Simon Clark Carillo, Thea Gaviola, Kaila Nicole Jaucian, and Alec Denji Santos of the Valenzuela City School of Mathematics and Science responded to the city's subsequent fire safety inspections by designing an ordinary window that turns into a fire exit with its own smoke sensor and alarm.
The Multifaceted Window has a built-in MQ2 smoke sensor that detects heat at 31-degree Celsius, and triggers a built-in buzzer as the window unlocks itself for people to go through and get to safety.
The team used a solenoid lock, a hydraulic cylinder commonly found in car doors. The window also has a manual button control in case the sensor is out of range of the fire. A microcontroller runs the automation.
"Yong mga inispect po, constructed buildings na sila. Magcocost po ng too much time, effort, and money kung magpapagawa pa po ng fire exit, unlike po kung imomodify na lang [ang mga bintana], magkakaroon pa po ng alarm (Outfitting an already constructed building with a fire exit would cost the owner too much time, effort, and money. It would be wiser to simply change the design of its windows to become the fire exits themselves. The windows would have their own fire alarms, too)," said Santos.
The Multifaceted Window was given the third-runner up prize in the Student Creative Research category during the Department of Science and Technology's Regional Invention Contest and Exhibit at the Technological Institute of the Philippines – Quezon City. The student invention was also selected by the Technological Application and Promotion Institute for a patent application.
Facebook Comments