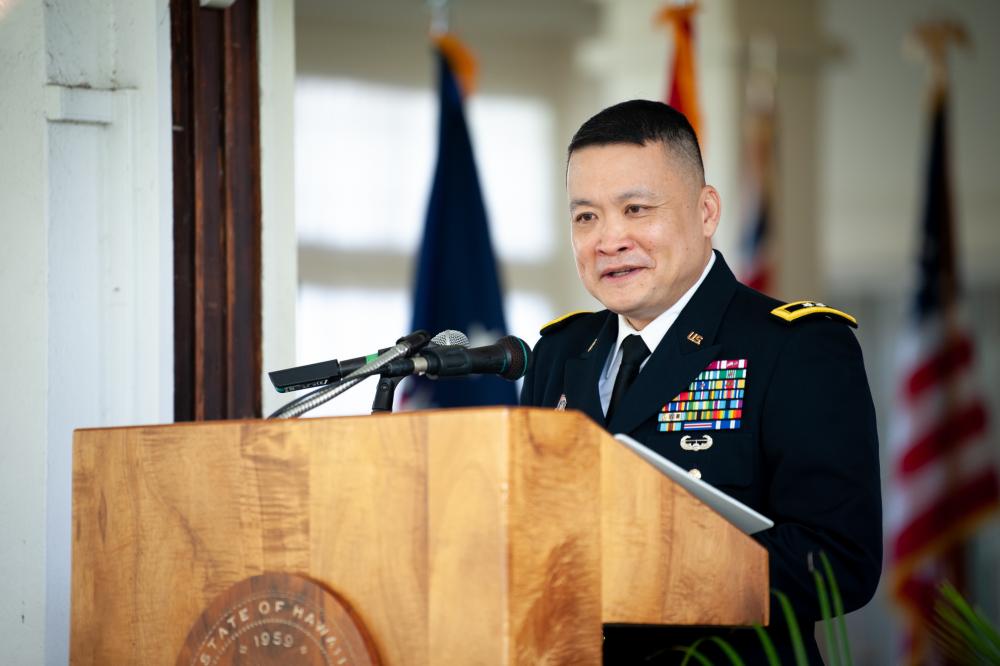 The Hawaiʻi Army National Guard's (HIARNG) highest-ranked Filipino officer, Roy J. Macaraeg, has been promoted to the two-star rank of Major General.
The first Filipino to attain the one-star rank of Brigadier General in the documented history of the Hawaiʻi Army National Guard continues his rise from the ranks of the United States Department of Defense, two stars away from the highest rank of General.
U.S. Army Maj. Gen. Roy Macaraeg was pinned to his new rank by Hawaii State Governor Josh Green and his wife Bene Macaraeg and administered into office by Hawaii Adjutant General Maj. Gen. Kenneth S. Hara during a promotion ceremony at the historic Washington Place in Honolulu on February 2, 2023.
First Filipino general of the Hawaii Army National Guard Roy Macaraeg has been promoted to a 2-star Major General @DVIDSHub FULL STORY on @GoodNewsPinas_ https://t.co/zddDGq2io6 pic.twitter.com/f9u2d8uzmI

— Angie Quadra-Balibay (@AngieQBalibay) February 20, 2023
Macaraeg's 33-year journey to the rank of a Major General in Hawaii began when he enlisted in the HIARNG in 1990. His excellent performance was noted by the army and he was hailed HIARNG Soldier of the Year in 1993.
He went on to become a Distinguished Honor Graduate at the Hawaii Military Academy's Officer Candidate School and was commissioned as a Field Artillery Officer in 1996. He has served in various positions including at the Pentagon and deployments to Iraq, Kosovo, and Kuwait.
Roy Macaraeg said he was surprised to be the first general officer of Filipino descent in the Hawaii National Guard, reported Hawaii News Now's Annalisa Burgos who interviewed Macaraeg when he got back to Washington, DC.
"In the Asian American community, we tend to be not vocal, right, you know, not aggressive. And I think, you know, part of it is really recognizing, you know, the opportunities and really going for the opportunities, right? There are I think if you show your value in any organization, you get the opportunities," the Filipino Major General said.
Roy Macaraeg shared he was born in Malasiqui, Pangasinan in the Philippines, and migrated to Hawaii with his family when he was 10 years old. He talked about growing up in Kalihi with his father, a construction worker, and his mother a teacher, with five siblings.
"My dad was a construction worker, my mom was actually a teacher. She taught at dole intermediate and then, you know, she started working for HMSA because, uh, you know, better, better pay and, you know, it would provide better for the family. But, just growing up, especially, immigrants, right, just assimilating in the system itself, getting comfortable making friends. But I think that's the key, though. You know, there there's always friction, right with groups, stereotypes. Obstacles are along the way. But, you know, it's just how you deal with them."
"Growing up, in kind of like an environment where you, you got to actually share things, right, because you didn't have anything, right? You just have what you needed. And actually, provide you that, that ability to actually solve complex problems early in life. Right, I think that's really part of, you know, what helped me to be resilient, to have the grit to really focus on what I need to do in life to be successful," said Macaraeg.
Major General Roy Macaraeg is among the many Filipinos in uniform serving the United States who continue to celebrate their heritage, like Donald Mendoza Graham, the first Fil-Am commander in the Los Angeles Police Department's 150-year history, and Colonel Ranelle A. Manaois, the first Filipina graduate of West Point.
SEND CONGRATULATIONS in the comments below to Major General Roy Macaraeg, the first Filipino Major General of the Hawai'i Army National Guard!
Good News Pilipinas is a Lasallian Scholarum Awardee. TELL US your good news story tips by messaging GoodNewsPilipinas.com on Facebook, Twitter, Instagram, or e-mail editor@goodnewspilipinas.com and WATCH Good News Pilipinas TV YouTube & Good News Pilipinas TikTok for more Filipino Pride stories!
Facebook Comments