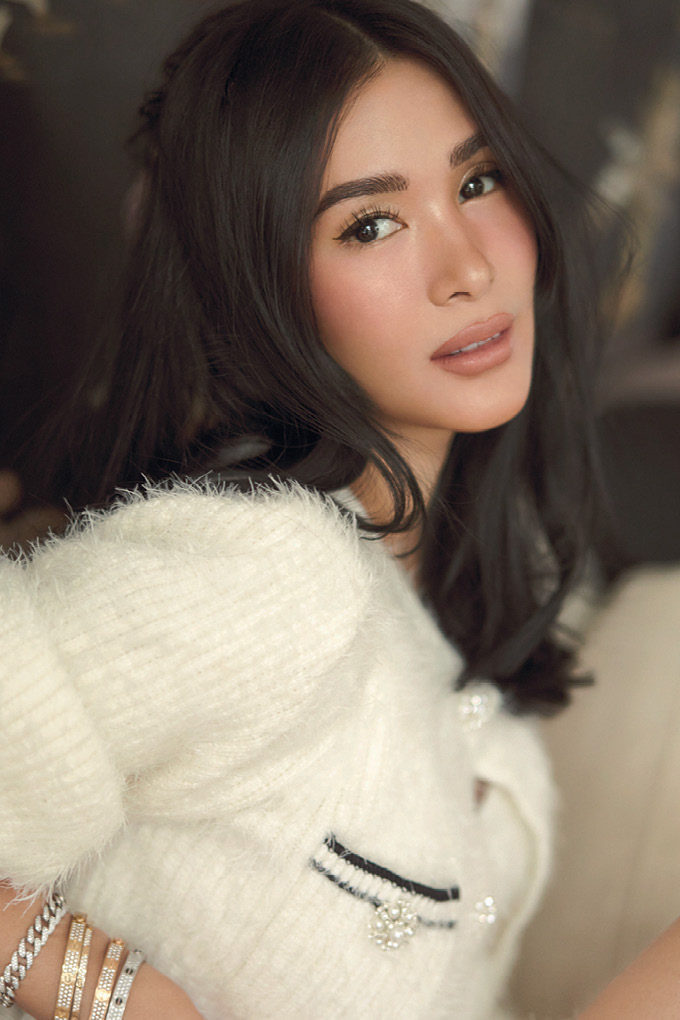 Filipina celebrity Heart Evangelista has championed her advocacy on mental health awareness in a new feature by fashion magazine Vogue Singapore.
Evangelista is featured in the magazine's "Eternity" issue for the month of November-December 2021, with "Eternals" actress Gemma Chan on the cover.
The Kapuso actress also shared the news with her followers by posting photos of her Vogue Singapore shoot on Instagram.
"Read about my never-ending love affair with fashion and the arts and the importance of mental health awareness in this month's @voguesingapore's Eternity issue," the Filipina actress wrote in an Instagram post on November 22, 2021.
In the Vogue article, Heart Evangelista shares about how being a media darling affected her mental health, penned by Vogue's Sandhya Mahadevan, Evangelista bravely opened up about her own struggles regarding mental health and its impact on her career.
Evangelista revealed battling depression and anxiety, which led to the rare condition Burning Tongue Syndrome.
"It was like a miracle. I was like, 'oh my god, there are so many who are suffering in silence, because they don't know why or are embarrassed to seek help," Heart Evangelista was quoted as saying in the magazine article published on November 22.
"This is something that can be fixed, you just need to take the first step," she adds.
The Filipino artist hopes that raising awareness would remove the negative stigma and discrimination faced by those living with mental disorders and issues.
"I talk about it whenever I have a bigger platform to express myself. And why would I not, when taking control of things like I did can save someone's life?" Evangelista continued.
"It used to bother me in the beginning, but not anymore. This is my truth, and I will fight with all I have got to get myself back."
Evangelista also talked about Asian representation in international movies, embracing flaws, and her own journey towards self-love and acceptance.
"People now show their stretch marks, I mean that's a lot," she said. "I also love how Asians are no longer on the sidelines when it comes to movies. And that's why, as an artist or influencer. I think it's really important that we still keep talking about it and make it the new normal."
"I have started to do more and I feel like the universe has also opened up to me. I still have my bad days and good days, but this is me. This is who I am today and I'm proud of my flaws. Perfection is not of this world," Evangelista concluded.
Evangelista previously spoke up about her mental health advocacy and experiences during the international conference Global Town Hall 2020 to help end the stigma surrounding mental health.
Asia's fashion icon Heart Evangelista has also advocated for animal rights and together with the Philippine Animal Welfare Society (PAWS) group rescued pets inside the Taal danger zone while her project Big Heart PH provided students with distance learning tools.
SEND CHEERS in the comments below to Filipina celebrity Heart Evangelista for championing her advocacy on mental health awareness in a new feature by fashion magazine Vogue Singapore.
Good News Pilipinas is celebrating its 15th Anniversary in 2021 by giving away prizes! Subscribe to this website and  Good News Pilipinas! TV YouTube channel and enter the raffle by telling us what you like about our stories in an email to editor@goodnewspilipinas.com
Facebook Comments