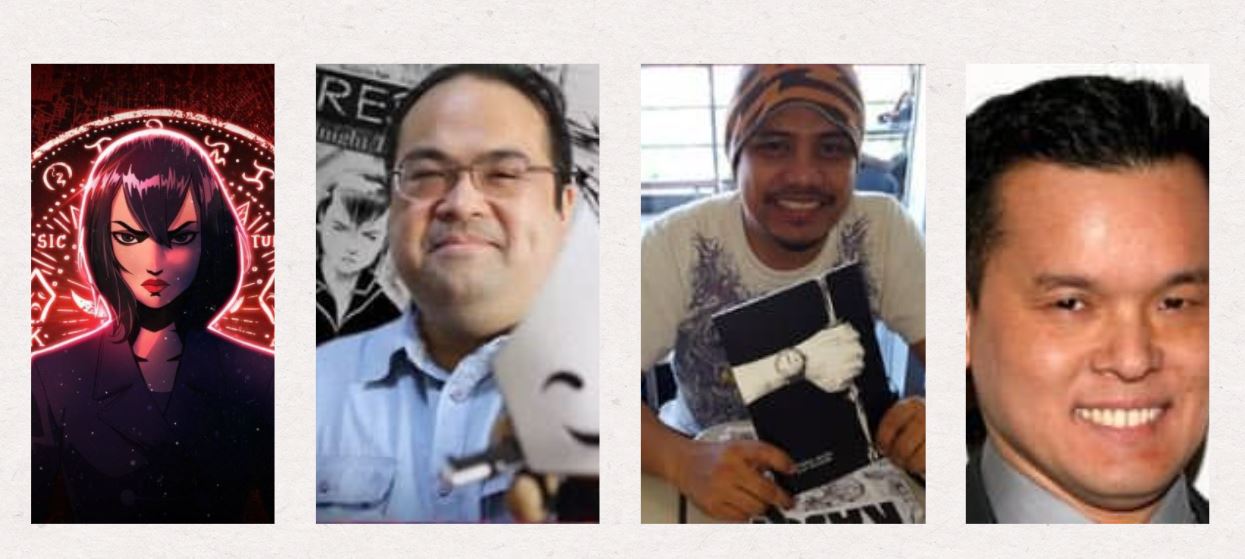 The first Philippine-made anime "Trese" creators Budjette Tan and Kajo Baldisimo together with Netflix show director/showrunner Jay Oliva, are headlining the upcoming creative industry talks, CREATE Philippines.
CREATE Philippines' Creative Futures is a two-day digital conference, featuring leaders and experts, to inspire and discuss the future of the Philippine creative economy.
Tan, Baldisimo, and Oliva are scheduled to talk about the graphic comic book's journey to becoming a Netflix adaptation, a historic first for Philippine anime.
Filipino-American comic book writer and X-Men artist Whilce Portacio will also share insights on telling Filipino stories to a global audience.
The fourth edition of CREATE Philippines on June 28 and 29, 2021, will be an online event that brings together creatives in the fields of Animation, Advertising, Communication Design, Game Development, Digitalized Creative Content, and Comics and Illustration, among others. Furthermore, the event serves as both a celebration of the inherent creativity of Filipinos and a take-off point for realizing the economic potential and business viability of the creative industry.
Inspired by derivative contracts in business, the conference was aptly named Creative Futures to reflect the impact of the creative industry in the country's overall economy when developed further. The conference is meant to foster community-building where creatives can find a space to collaborate and learn from leaders in the field and pioneers in the digital landscape. From this community, the Center for International Trade Expositions and Missions (CITEM) aims to promote the Philippine creative to potential clients as the agency highlights the best of what the industry has to offer.
With prolific editor, writer, and composer Erwin Romulo as the Program Director, Creative Futures is packed with a curated line-up of speakers, features, and panel discussions that will tackle the future of the creative industry. Notable industry champions in the public sector, business leaders, and key people in the creative industry will share their stories of navigating the "new normal" and offer insight on how they see their industries advancing in the coming years.
The Creative Economy Council of the Philippines (CECP) named 2030 as the target year for the country to become the top creative economy in the ASEAN region. For Creative Futures Program Director Erwin Romulo, the target year factored heavily in the selection of programs that shaped the conference. "We took that very seriously and started with the mindset of presenting case studies, presentations, and conversations that would help in creating an environment for that goal to be achieved," he explains.
"Time is a big factor and we have less than a decade to go. Therefore, we started with initiatives that are already happening and existing. This way, we envisioned the conference as an avenue that will help push these remarkable projects a little further on. Either by forging partnerships or facilitating conversations with potential collaborators in the private and public sector," Romulo adds.
One of the highlights of Creative Futures is the presentation of the Philippine Creative Industries Act. Authored by Congressman Christopher "Toff" de Venecia and filed by the Arts and Culture, and Creative Industries Bloc of the 18th Congress (ACCIB), the bill aims to provide an enabling policy and governance framework that will shape the Philippine creative industry, make it globally competitive, and ensure a sustainable future for the country's local talents.
Recognizing the vital role the government has to play in the rise of Filipino creatives, CITEM is pushing institutional support by fostering enabling environments where creatives can flourish and develop ways to support and encourage future creatives.
"We wanted to put together an event that would treat creativity in such a manner that it presents options about how creative assets can be treated as 'futures,'" CITEM Executive Director Pauline Suaco-Juan says. "These are things we want to highlight and it's worth taking a second look for support to grow their sector," she adds.
The first day of the event features the following line-up of activities and speakers:
1. An adobo Magazine-produced panel of local creatives, including Design Center of the Philippines Executive Director Rhea Matute, Intramuros Administrator Atty. Guiller Asido, Curiosity's Kristine Layaoen, Design Advisory Council's Architect Royal Pineda, and Plus63 Design Co. Founding Partner Dan Matutina, who will talk about the role of data and graphic design in enhancing Intramuros' urban planning and user experience
2. Trese creators Budjette Tan and Kajo Baldisimo, and director/showrunner Jay Oliva
3. Filipino-American comic book writer and artist Whilce Portacio
Scheduled on the second day are:
1. Kiddo Cosio's presentation of La Union's The Great Northwest and talk on how they've run and managed their business, and navigated the lockdowns brought about by the pandemic
2. A presentation by Kumu Philippines, together with its Co-Founder and Social TV Chief of Content Angelo Mendez and Vice President for Marketing Vicky Herrera, on how it plans to make the country the region's latest technology hub
3. A panel discussion on eSports with Evident Communications CEO Cecile Yujuico, Tier One's Tryke Gutierrez, Gariath Concepts' Joebert Yu, and eSports caster Mara Aquino
4. National Artist for Cinema Kidlat Tahimik's short film about empowering communities in storytelling
LINK National Artist for Cinema Kidlat Tahimik
A two-part curated program of short films from different regions of the country, presented by the Film Development Council of the Philippines with introduction from Chairperson and CEO Liza Diño-Seguerra, will also be happening on both the first and second days of the conference.
Aside from these presentations, talks, and panel discussions, a series of breakout sessions featuring brand and industry panels are also in the works as the program continually expands its partnerships in the public and private sectors.
As part of CITEM's digital shift, CREATE Philippines will be launching its website not only to showcase the journey of Filipino creatives through engaging content but to help capacitate the sector. "We want the CREATE platform to be a directory of sorts and a starting point for collaboration within diverse sectors of the country's creative economy," Suaco-Juan adds.
For more information about CREATE Philippines and the Creative Futures 2021 digital conference, register at http://bit.ly/creativefutures2021.
Good News Pilipinas is celebrating its 15th Anniversary in 2021 by giving away prizes! Subscribe to our Good News Pilipinas! TV YouTube channel and enter the raffle by sending us an email to editor@goodnewspilipinas.com
Facebook Comments