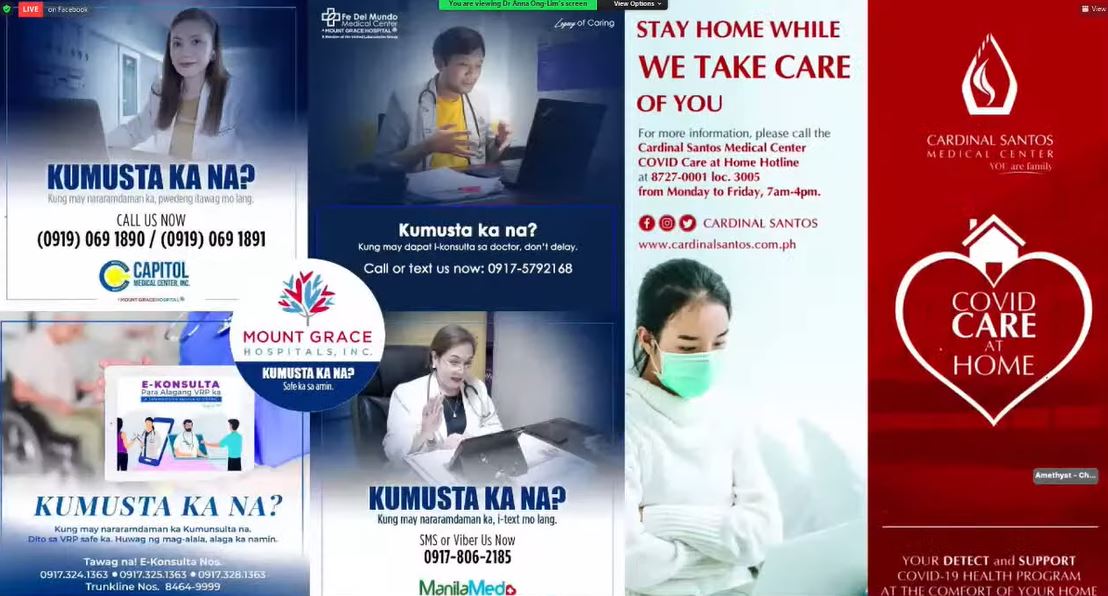 How can you provide COVID-19 isolation for family members at home and stay safe? The answers to this question were presented by the University of the Philippines College of Medicine (UPCM) and Philippine General Hospital's (PGH) Dr. Anna Lisa T. Ong-Lim in a webinar organized by the PGH Ministry and Santuario de San Antonio Parish.
Dr. Ong-Lim's presentation in the virtual seminar "What To Do When Covid Hits Home" went live on April 10, 2021, reaching thousands of audiences on Zoom, Facebook, and YouTube.
The Infectious and Tropical Disease specialist and Division Chief at the UP-PGH Department of Pediatrics said home care could be a viable option for someone confirmed or suspected of having mild or moderate coronavirus disease when hospital care is not available.
The PGH Covid Referral Center doctor noted that with the recent surge of cases in the National Capital Region (Metro Manila) and nearby provinces and the number of active cases nearing the 1 million mark, the public can help decongest hospitals by keeping the family member in isolation at home.
Dr. Ong-Lim emphasized the need to identify who can be placed in isolation at home, particularly people who can self-manage their needs and including patients who have already been discharged from the hospital and to consult a physician when setting up the home care.
The following conditions are needed to allow home isolation:
Clinical evaluation of the COVID-19 patient
Evaluation of the home setting
Ability to monitor the clinical evolution of a person with COVID-19 at home
No shortness of breath
No difficulty of breathing
Respiratory rate is not less than 30 breaths per minute
Oxygen saturation on room air at least 94 percent
The webinar further discusses the following:
Differences between Quarantine vs Isolation
Requirements for setting up home care
Importance of wearing personal protective equipment (PPE)
Caregivers providing home care
Inclusions in Home Care Kits
Knowing when it is time to seek emergency medical attention
Calculating when is recovery can be expected
The UP PGH has been at the forefront of the battle against Covid 19 in the Philippines. In March 2020, the state university-run hospital was designated a Covid Referral Center and its hotline went live to serve the public.
CHECK OUT: What To Do When You Are Suspected or Confirmed to Have Covid 19 in the Philippines.
WATCH the full webinar here and SHARE THIS STORY to help others learn How To Provide COVID-19 Isolation At Home While Keeping Your Family Safe.
Good News Pilipinas is celebrating its 15th Anniversary in 2021 by giving away prizes! Subscribe to our Good News Pilipinas! TV YouTube channel and enter the raffle by sending us an email to editor@goodnewspilipinas.com
Facebook Comments