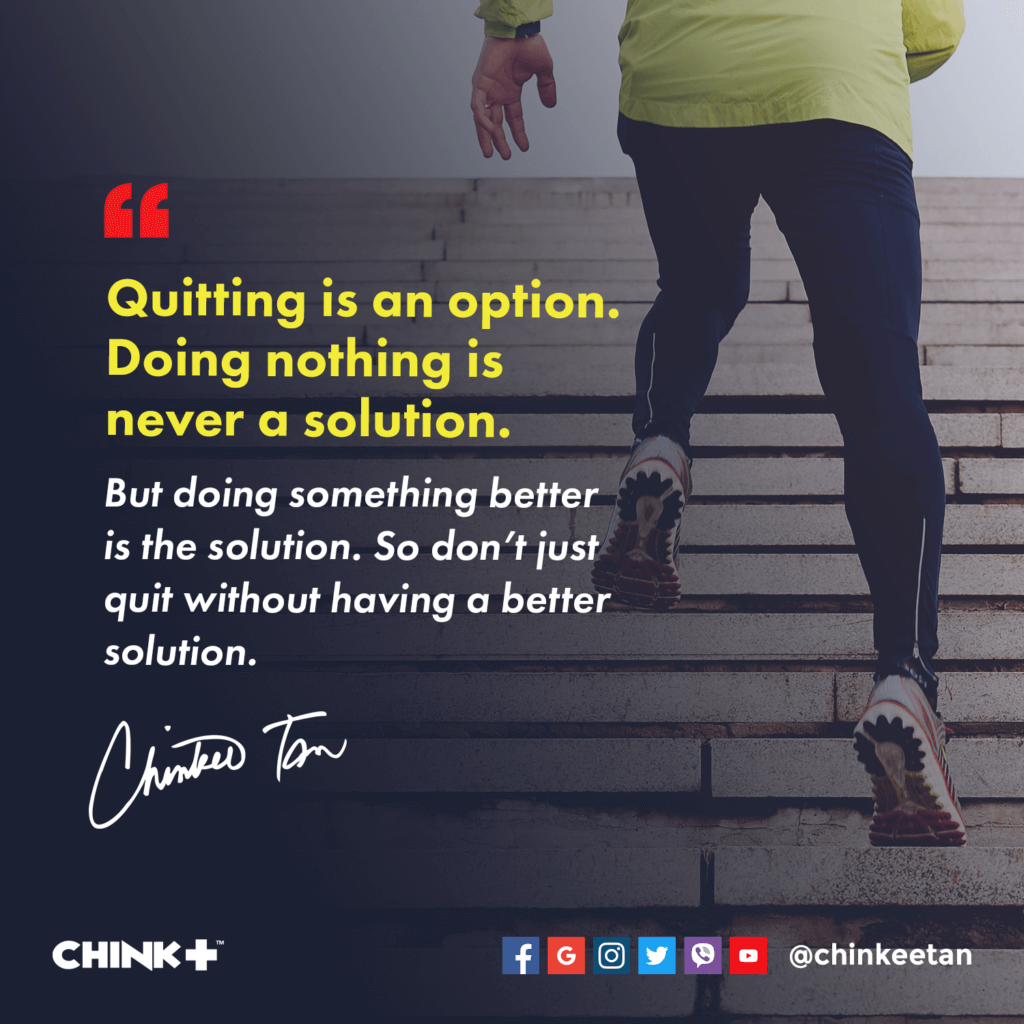 Chinkee, I do not want to go to work anymore!
I no longer want to fight for this business!
I cannot see any meaning in my work anymore!
Before you give up and breakdown, let me say that what you are feeling is completely understandable. I have felt that, too. I was also demotivated and it still comes to me once in a while. But throughout the years of pushing myself to accomplish my goals and to fulfill my calling, I have figured out a process so I can immediately win over demotivation — so I will not dwell on it, wallow, and fall into the temptation of giving up. Here is a simple 3-step process to defeat demotivation.
DETERMINE THE PROBLEM
It is useless to give cough syrup to someone who has muscle pain. The remedy must always match the illness. So if you are tired of doing your work or whatever you have believed to be your purpose in life, then it is time to assess yourself. What is the root of your unhappiness? What is the cause of your demotivation?
Is it because you hate your company's new policies?
Is it because your co-workers are not easy to work with?
Is it because you are not getting the results you wanted?
Do not immediately decide to quit or to change course. Pause and figure out the real reason that you are unhappy. Perhaps a simple tweak in your environment or with your perspective can bring you back on your feet.
MAKE AN ACTION PLAN
After that thorough evaluation of yourself and you already know the real source of your unhappiness, then it is time to do something about it. Do not let yourself dwell on bad thoughts that will lead to bad decisions that you may regret later.
If you do not like your company's new policies, perhaps you can suggest improvements. If that does not work, you can always take on new hobbies to relieve stress from work. If your problem is your co-workers, maybe you can set boundaries or you can lessen your time with them. Move away from toxic relationships. If you are not getting the results you wanted, maybe it is time to check if you have set realistic goals. If your goals are achievable, then perhaps you need to put in more effort.
TAKE ONE STEP AT A TIME
Sometimes, the real reason behind the temptation to quit is the overwhelming feeling of having too many tasks at hand. It is either we fight it or we take flight away from it. Most of the time, we choose to flee from our problems by giving up. The only solution to this is to take one step at a time.
In putting up a business or accomplishing projects in the office, there are times that tasks seem to be never-ending. Whenever this happens, we fight that battle piece by piece. We can partition that enormous task into smaller and doable tasks. Through this, you can convince your mind that they are just several easy tasks.
For example, you need to organize an event. The event seems larger than life. You feel that it is too big for you. To overcome this big task, you can partition the event preparations into pre-event, event proper, and post-event preps. Pre-event preps may include budget and program proposals, and pitches. After completing the pre-event preparations, you can move on to the event proper. It may include completing the program flow, audience seating, etc. Post-event may include budget reports and gathering participant feedback.
By dissecting the enormous tasks into smaller ones, you can have the feeling that it is doable. Plus you also have devised a system on how to approach the task. Thus, you are overwhelmed no more. You can now focus your energy on working instead of entertaining the thought of quitting.
I have always believed that demotivation is just like the seasons — it comes and goes; you just need to toughen up and learn how to get through it. Many have suggested that if something does not work, quit and move on. However, quitting is not always the best option. Sometimes, persevering and working it through is the wiser decision. Remember that quitters never win. Winners never quit. You can work your way out of demotivation.
THINK. REFLECT. APPLY.
Are you still inspired to do your work?
How have you been battling demotivation?
When can you say that it is time to quit?
READ MORE Chinkee Tan Tips: What Motivates You?
5 Declarations You Need to be Successful in 2020
5 Characteristics of A Good Problem Solver
TELL US in the comments below, what are your sources of demotivation and how are you handling them?
Facebook Comments