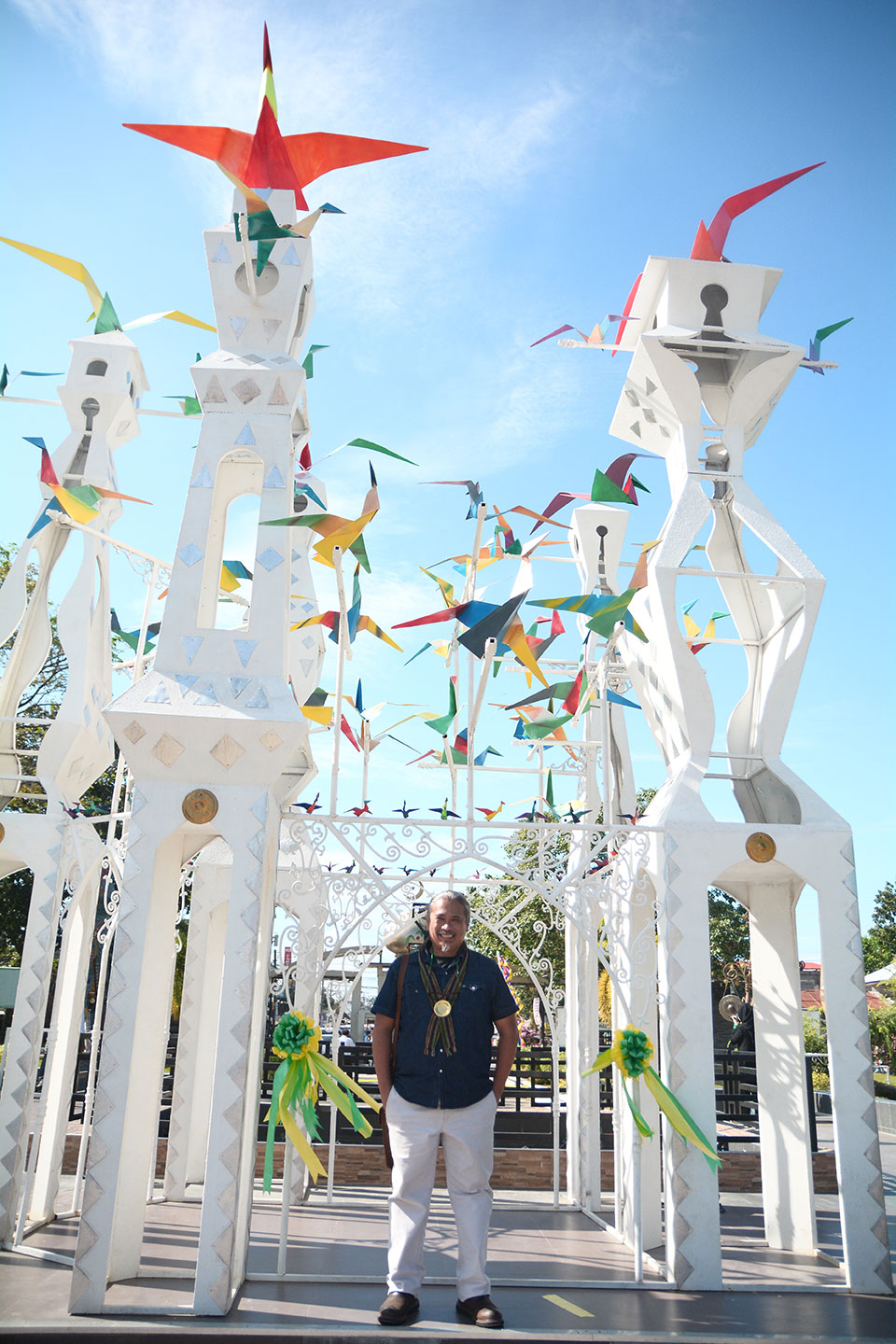 Following its successful run in Makati City, Davao City, and Cebu City in 2017, Manāra, an interactive art installation on Muslim Mindanao culture supported by Ayala Foundation, is now proudly displayed in its permanent home—the grounds of the Autonomous Region in Muslim Mindanao Office of the Regional Government Complex.
Manāra—the Arabic word for "minaret"—is the result of the creative collaboration between internationally acclaimed sculptor and painter Toym Imao and industrial designer and installation artist Lilianna Manahan. Manāra is an initiative of Ayala Foundation, with the support of Ayala Malls.
Featuring 23 minarets and lanterns, the Manāra interactive art installation features Moro textiles, wood and metal work, music, and indigenous patterns. Traditionally, minarets served as lighthouses, providing light to people and vessels that needed to find their way. Minarets, which are also important architectural features of mosques, are also where calls to prayer are made.
Similarly, the Manāra art installation hopes to shed light on the richness and diversity of Moro culture, and in the process inspire a deeper understanding of Muslim Filipinos. At the same time, the interactive art installation serves as a call for peace and unity—for Filipinos, even though they come from diverse backgrounds, to become more open to dialogue and cooperation.
Present to ceremonially inaugurate the Manāra interactive exhibition in its new home were ARMM Regional Governor Mujiv Hataman, Ayala Foundation President Ruel Maranan, and the artist Toym Imao. The inauguration was held on November 22, coinciding with the "Showcase and Synergize" event of the Bangsamoro Young Leaders Program–Leadership Communities, a partnership program of Ayala Foundation, Office of the Regional Governor–ARMM, and the Eisenhower Fellows Association of the Philippines.
"Manāra is our way of showing the colorful and engaging culture of our Muslim brothers and sisters in an immersive manner," says Ruel Maranan, president of Ayala Foundation. "The forms, symbols, materials, and meanings are uniquely Moro in nature. Through Manāra, we hope that we will all be more open to interact with one another, in the spirit of partnership, collaboration, and peace for the country."
First brought to ARMM in November 2017, Manāra underwent significant modifications in January 2018, to ensure that it could withstand the elements. The installation was completed in September 2018.
Today, the exhibit can be enjoyed by anyone visiting the ARMM Complex.
Facebook Comments