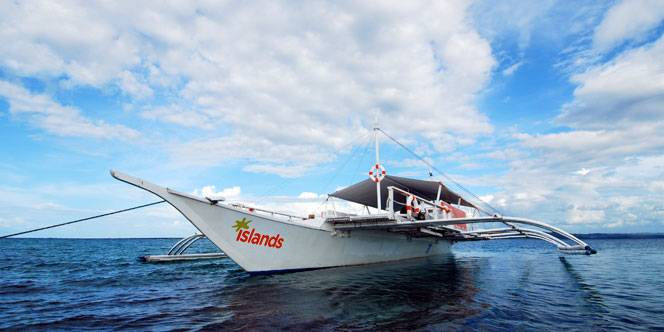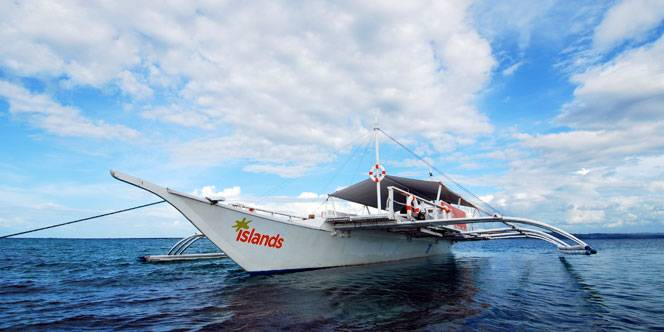 Eight years ago, Zaldy Catana was working in a dive stop in Lapu-Lapu City when he decided to work for the new Islands Banca Cruises (IBC). Started by entrepreneur Jay Aldeguer, IBC aimed to professionalize the island- hopping work and enhance the experience of clients.
"Nobody, including me, ever thought of making island-hopping in Cebu more convenient and stress-free for guests. Guests would come here, in Mactan, and haggle with boat operators until they agree on a price," Catana, captain of Butanding Uno, said in Cebuano.
As captain, his top priority is to ensure the safety and security of guests. He has to make sure the boat is in tip-top shape for everyone's safety.
Catana, one of IBC's 18 employees, said he enjoyed bringing guests to the sea for visits to the Cebu islands of Nalusuan and Olango and the Bohol island of Pandanon.
His work at IBC enabled Catana, his wife Belen and their three children (Chabie, Chaonie and Chemarie) to open a sari-sari store in their hometown of Bogo in northern Cebu. The family also has a small farm where they grow corn and cassava and raise pigs, goats and chickens.
Catana's son, Chabie is now also an IBC employee. The two younger children are still in school.
Working for IBC, Catana said, taught him valuable lessons that he applied in the sari-sari store his wife runs.
"I learned that you have to work hard to succeed. The island hopping business was met with opposition and criticism by rival boat operators. I learned that we could not give up just because it was the easiest thing to do. You have to value your relationships with your boss and your colleagues," he said.
Cousins Arnel and Rolly Cadlawon, on- call boatmen, said they learned the value of customer service, especially when dealing with non-Cebuano speaking guests.
"Some guests are nice, others are snobbish. But the most important thing I learned is that you have to do your job well because it is your job," said Rolly
Arnel said the job of a boatman required focus and dedication, especially when weather was bad.
By working with the community, Islands Banca Cruises professionalizes island-hopping in Cebu by offering convenient and stress-free experience
Rolly and Arnel, both in their 30s, are natives of Bogo. They learned that the company needed on-call boatmen after Rolly's brother Ranny, who has been with the company for seven years, told them about it.
Aldeguer, who also runs a successful chain of retail outlets, Island Souvenirs, saw good opportunities in the island-hopping business and formed IBC in 2008.
Island-hopping is one of the top leisure activities in an archipelago like the Philippines but most of the services are not professional and substandard.
IBC, leveled up and introduced an expanded sunbathing deck lined with bean bags, an iPod deck and wireless access. A customer-focused and well-trained crew offers fresh towels and cold beverages during a trip.
Initially, the change introduced by the company was met with resistance.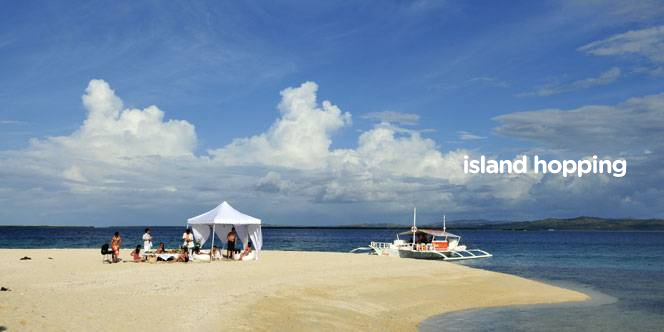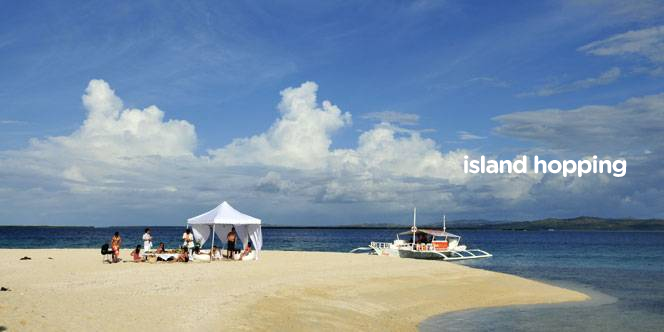 "We had to change the culture of the bangkeros, the way customers booked boats, services offered on board and many more. But as we began showing industry players that the changes were proactive and would bene t the business of island-hopping as a whole, shareholders became more receptive and many industry players also started to 'upgrade' their own services," Aldequer said.
The company's 18 employees are mainly bangkero or boatmen, who serve as captains and co-captains. They are joined by lifeguards and stewards, who act as the tour guides.
Aldeguer said bangkeros were the best ambassadors of the different islands the tours visited.
"We hire our bangkeros not just for their boating skills, but also because they are familiar with the routes. They have been sailing in these areas all their lives. It will not make sense if we get outsiders to operate our boats," Aldeguer stressed.
Seven years ago, the company expanded its operations by tapping other boat operators to enable IBC to meet the growing demand for its services.
"I learned that we could not give up just because it was the easiest thing to do. You have to value your relationships with your boss and your colleagues,"
Aldeguer said they decided it was better to involve the community rather than buy new boats.
The company trained boat owners and helped facilitate the processing of their Maritime Industry Authority (MARINA) licenses, among other things.
Aldeguer said dealing with the community was a major challenge, particularly as they had to ensure that they (other boat owners) met company standards.
IBC also looked for ways to ensure that local communities earned through the Islands Group of Companies.
"In the case of our boat suppliers, we needed to strike a balance between helping them improve their services, such as providing logistical support, while ensuring that we did not give too much help to the point of 'spoon-feeding' them so they would not lose their entrepreneurial spirit," Aldeguer said.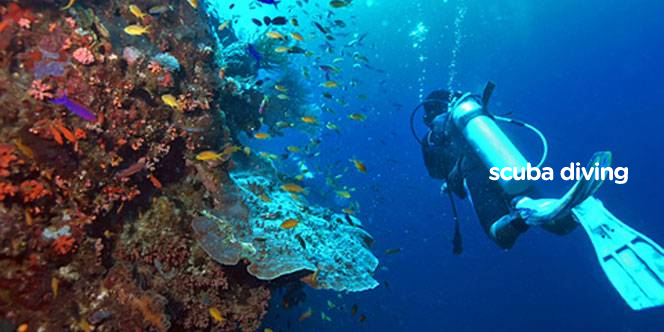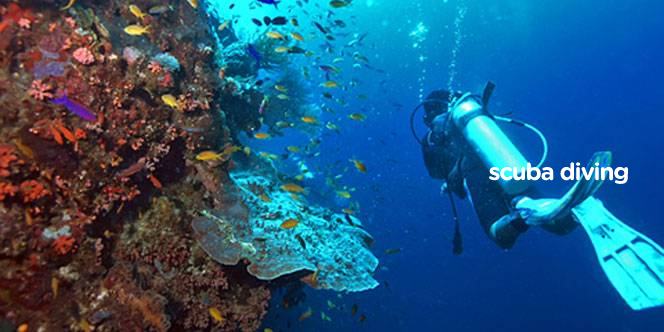 He said the strength of IBC was its commitment to truly "improve a visitor's experience in the Philippines." The group of companies also aims to raise the level of cottage and backyard industries and make them more professional.
"The good thing about the tourism business is that it allows you, even requires you, to engage and involve the community. Many of the locals possess untapped talents and skills, which businesses should capitalize on," said Aldeguer.
Companies, he said, had a social and moral obligation to contribute towards the development of the community from where they drew resources and income.
He said he wanted to replicate what they did in Cebu in other areas in the Visayas and Mindano.
"The goal of Islands Banca is to elevate and professionalize island- hopping. Because of how we do things in Islands Banca, local boat operators were compelled to raise their standards and improve their services. The overall impact on the island hopping industry in Cebu has been bene cial to all stakeholders," said Aldeguer.
This story is part of a series of articles written by GO NEGOSYO writers being published by GoodNewsPilipinas.com as part of our support to Philippine businesses.
Facebook Comments