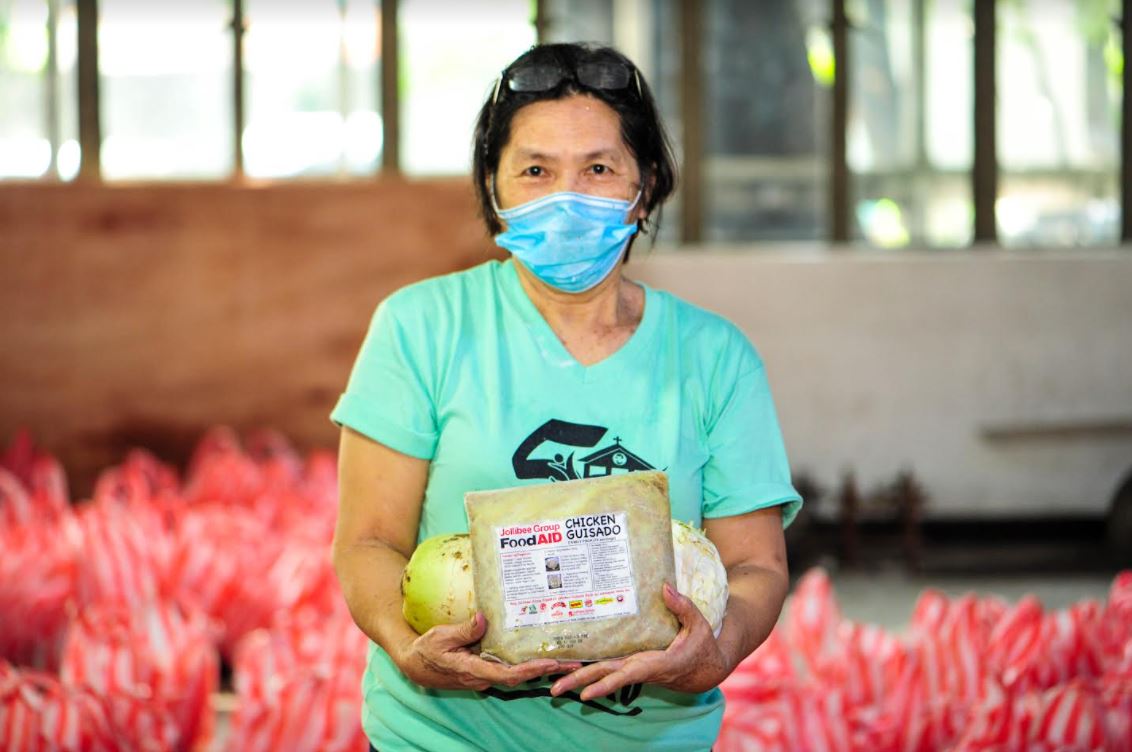 The Jollibee Group is continuing to provide food assistance to communities and frontliners in need through the Jollibee Group Foundation's FoodAID Program which has distributed over 6.4 million meals since March 2020.
The initiative is part of the homegrown Filipino global restaurant chain's promotion of food access amid the hunger problem in the Philippines due to the COVID-19 pandemic as it notes that hunger remains prevalent among low-income families.
In response to the hunger situation, the Jollibee Group has mobilized more than PHP321 million worth of meals, hygiene kits, and other food items sent through the FoodAID Coin Bank, as well as donations from various partner organizations such as Temasek Foundation and the German Federal Ministry for Economic Cooperation and Development (BMZ) through DEG (German Investment Corporation).
Of the total resources mobilized by the Jollibee Group Foundation, PHP240 million-worth of food products was donated directly by the Jollibee Group through ready-to-eat meals from brands, specifically Jollibee, Chowking, Mang Inasal, Red Ribbon, Greenwich, Burger King, Panda Express, and PHO24. The Jollibee Group also developed and distributed ready-to-cook beef meatballs and sauteed chicken to ensure that families in need have enough food while coping through the pandemic.
"The Jollibee Group recognizes the crucial need to address hunger in the country and commits to effectively promote food access among communities and healthcare workers through our FoodAID Program. As we continue to grapple with the effects of the pandemic, we would like to thank the generous donors and partners for trusting us. Together, we can continue to help the people who need it the most," said JGF Executive Director Gisela Tiongson.
"Where there is hunger, there is fear. But where there is a hot meal put together by the kindness of so many people, there is hope. The Art Relief Mobile Kitchens in Los Baños, Iligan, Davao, and Zamboanga have been beneficiaries of much-needed protein and other ingredients from the Jollibee Group. Salamat (thank you) for helping us sustain our work," said Art Relief Mobile Kitchen founder Precious Leano. ARMK cooks hearty and healthy meals for low-income residents, frontliners, and victims of disasters.
Donation channels
To allow the public to actively participate in the FoodAID Program, the Jollibee Group brought its in-store coin banks online. When community lockdowns were first implemented in the country in March of last year, the FoodAID Coin Bank Program enabled a safer, faster, and more convenient system to make immediate contributions to pandemic relief.
Aside from donating through the physical Coin Banks in the stores of Jollibee Group brands, there are four other ways interested donors may donate. With a minimum donation of PHP20, donors can already provide a meal for a person in need.
The public may send donations through online bank transfer to the Foundation's Metrobank (Account number: 473-7-473-01406-4, SWIFT Code: MBTCPHMM) and RCBC (1253-10519-0) accounts.
Interested donors may also send money through GCash apps using the QR Code provided, and PayMaya app through http://pymy.co/jollibee.
People can donate using their GrabRewards points by checking the list of Rewards in the Grab app. Just go to the GrabBayanihan section, look for Jollibee Group Foundation's "Share the Joy with 1 Meal" campaign, select the amount of points to donate, and click Redeem.
SEND CHEERS in the comments below to Jollibee Group FoodAID for distributing 6.4 million meals as part of its Covid pandemic response.
Good News Pilipinas is celebrating its 15th Anniversary in 2021 by giving away prizes! Subscribe to our Good News Pilipinas! TV YouTube channel and enter the raffle by sending us an email to editor@goodnewspilipinas.com
Facebook Comments