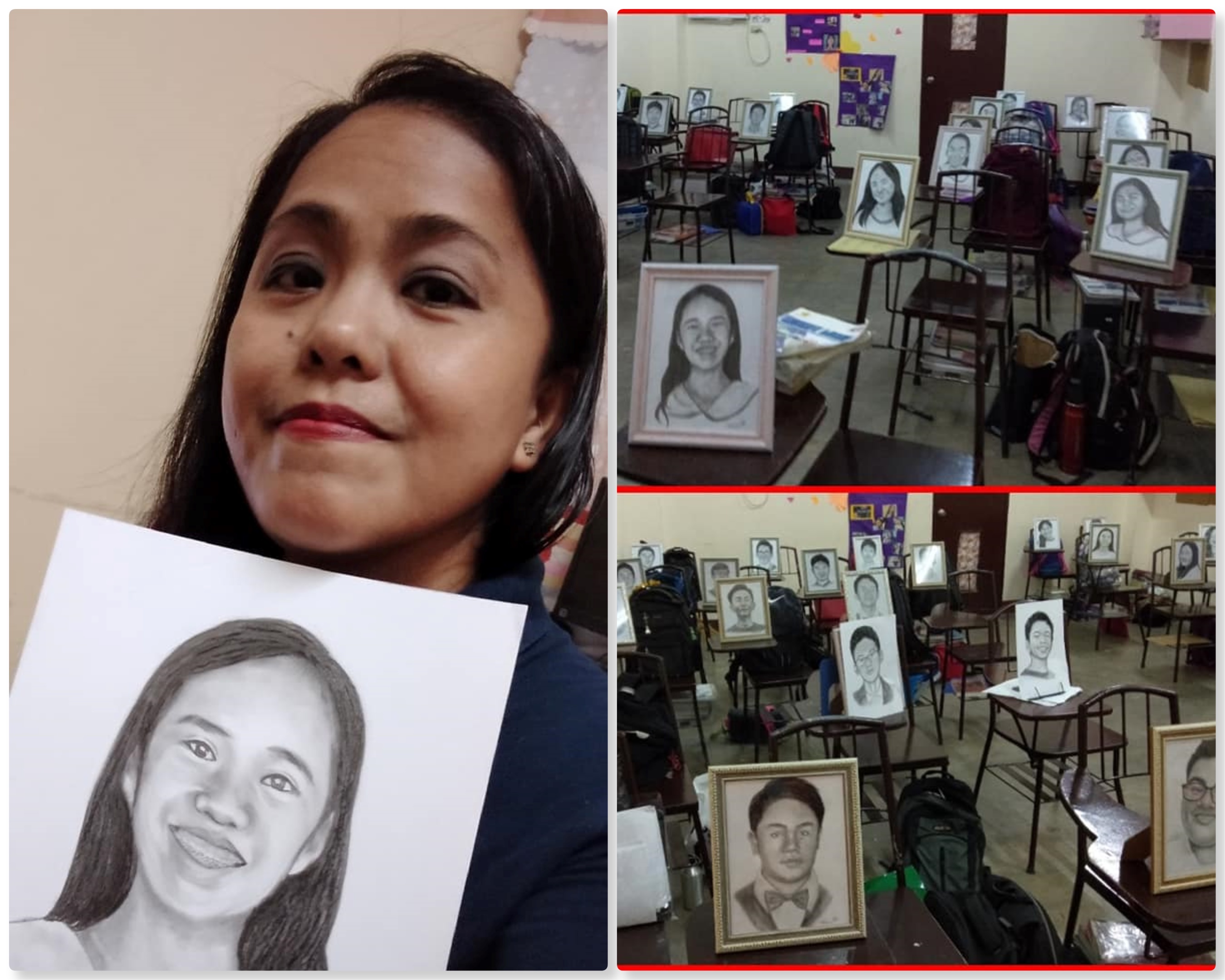 Laguna teacher Roselyn Barcoma surprised her students coming back to school after the holiday break with portraits she made – but she herself was surprised by netizen's attention which made the story go viral on the internet.
The Grade 9 school teacher created drawing portraits for her 27 students, intended as her Christmas, New Year and welcome gift. She started her Project Descartes on December 1, 2018 and finished them by January 6, 2019 – then posted scanned images on her social media.
Netizens immediately started commenting and sharing her drawings, eventually getting the attention of international and local media. Teacher Roselyn has since been written about by London's BBC News, New York Huffington Post, international media from Canada, Hongkong, Fiji, Bangladesh, Italy, Vietnam, major blog sites, and all the major news organizations in the Philippines.
The 35-year-old Holy Redeemer School teacher talked to GNP about her drawing hobby, the Project Descartes, and her mission to inspire her students.
Teacher Roselyn revealed to GNP that she only wanted to give something her students would appreciate and did not seriously expect the world's attention in response to her most recent posts on Instagram's RoselynDrawings.
"Kasi ang portrait ay siguradong maa-appreciate nila, iingaran at ite-treasure nila (They would surely appreciate the portraits, take good care of them, and they would treasure them)," shared Barcoma.
The Laguna school teacher admitted she could give other material things as gifts for her students but realized those could turn old and weary. "But with portrait, they would really keep it and would remind them how Teacher Rose cares for them."
Students surprised reactions to their unexpected gifts
Barcoma recalls how her students were speechless when they received their individual gifts, and that she even asked her students to go out of the classroom so she can lock herself in because she needed time to put the framed portraits on their respective chairs. She took photos and uploaded them in her Facebook group, Guhit Pinas. The students were very surprised when they were finally allowed to enter the room.
"Then they were shouting 'aaaaaahhhh!, 'wow,' and 'Thank you, 'Cher!'"
Teacher Roselyn noted the positive impact on her students of her efforts.
"Ambabait nila! (They are so good!)" she said. "Pati yung ibang grades na tinuturuan ko napaka-attentive sa lesson (Even those students from other grade levels I teach are also very attentive.)"
Asked how she views the appreciation from her students and netizens from around the world, Teacher Roselyn said:
"Siyempre yung nagustuhan nila. Yun naman kasi talaga ang purpose ko. Para mainspire sila na mag-aral (Of course I am happy that they appreciated my effort, which happened to be my main purpose, to inspire them to study more)."
She narrated, "Hindi ko inexpect na magvaviral siya. Alam ko lang marami ang maglalike at magrereact. Nung shinare ko siya sa Guhit Pinas, wala lang, for the sake of sharing lang. Lagi ko naman yun ginagawa kada may matatapos akong artwork. Tapos yung mga shineshare ko dun sa art group, pinakamarami na ang 50 reactions. Kaya sobrang overwhelmed ako na sobrang dami na niyang reactions and shares noon in a matter of hours lang."
She also added that making her photos viral was, "Parang naging bonus – na ten times – yung nalaman ng buong mundo (The world's appreciation was just like a 10-times bonus)."
Positive impact on student learning
Because of the resulting appreciation from everyone and the positive impact to her students, Barcoma is thinking of making student portraits annually. "I guess, magiging yearly project ko na yun (It's going to be my yearly project), " she shared.
Aside from inspiring her future students, she thinks of the benefits personally. "Okay lang naman din sa akin para maimprove din ang skills ko. I know din kasi marami pa akong dapat matutunan sa portraiture. (It is okay because it would help me to improve my skills more. I know that I still have so much to learn in creating portraiture).
Drawing portraits as hobby
Barcoma, who is also a School Paper Adviser, said that she really only has time for her passion during summer break, semestral break and during Christmas break.
"Sa sobrang busy sa work, para makapagdrawing, ibinubuhos ko siya sa mga visual aids ko sa mga lessons. Dun ko isinisingit, parang 2 birds in one stone (I am always busy at work, so to keep drawing I apply my skills in creating visual aids for my lessons. It is like hitting two birds with one stone)."
The inspiring teacher also advised artists that despite this age of advanced-technology, one must still learn to love the traditional way of painting for its sentimental value – while also being good in using online software.
She said, "Tuloy lang nila (They just have to continue doing it)," addressing those who still try to do traditional painting. "Iba pa rin ang traditional. Nagpophotoshop din kasi ako. Maganda yung output ng photoshopped artwork. Pero mas may dating ang traditional artworks. Mas pinaghirapan (The traditional way has its advantages. I also use photoshop and produce good artwork output. But traditionally-produced artwork still hold special charm because of so much effort the artists put into them).
Teacher Roselyn is also happy about the new experience of being interviewed and featured by media.
"Nakakatuwa kasi hindi ko akalain na nae-experience ko ang mga 'yon (I'm happy because I did not expect to experience to those things)," she said referring her TV guestings.
Staying positive
Barcoma also finds positivity in drawings and sets her mind to not accommodate negative thoughts of being famous.
She said, "If things don't work the way I want it to, I always think of the positive side. What good it will bring to me. I always say to myself, you are famous now, but you won't be famous forever. Enjoy the moment, the new experiences, but stay humble."
Teacher Roselyn Barcoma says she hopes the story of her student portraits going viral would inspire more teachers, students and artists.
More Filipino Pride stories on GoodNewsPilipinas! TV WEEK IN REVIEW this Friday at 6PM on YouTube. Catch the YouTube Premiere by following this link and subscribing to https://www.youtube.com/channel/UCXLFAept4lulC8XcPmFx7Mg
Facebook Comments