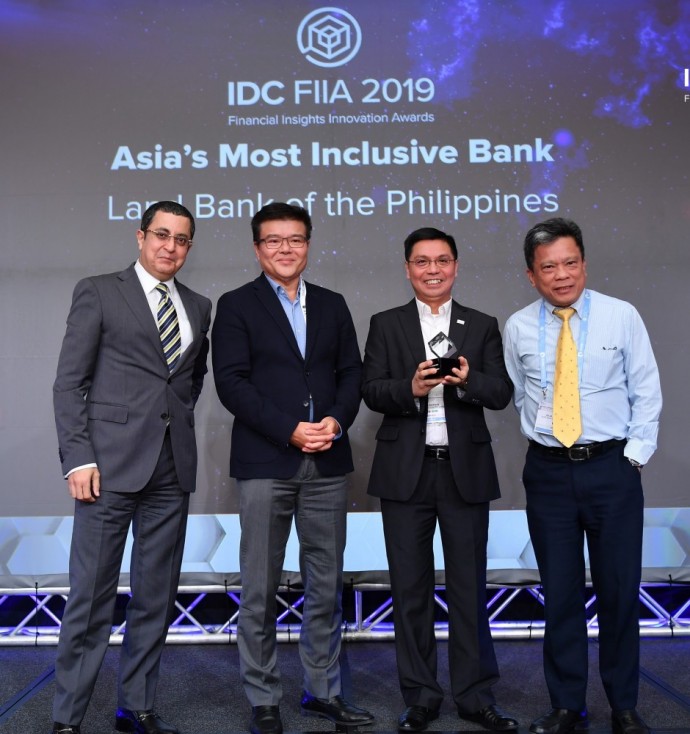 Land Bank of the Philippines has been named Asia's Most Inclusive Bank at the 2019 Financial Insights Innovation Awards (FIIA) held in March at the Marina Bay Sands Convention Center in Singapore.
The Philippine bank earned the Asia Pacific regional award for its Digital Onboarding System (DOBS), a web application launched in 2018 that allows digital account opening and thereby reducing account opening time and simplifying the account enrollment process for clients.
Land Bank reports that "within four months of implementation, the System is now utilized in 64 of the Bank's branches across the country which reported significant reduction in account opening time from 30 minutes to 10-15 minutes."
The implementation of DOBS makes Land Bank the first universal bank in the country that offers full digital account opening to both individual and institutional clients, including government agencies.
International Data Corporation (IDC) awarded Land Bank as the only Philippine awardee among 12 other financial institutions out of 110 entries for "being the best-in-class technology initiatives."
"This Project is a significant step towards streamlining our processes and making our branches more IT-centric. DOBS will likewise play a central role in bringing our services to more unbanked and unserved areas, as we pursue our vision of promoting inclusive growth in the countryside," said LANDBANK Executive Vice President Alan Bornas, who received the award in a ceremony held as part of the Asian Financial Services Congress in Singapore.
The DOBS system is also designed to ensure the Bank's compliance to regulatory requirements in terms of data quality as it allows immediate capturing and validation of complete account-opening data and enables easy storage and retrieval of digital records.
Land Bank aims a full implementation of DOBS Phase 1 to all its branches by third quarter. Phase 2, on the other hand, is set to be implemented by July 2019, which will banner additional features such as:
Client on-boarding without going to a branch;
Accessibility feature for OFWs, and;
Updating of customer information, among others.
Tell us in the comment section below your speedy experience with the digital account opening service from LandBank of the Philippines!
Facebook Comments