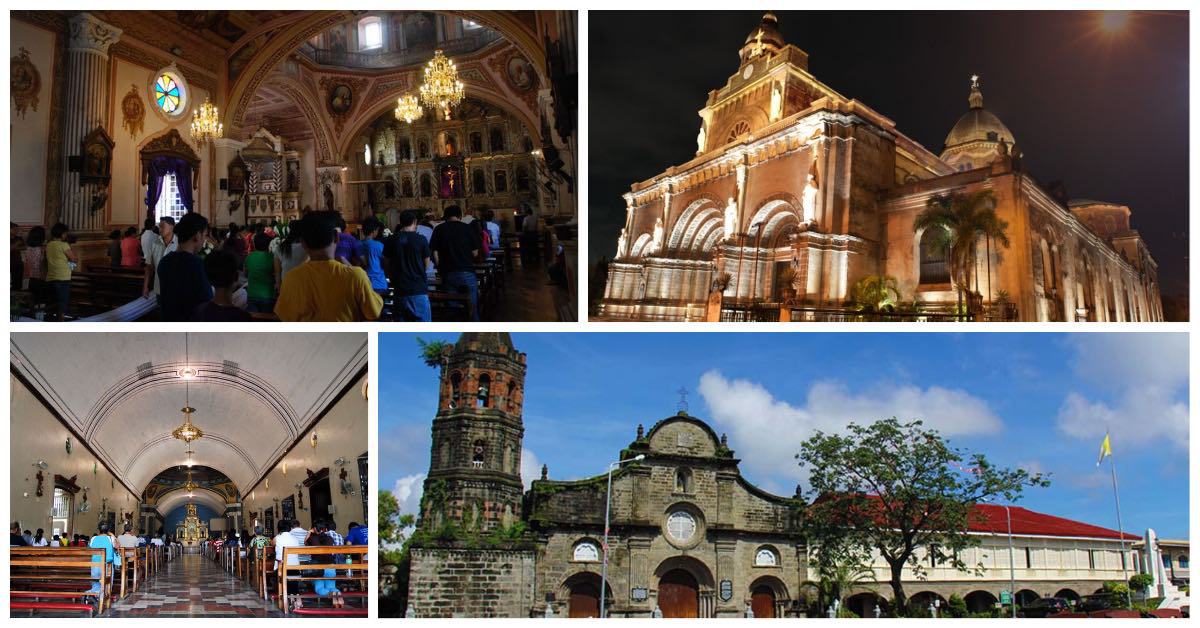 Here are some tips and reminders for Filipinos who are observing the Holy Week tradition of the Visita Iglesia or Seven Churches Visitation this 2022.
In the Philippines, Visita Iglesia is observed as an annual Lenten tradition of visiting and praying in at least seven different churches, traditionally during Maundy Thursday or Good Friday.
This year, Filipino Catholics may once again look forward to the long-standing religious practice as churches welcome back devotees in areas placed under a more relaxed Alert Level status amid the COVID-19 pandemic.
The annual pilgrimage is a way for Filipinos to pray and reflect on their lives as part of their yearly devotion and sees a return two years after global health measures for social distancing and community quarantine disrupted in-person religious activities during observances of Holy Week in the Philippines.
The Catholic faithful still observed the tradition during the height of the coronavirus outbreak in 2020 despite social distancing measures, with the churches going on Live Streaming and Google providing the Street View of the churches.
Visita Iglesia was also observed as a virtual event last year via the "Fiesta Filipinas" online event series of the Philippine Department of Tourism (DOT).
The following is a helpful guide with reminders and tips for a safe and peaceful observance of Visita Iglesia during Holy Week this 2022:
Plan ahead
As one of the largest Christian countries in the world, the Philippines is, by no surprise, full of beautiful churches where devout Catholics can choose from for this long-standing religious practice.
Many Filipinos even travel long distances to visit different churches in their respective neighborhoods and provinces.
Make sure to plan ahead and finalize your list of churches to visit with your loved ones and take note of their Holy Week schedules.
Here is a list of Centuries-Old Philippine Churches to Visit This Holy Week.
Check out these 9 Intramuros churches and chapels for your Visita Iglesia.
Be a pilgrim, not a tourist
The observance of Holy Week, dubbed locally as "Semana Santa" or "Mahal Na Araw," is an annual celebration of the life, death, and resurrection of Jesus Christ.
Visita Iglesia (Church Visitation) is the Holy Week tradition of visiting 7 churches while reciting the prayers for the stations of the cross. Catholics go with families or groups to together from one church to another while praying and reflecting on their lives.
As you go around with your friends and family to visit the Philippines' many unique and historic churches, make sure to pray and reflect and remember the true essence of your Visita Iglesia trip during Holy Week.
Be respectful of other church visitors
The Holy Week is a time of solemnity to look back on the passion and death of Christ.
When visiting churches with your friends and family, pray and reflect in silence, and dress in proper attire to be respectful of other visitors.
Observe health protocols
The Catholic Bishops' Conference of the Philippines (CBCP) reminds the Catholic faithful to observe health protocols as they flock to churches on Holy Week.
In the report by CBCP News on April 8, 2022, Bishop Pablo Virgilio David, president of the CBCP, said that Covid-19 remains a serious threat to Filipinos.
"Even though the pandemic has subsided, let us not let our guard down. Let us continue following the health protocols so that we can finally defeat this pandemic," Bishop Pablo Virgilio David told Radio Veritas.
"We must continue wearing face masks and observe physical distance as a way to care for one another," David adds.
Give back
The Holy Week is also a time to repent and do acts of charity to help those in need.
Bishop Pablo Virgilio David of the CBCP this year Filipino Catholics that the best way for penitence during Holy Week is to "do charity, especially for the poor."
"The most important way of penitence is to do charity, especially for the poor," Bishop Pablo Virgilio David said.
TELL US in the comments below, how are you observing Visita Iglesia or Seven Churches Visitation for Holy Week this 2022?
Good News Pilipinas is a Lasallian Scholarum Awardee. TELL US your good news story tips by messaging GoodNewsPilipinas.com on Facebook, Twitter, Instagram, or e-mail editor@goodnewspilipinas.com and WATCH Good News Pilipinas TV YouTube & Good News Pilipinas TikTok for more Filipino Pride stories!
Facebook Comments