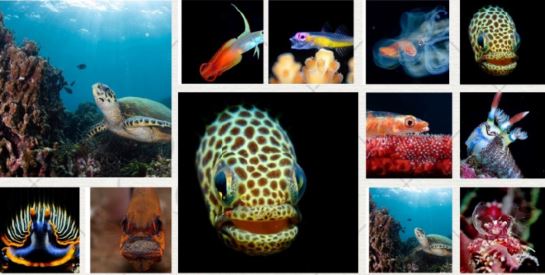 When the Philippines' travel restrictions ease up again, visitors can look forward to seeing the beautiful sea creatures found and filmed in Batangas during the 7th edition of the Anilao Underwater Shootout organized by the Department of Tourism (DOT).
Amateur and professional underwater photographers, divers, and marine enthusiasts filmed the beauty of Anilao, known for great diving and snorkeling spots, and highlighted its teeming marine biodiversity, including its world-famous nudibranchs.
The underwater event held in December 2021 resulted in a total of 348 entries submitted to the 11 categories of the shootout dubbed the "World Cup of Underwater Photo Competitions".
Winners were awarded over two million pesos worth of prizes from its official airline partner Cebu Pacific, and underwater photography gear from event partners Nauticam, Scubalamp, AOI, Scubastudio Philippines, and sponsors XDEEP, Crest, Fourth Element, Divers Point, Nautilus Dive, and Sports Center, Squires Bingham, and Ultralight Control Systems, Inc.
Tourism Secretary Berna Romulo-Puyat said the event showcased the country's readiness to welcome back tourists and reclaim its position as the world's leading dive destination.
"The Anilao Underwater Shootout is a platform to communicate the importance of safeguarding our delicate reefs and marine ecosystems for future generations. As we slowly rebuild and recover from the effects of the pandemic, this event is our way of announcing to the world that the Philippines' diving industry is alive and well, and very much ready to welcome divers and underwater photographers," Puyat said.
The event also spurred tourism in the area as it gathered a total of 120 participants flying in from all over the country, the event also spurred domestic tourism activity in Anilao, trickling down to the community with engagement from the town's resorts, dive guides, and spotters.
The following images taken in the seas of Anilao won awards:
DOT Photographer of the Year and 1st Place, Compact Class – Fish Portrait Category, Teresa Sy Ortin
1st Place, Compact Class – Macro/Supermacro Category, Rafael Francisco
1st Place, Compact Class – Marine Behavior Category, Regie Casia
1st Place, Compact Class – Nudibranch Category, Penn De Los Santos
1st Place, Open Class – Fish Portrait Category, Dennis Corpuz
1st Place, Open Class – Macro/Supermacro Category, Dennis Corpuz
1st Place, Open Class – Marine Behavior Category, Ariel Locsin
Winner, Special Award – Blackwater, Dennis Corpuz
Winner, Special Award – Wide Angle, Paul Joseph Aristorenas
The international event has been organized by the DOT since 2013, in line with the identification of diving as a priority tourism product in the National Tourism Development Plan (NTDP). This year's panel of judges includes renowned underwater photography aficionados David Doubilet, Jennifer Hayes, Mike Bartick, Scott Gutsy Tuason, William Tan, and Underwater360 Group founder John Thet.
Following COVID-19 restrictions, the event followed a hybrid format with underwater photography workshops hosted via Zoom and the competition's official Facebook page. Judging and deliberations were also done through the videoconferencing application.
The 7th Anilao Underwater Shootout was mounted in partnership with Mabini Tourism, DOT Region 4 A Calabarzon #DiscoverCalabarzon, Solitude Acacia Resort, Aiyanar Beach and Dive Resort, Crystal Blue Dive Resort, Nauticam, Scubalamp, AOI, and Scubastudio Philippines. The event is also supported by Wetpixel, Underwater Photography Magazine, Underwater 360, and GRID Magazine.
See more of the Philippines' amazing sea creatures in these 10 Ocean Art Winning Photos Shot in Palawan, Anilao, Leyte, Romblon.
Here are Puerto Galera's unique marine life explored by French and Swiss underwater investigation teams.
TELL US your good news story tips by messaging GoodNewsPilipinas.com on Facebook, Twitter, Instagram, or e-mail editor@goodnewspilipinas.com and WATCH Good News Pilipinas TV YouTube for more Filipino Pride stories!
Facebook Comments