Filipino food offered by the new Sari Sari Store in Downtown LA's Grand Central Market is getting raves reviews for appealing to foreign taste buds while staying true to Filipino roots.
The all-Filipino dish menu offered by Sari Sari Store, a Filipino concept stall set up by Philippines-born and raised Chef Margarita with business partner and fellow chef Walter Manzke, was praised by Los Angeles Times, LA Weekly, and the LA Eater.
The menu is based around savory rice bowls or 'silog' that pull from Margaritas's Pinoy heritage, as well as a few sweet items like halo halo.
LA Times food critic Jonathan Gold admitted to him and his colleagues crushing on the new Grand Central stall quipping, "I have stopped by Sari Sari Store five times in the last three days, and I'm not sure if I should be admitting this to you or to a therapist."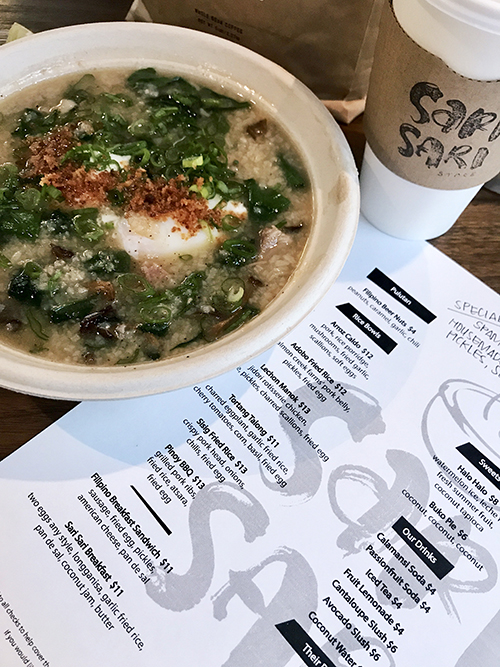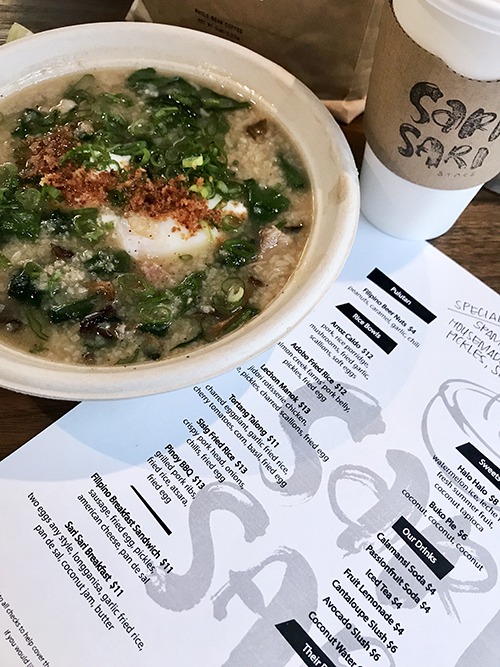 Gold also attests to sampling and recommending any and all items on the Sari Sari Store menu saying, "It may be an odd thing to say about a restaurant, but at Sari Sari Store it really doesn't matter what you order."
Gold's review details how he tried the arroz caldo, the sisig fried rice, the adobo fried rice and is eager to keep coming back for the same.
The article hailed the Filipino Rice Bowl Stall's lechon manok, grilled pork ribs, silog made with homemade "Spam'' and tortang talong as keeping the food reviewer coming back day after day.
Filipino desserts buko pie, halo-halo, and coffee with condensed milk got the team's attention as well.
LA Times food editor Amy Scattergood wrote a feature on the Sari Sari Store's Halo-halo saying, "It is a beautiful dish, a jigsaw of simplicity and aesthetics."
LA contact reporter Jenn Harris wrote about the Buko pie describing it as, "The flavors and textures are so perfectly balanced that even your friend who swears he 'hates coconut cream pie' will go in for another slice."
Gold adds about the work of the James Beard nominated chef, "Margarita Manzke comes close to baking the best, darkest pie crust in Los Angeles, that the custard is as dense as pastry cream because it is pastry cream, and that while you would think that the jelly-soft layer of buko, young coconut, might pull the dessert toward the exotic, it ends up tasting like the kind of coconut cream pie you might find at a roadside diner in Oklahoma if you were very, very lucky."
LA Weekly food editor Katherine Spiers hailed the Sari Sari Store arriving at Grand Central as just right with Los Angeles being at the forefront of a Filipino food movement.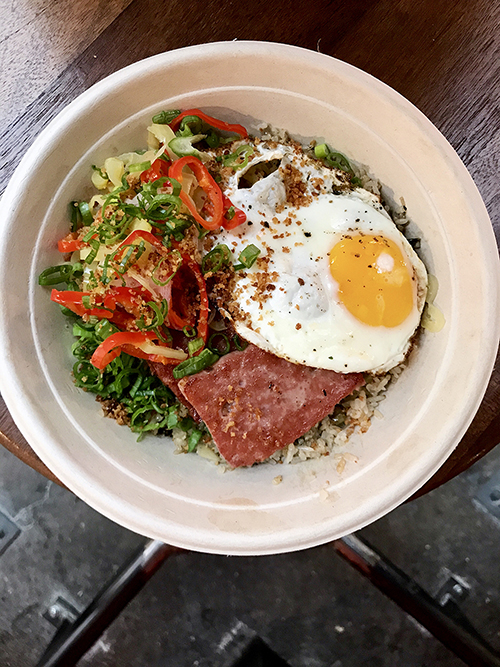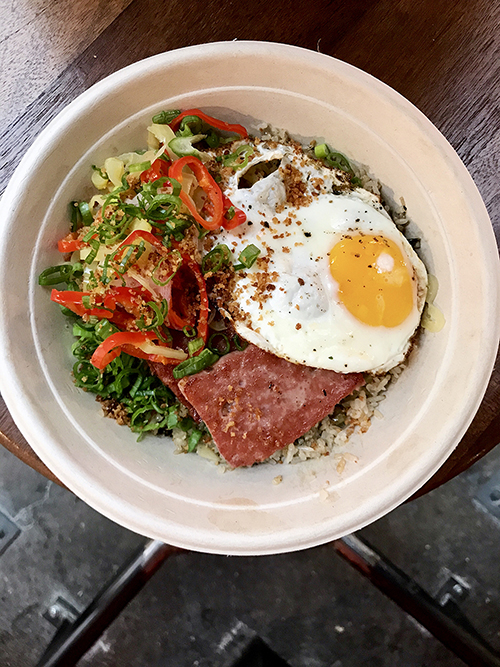 "The most glorious addition of the year is Sari Sari Store, a stall in the seating area that's been designed to look like — and is named after — convenience stores in the Philippines. But there's an excellent chance the food served at this uppercase Sari Sari Store is better than the rest. That's due to its owners, Margarita and Walter Manzke, a restaurateur dream team.
The rice bowls and other savory items are excellent, but it's the buko pie, the star of the dessert menu, that will imprint itself on you after just one bite. "
Chefs Margarita and Walter are also responsible for the highly successful Rėpublique fine dining french restaurant in LA and the Wildflour bakery in the Philippines.
LA Eater featured the ambiance of the Sari Sari Store as fitting to its Filipino fare:
"Walter has added a bunch of touches to make it feel like a Filipino neighborhood variety store (sari-sari), like cans of condensed milk and big bottles of white vinegar. They've even added a crinkled tin roof and a large false wall above the space to give it the feeling that it's placed on the bottom floor of an apartment complex, as one would find in Manila."
Sari Sari Store has been serving the usual Filipino breakfast meals all day at Downtown LA's Grand Central Market since July this year.
Facebook Comments