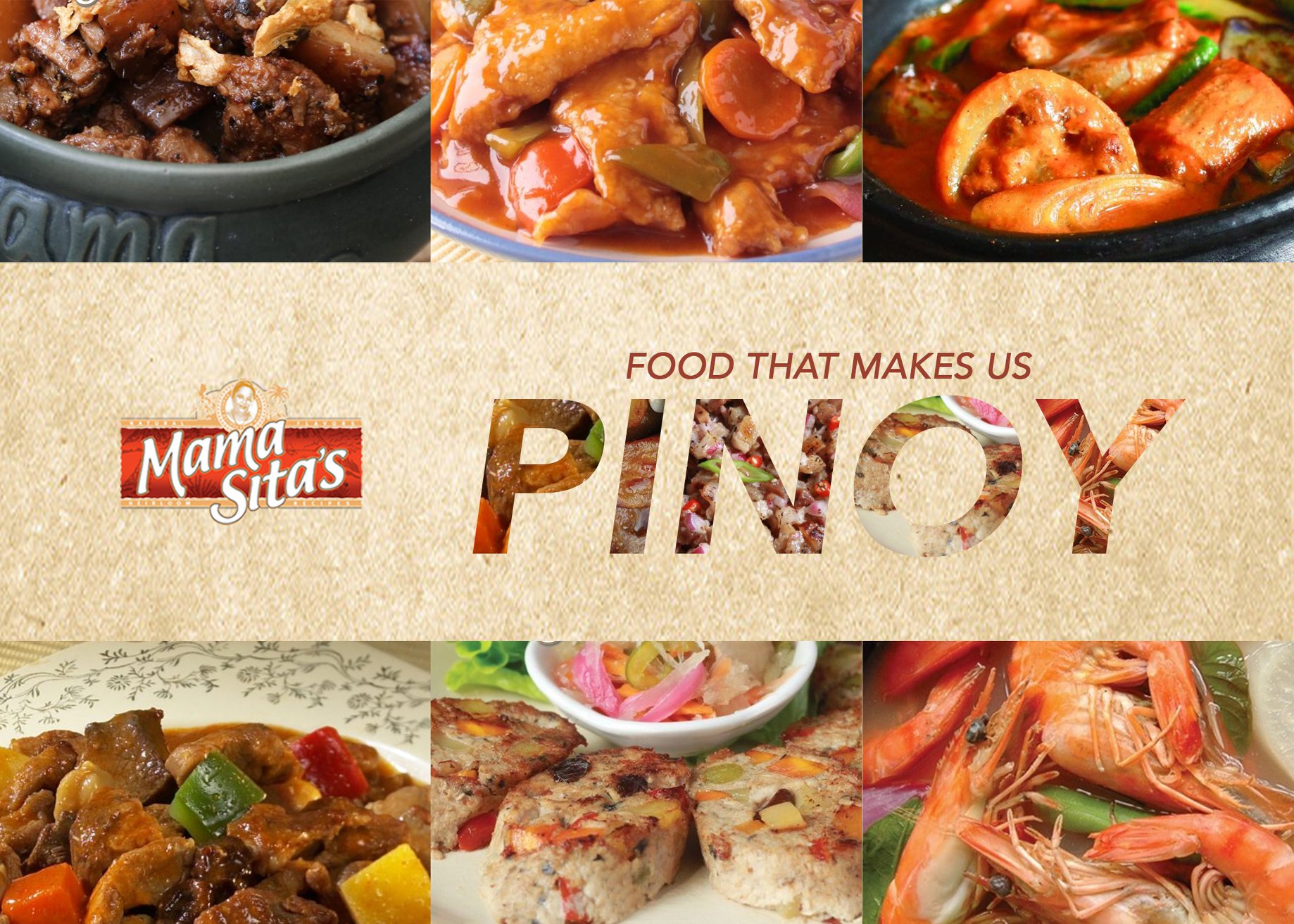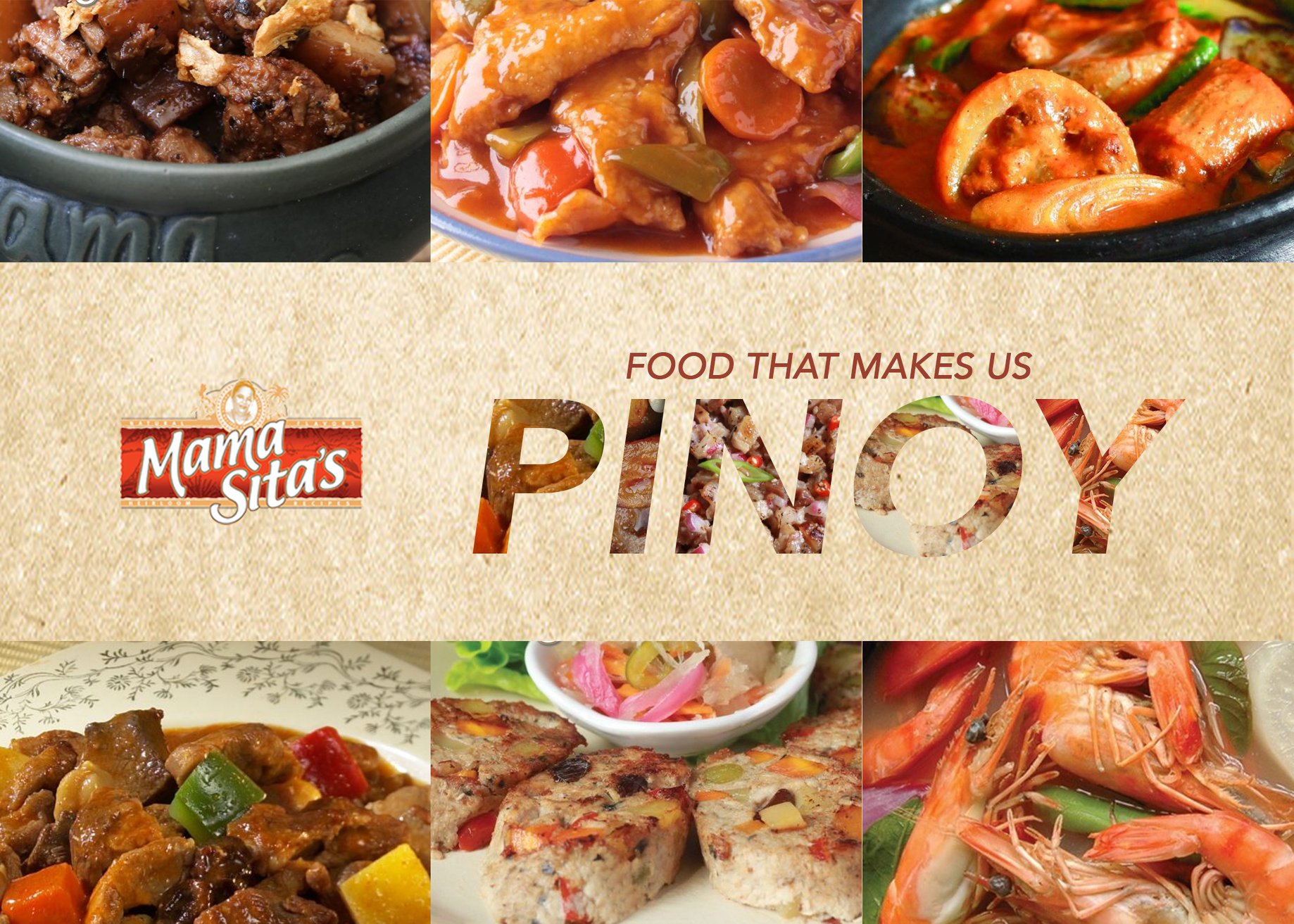 There is a very good chance that somewhere around the world, a Filipino family is enjoying comfort food such as sinigang, caldereta or kare-kare prepared with the help of Mama Sita's products.
That it has been able to keep its reputation as a top producer of Filipino food mixes and condiments it owes in no small part to its wide network of farmer-suppliers from all over the country.
From the fresh produce that it buys, Marigold Manufacturing Corp., produces over a hundred condiments that carry the Mama Sita's brand and is able to produce an extensive and still growing product line that is now present in almost all countries, especially those with large Filipino diaspora populations.
According to Marigold General Manager Kim R. Lapus, Mama Sita's is only as good as the quality of the raw materials. And it is emphatic about using only the best natural ingredients to maintain the quality standards that its buyers demand.
"We start with real food and that means we have to deal with farmers. Since our products are close to nature, we want to get as close to the farm as possible," said Lapus.
Marigold estimates that it purchases about a ton a month of peeled ginger and about 30 tons a year of brushed ginger, 40 tons a year of tamarind and guava, 800 kilograms a week of gabi or yam, and 500 kilograms a month of sili labuyo. It secures the bulk of this requirement directly from partnerfarmers and if the produce is not enough, it deals with traders.
"I always tell them, let's help each other. We provide a constant market and then they assure us of supply at a certain price that can keep us both happy. We tell them that we have a price for the whole year, no artificial spikes and no price diving," said Lapus, "There is an advantage because once you have developed a relationship, you attain a certain level of trust, that you are getting a good product. With traders, you will not always be sure."
But like any relationship, it takes time and effort to build a mutually beneficial one with farmers, who need help understanding concepts such as long-term pricing, financial discipline, consistent product quality and supply reliability.
It is an effort that Marigold is only too willing to take, however, due to the 37-yearold company's steadfast commitment to upholding its legacy of good taste and natural ingredients.
"That is the heart and soul of our business. Food is garbage in, garbage out. You cannot expect bad fish to become good fish, no matter what you do. And for us, we have to be really close to nature because we do not use any artificial color and flavor. That is why we have to work hand in hand with the farmers," said Lapus.
Mama Sita enjoys the taste of more than three decades of success in delivering quality food products, owing it to its community of farmers
Starting 2014, for example, Marigold has been working closely with four agriculture communities of as many as 150 persons, from Tanay, Quezon and Antipolo City, in a bid to help them improve the sustainability of their livelihood by raising their quality standards and keeping a closer look at their bottom line.
One of the farmers who benefited from Marigold's program is Maila Marasigan of Tanay, Rizal. The 43-year-old grows siling labuyo, one of the most important crops for Marigold due to its many uses and unique taste that appeals to all consumers, even the non-Filipinos abroad.
Marasigan said that before she joined the growing program of Marigold in 2013, she had to make do with odd jobs that barely paid enough to keep food on the table.
Four years later, Marasigan said she earns "more than enough" from her sales of siling labuyo, which comes not just from her small piece of hilly land in Tanay but also from some 30 neighbors and partners whom she also encouraged to directly supply to Marigold.
"Working with them has been such a blessing because they help us a lot. When they can pick up the produce themselves, for example, they save us the cost. They also assure us of a market for our sili," said Marasigan in Filipino.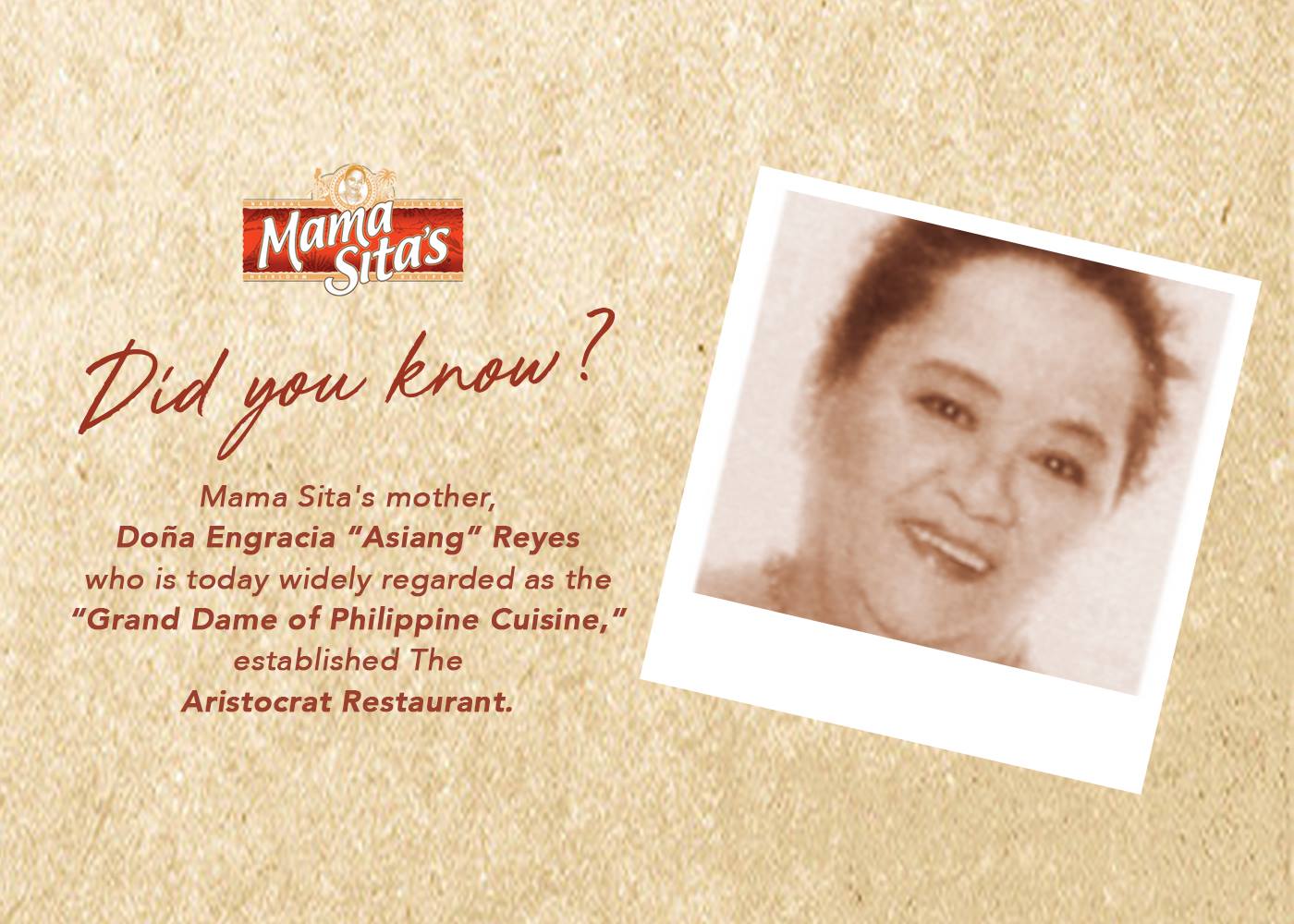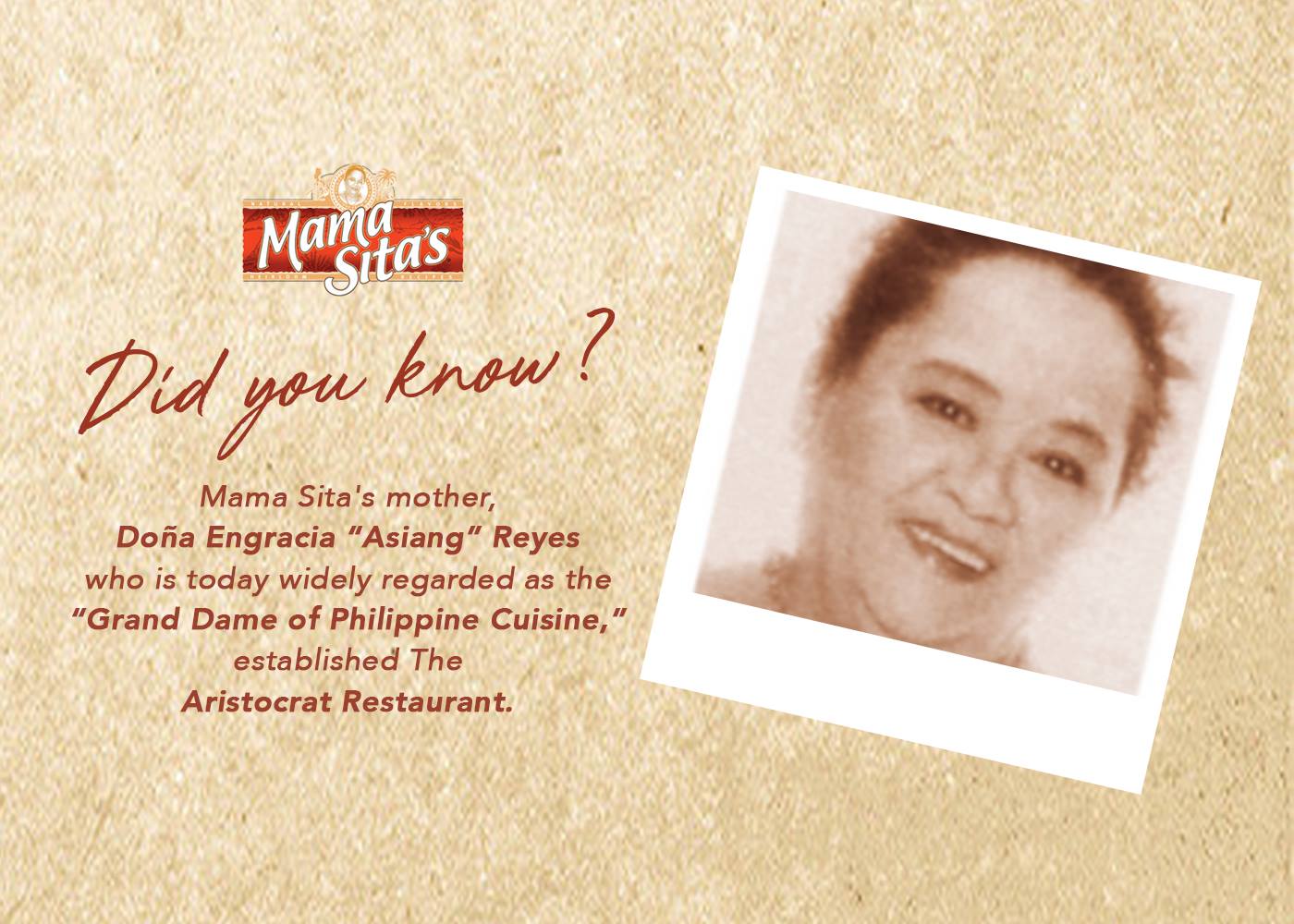 And more than the money, she said she and her partners in Rizal feel proud seeing Mama Sita's products, some of which they know contain siling labuyo.
"We may not be able to go abroad, but we are happy knowing that our siling labuyo is going places," Marasigan added.
Lapus said Marigold goes beyond the typical supplier-buyer relationship with its farmer-partners to include valuable life lessons such as saving for a rainy day and constantly pursuing excellence.
"One mistake and the brand may die," explained Lapus.
The current generation has no intention of letting that happen as it greatly values the legacy of Mama Sita that spans five generations of fine Filipino cooking.
"WE START WITH REAL FOOD AND THAT MEANS WE HAVE TO DEAL WITH FARMERS. SINCE OUR PRODUCTS ARE ALL-NATURAL, WE WANT TO GET AS CLOSE TO THE FARM AS POSSIBLE."
It was Teresita "Mama Sita" Reyes, the woman who inspired the pioneering line of Filipino sauces and spice mixes, who had the vision to bring Filipino flavors to the world.
Mama Sita began with a kare-kare (peanut sauce) mix, inspired by her concern that Filipinos abroad were not enjoying good food from home. From there, her product line quickly expanded and the small cottage industry that operated in the family ancestral home has evolved into a sprawling business that operates state-of-the art manufacturing facilities that strictly comply with global food safety standards.
Mama Sita, whose birth centenary is being celebrated this year, has long since passed but her vision continues to be a beacon for Marigold as it strives to widen its presence across the globe, bringing the best of what the Philippines can offer to the culinary world, from the special flavor of garlic from Ilocos to the heat of the small but terrible siling labuyo in its popular hot sauce and in the best-selling caldereta mix.
And as the company expands, it will need more suppliers thus Marigold's push to include more farmers into its circle. Lapus believes that there is great potential in agriculture that is just waiting to be tapped, especially since Mama Sita's will not go the way of synthetics or artificial ingredients.
"We are the only ones in the market who insist on using natural products. That means ours are among the most expensive, but ours are also much better. We do have a market and we are happy in our niche," said Lapus.
Filipinos here and abroad are more than happy, too.
This story is part of a series of articles written by GO NEGOSYO writers being published by GoodNewsPilipinas.com as part of our support to Philippine businesses.
Facebook Comments