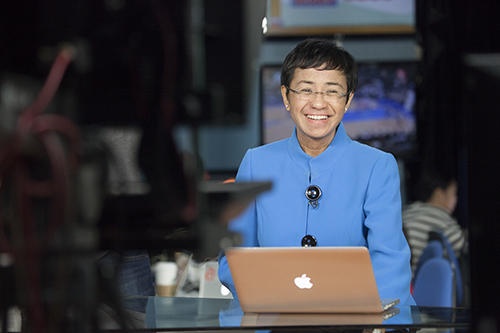 Filipino journalist Maria Ressa received the 2018 Gwen Ifill Press Freedom Award from the Committee to Protect Journalists (CPJ) in ceremonies held in November in New York.
Ressa, the founder, CEO, and executive editor of the Philippine social news network Rappler, was recognized by the CPJ – an independent, nonprofit organization that promotes press freedom worldwide and defender of the right of journalists to report the news without fear of reprisal – for remaining steadfast to her principles of journalism despite facing challenges to press freedom.
Ressa received the annual award to honor veteran journalist Gwen Ifill as "an individual who has shown extraordinary and sustained achievement in the cause of press freedom."
In the CPJ citation Ressa was acknowledged for having been a journalist in Asia for more than 30 years, most of them as CNN's bureau chief in Manila, then Jakarta. During that time, she served as the network's lead investigative reporter focusing on terrorism in Southeast Asia.
In 2005, she took the helm of ABS-CBN News and Current Affairs, and for six years managed more than 1,000 journalists for the largest multi-platform news operation in the Philippines. Her work aimed to redefine journalism by combining traditional broadcast, new media, and mobile phone technology for social change. In 1987, Ressa helped found the independent production company Probe.
She has taught courses in politics and media for her alma mater, Princeton University, as well as in broadcasting at the University of the Philippines.
Her 2012 book, "From Bin Laden to Facebook," is part of her work as author-in-residence and senior fellow at the International Centre for Political Violence & Terrorism Research in Singapore. In 2003, she wrote "Seeds of Terror: An Eyewitness Account of Al-Qaeda's Newest Center of Operations in Southeast Asia," which documented the growth of Jemaah Islamiyah and its links to Al-Qaeda.
Ressa has led Rappler since its establishment in 2012, uncovering causes and consequences of the drug war, the spread of "fake news," the culture of impunity, among other critical stories.
Ressa is a multi awarded journalist who received 2018 Golden Pen of Freedom Award from World Association of Newspapers and News Publishers (WAN-IFRA), the 2018 Knight International Journalism Award, the 2018 Free Media Pioneer Award from the International Press Institute, and the National Democratic Institute's Democracy Award in 2017.
Ressa's acceptance speech for the 2018 Gwen Ifill Press Freedom Award outlined 6 Lessons and Appeals for Action at times when journalism is challenged:
The time to fight for journalism, for our Constitution, is now.
Don't stay quiet when you are attacked. The exponential lies on social media, coupled with the President's words, manufacture truth. Silence is consent.
We need to continue reporting without fear or favor. And – you heard these words here last year from my former colleague Christiane Amanpour: 'we need to be truthful, not neutral.'
We need to build global alliances because information is the currency of power, manipulated by global players. You have the Mueller investigation here: well, if Russia is doing B to C; China is doing B to B. (Check out Freedom House's report released this month which shows how China is exporting its digital authoritarianism to other governments)
We need to hold tech platforms to account. They need to move away from just business growth … they are now the world's largest distributor of news so they have to take on the responsibilities journalists had as gatekeepers. They cannot allow lies to spread. They need to protect the public interest … and the public sphere where democracy happens.
Finally, for multinational businesses and investors: I'm being attacked not just as a journalist but as the founder of a company that successfully and legally raised money to make an idea a reality. Let my government know that you do not agree with its draconian measures and the signal it sends to investors – that the Philippines is not ready for innovation or investment.
Ressa thanked the CPJ and her colleagues around the world saying the award comes at a time when Rappler needs the attention and support amidst the challenges of social media technology platforms and government actions.
Watch Maria Ressa receive the 2018 Gwen Ifill Press Freedom Award here
Facebook Comments