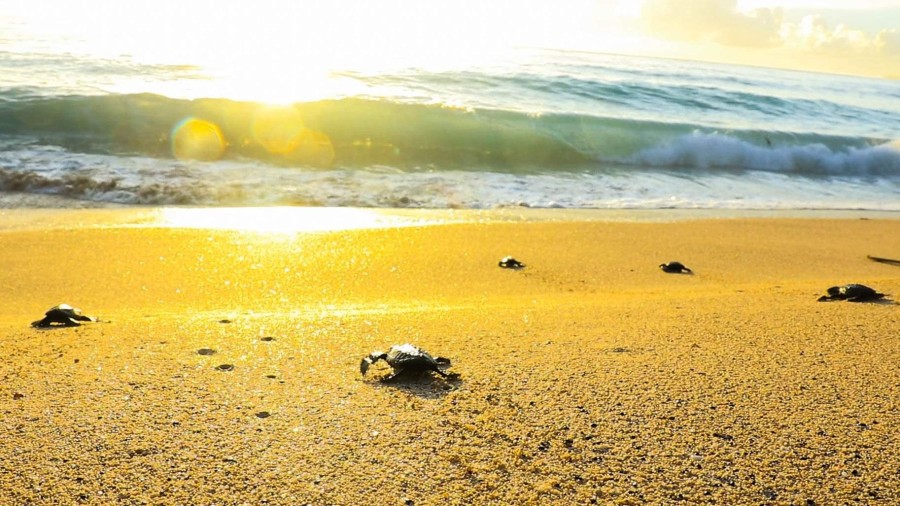 Mati City in Davao Oriental has recorded the most number of turtle hatchlings released to the Philippines' seas compared to other cities.
The city-based conservation group Amihan sa Dahican-Save our Seas (SOS) released over 105,000 baby turtles into the sea of Dahican in the City of Mati for the last three years.
The capital city of Davao Oriental province was identified to have recorded the most number of sea turtle hatchling releases among other cities in the Philippines, according to the Department of Environment and Natural Resources (DENR).
The environmental agency added that the city's Dahican Beach is a famed marine turtle sanctuary with three species of turtles nesting there, namely the Green turtle, the endangered Hawksbill, and the Olive Ridley. The entire Mayo Bay is also teeming with marine wildlife, such as whalesharks, dugongs, and dolphins.
Amihan sa Dahican-SOS is a team composed of surfing and skimboarding enthusiasts who are passionate about conserving the city's marine wildlife. The group regularly patrols the beaches at night to protect the turtle eggs and hatcheries from poachers and predators.
According to Winston Plaza, one of the founders of the group, there are currently 5,000 eggs of Olive Ridley in the hatchery and it will take 50 to 60 days on average for them to hatch.
"Sa isa ka bulan ika-tulo mangitlog ang usa ka pawikan ug muabot kini ug lampas 100 nga itlog," Plaza said. "Kung asa sila gipanganak, didto sad sila mubalik para mangitlog. Sensitive sad ning mga pawikan nga kabalo sila kung asa ang limpyo ug safe nga lugar para mangitlog."
The marine wildlife protection team also conducts coastal clean-up activities twice a week to maintain the cleanliness of the beach and save the sea creatures from harm.
The Amihan team was recognized for their work during the 6th Gawad Bayani ng Kalikasan and was featured on the National Geographic and Animal Planet.
Aside from marine conservation, Amihan sa Dahican-SOS also offers shelter to kids and assists tourists with surfing, skimboarding, kayaking, and other water activities.
In Apo Reef Natural Park, critically endangered sea turtles doubled in numbers amid the lockdown to curb the spread of the coronavirus disease.
WWF-Philippines maintains its daily whale shark monitoring operations, despite the temporary suspension of tourism activity in the Ticao-Burias Pass Protected Seascape (TBPPS) due to ongoing lockdown measures to prevent the spread of COVID 19.
The group sighted 19 new whale sharks in Donsol, Sorsogon's waters since the beginning of 2020.
SEND CHEERS in the comments below to local conservation group Amihan sa Dahican-Save our Seas for protecting the marine turtle sanctuary of Dahican in Mati City, Davao Oriental province.
Good News Pilipinas is celebrating its 15th Anniversary in 2021 by giving away prizes! Subscribe to our Good News Pilipinas! TV YouTube channel and enter the raffle by sending us an email to editor@goodnewspilipinas.com
Facebook Comments