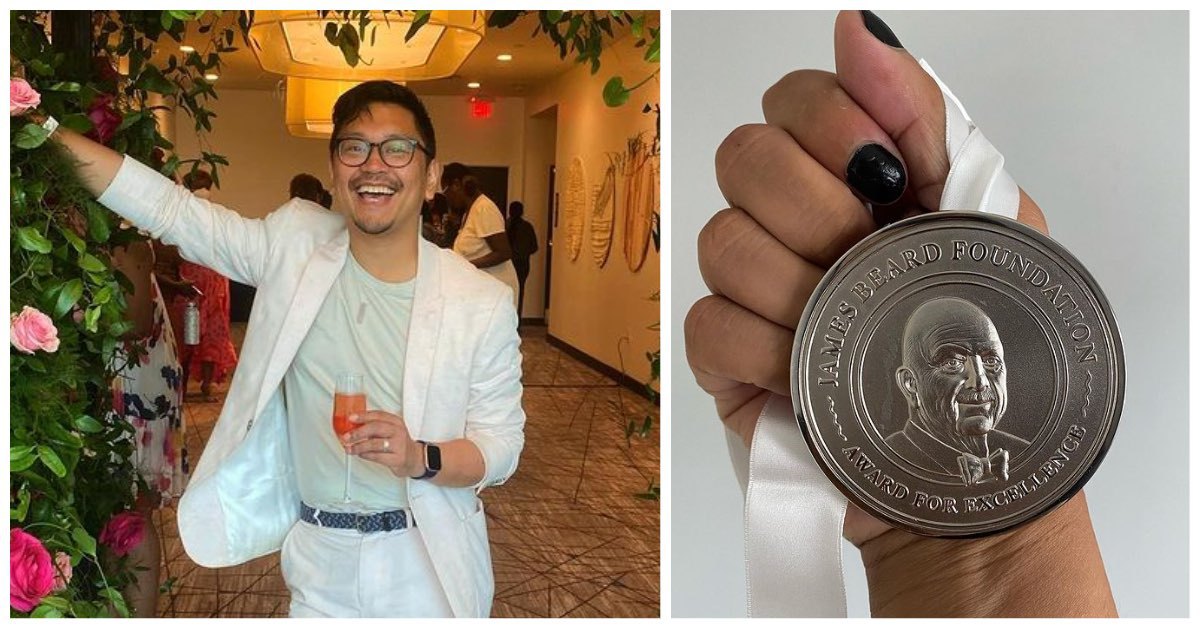 New York-based Filipino-American sommelier Miguel de Leon has won the James Beard Foundation Journalism Award for his essay that reveals his experience as a wine writer and contextualizes the appreciation of wine heritage beyond the prevailing "white supremacy".
The Philippine-born writer bested some of the finest food writers and journalists at this year's James Beard Foundation Awards, widely regarded as the Oscars of the food industry.
Miguel wrote about his experiences in the white race-dominated wine industry as a professional of color in his winning essay, "It's Time to Decolonize Wine", published in the acclaimed online magazine, Punch.
Currently working at the Pinch Chinese restaurant in New York, Miguel has been making waves in the wine industry and was named the inaugural recipient of the Michelin Guide Sommelier Award last year for his work with natural wine and hospitality advocacy.
The Fil-Am sommelier's works in food media that cover topics such as racism, social justice, equity, and systemic inequalities in the wine world, have been published in acclaimed publications such as PUNCH (Penguin/Random House), Bon Appétit, and Wine + Spirits Magazine.
Miguel's personal essay won in the Long Form category of the 2022 James Beard Foundation Journalism Award. This year's James Beard Media Awards honored food authors, broadcast producers, hosts, journalists, podcasters, and social media content creators in a ceremony on June 11, 2022.
Born in Manila, Miguel moved to the United States from the Philippines when he was ten years old. He went to college at the University of California, Berkeley (UC Berkeley) and later moved to New York to pursue a restaurant career. Miguel has previously worked in New York City restaurants such as Casa Mono, Momofuku, and Per Se.
In his winning essay, de Leon states, "The status quo that white people were so comfortable with has been exposed for its racism, sexism, homophobia, transphobia and myriad other biases and transgressions wrapped up in the package of white supremacy. I'm looking for a better future, and I know what my role is and should be. I do not need to accommodate those who seek to protect the status quo."
The Filipino American writer goes on to pledge, "I consider how much more I can do, as an immigrant, as a Filipino, as an American, as a cis gay man, as an ally, as an advocate, as a sommelier, as a friend and as a son. I don't want to perpetuate the systems that dehumanized and demeaned me and my BIPOC colleagues. I want to dismantle white supremacy in wine. I want to spark change, to remove the barriers of entry, to call in and call out peers and industry leaders about the results of their actions and the consequences of their inactions. I want to get loud, get angry, do better. I will ask my colleagues to do the same. I will not stop."
Filipino American writer-restaurateur Nicole Ponseca and Chef Miguel Trinidad of Maharlika New York City and of Jeepney NYC together previously earned a finals berth in the James Beard Foundation Book Awards for their book, "I Am a Filipino: And This is How We Cook".
Kasama in Chicago, the world's first Michelin-starred Filipino restaurant, was nominated for a James Beard Award for Best New Restaurant this year.
SEND CHEERS in the comments below to New York-based Filipino-American sommelier Miguel de Leon for winning a James Beard Foundation Journalism Award for his essay, "It's Time to Decolonize Wine".
Good News Pilipinas is a Lasallian Scholarum Awardee. TELL US your good news story tips by messaging GoodNewsPilipinas.com on Facebook, Twitter, Instagram, or e-mail editor@goodnewspilipinas.com and WATCH Good News Pilipinas TV YouTube & Good News Pilipinas TikTok for more Filipino Pride stories!
Facebook Comments