Two MIMAROPA regional students have developed "I Hear U," an android mobile applicationto help persons with hearing impairment learn finger spelling or communicating using alpha and numerical systems through hand gestures.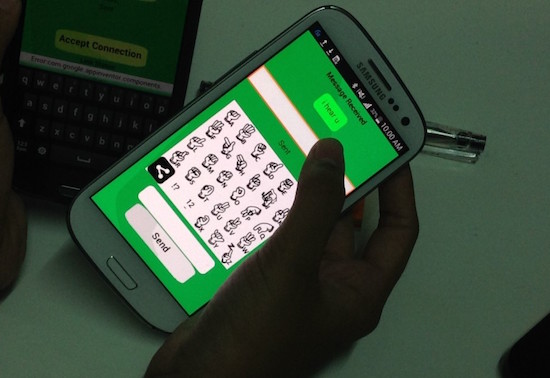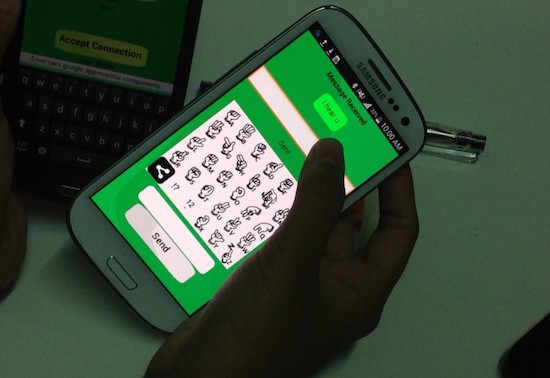 Marian Elaine Dechaves and Charmaine Aubrey Galindez, students from the Bansud National High School-Regional Science High School of Oriental Mindoro, presented their official entry in the Department of Science and Technology-sponsored invention contest at the Regional Invention Contests and Exhibits which coincided with the Southern Luzon Cluster Science and Technology Fair held in Puerto Princesa City, Palawan.
"I Hear U" is a two-way communication app for persons with hearing disability. The app is basically an instant messaging system with icons showing the various dactyl or hand gestures representing letters and numerals to spell-out words to relay messages.    
The user types in the desired message using the dactyl alphabets and sends it through the phone's built-in Bluetooth file transferring device. The recipient then receives the message in pure alphabet characters.
The data transfer using Bluetooth technology can reach up to 10 meters only. Since the messages are transferred using Bluetooth technology, Charmaine explained that the phones need to be paired every time the app is used.
The two students are hardly experts in programming. According to Marian, she only learned about programming or writing codes a few months before they invented the app. "I just taught myself to code," says Marian. Charmaine says that programming for her was more of a hobby.
"We get to learn to code using the Ai2Live Complete software, which gives also gives us the needed tutorials," says Charmaine.
The two told media, "We developed this app because we noticed that majority of apps cater only to the typical type of consumer and we want an app that will address the needs of persons with special needs," explains Marian.  "I Hear U" went live a few months from its development and was demonstrated in the Special Education class in Gloria Central School and Juan Morente Sr. Memorial Pilot School in Oriental Mindoro.
Facebook Comments