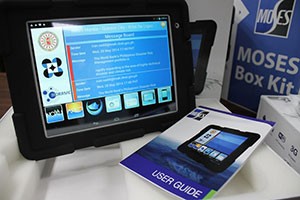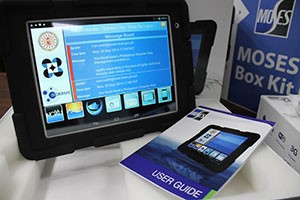 The Philippines is no stranger disasters that may be likened to, in lesser degrees, biblical proportions such as those encountered by Moses while leading his people out of Egypt. From super typhoons, flooding, landslides, and volcanic eruptions to earthquakes, you name it – Pinoys have had a taste of both natural and man-induced calamities.
It is high time then that someone would put two and two together – this disaster-prone situation and the typical modern Filipino's penchant for never leaving home without toting a gadget or two.
The national government's Department of Science and Technology (DOST) has released a disaster-preparedness solution to address this equation: a Pinoy-made tablet device called MOSES.
The mobile system for emergency services also known as Monitoring and Operating System for Emergency Services (MOSES), is designed to complement DOST's Nationwide Operational Assessment of Hazards (Project NOAH).
Project NOAH keeps the public up to date with the present condition of the weather through simple interactive information on the latest weather, and area-specific flood and rainfall data.
At present, Filipinos keep track of the ever-changing weather and other impending disasters mostly through television, the radio, and internet sources.
The government-funded MOSES tablet, reportedly the first initiative of its kind in the world, is capable of receiving real time information about the current state of the weather and allows its user to take pictures of natural disasters like flooded areas and landslides. Photos taken by MOSES will help locate nearby search-and-rescue facilities.
The MOSES tablet also comes with other disaster prevention apps like the internationally recognized Arko, the Project NOAH website, and the Flood Patrol.
The MOSES tablet measures at 8 inches and with two SIM card slots, a TV and radio function, and has a battery that can last up to 3 days.
This uniquely Pinoy innovation is locally designed and produced, and is meant to be used by local officials to monitor and plan for early warning procedure. 
Project NOAH aims to distribute these tablets to the barangays of the country, rolling out to the National Capital Region barangays first.
If used properly, the tablet could provide better and more efficient two-way communication in the event of natural disasters.
During the MOSES tablet launch by DOST Dr. Mahar Lagmay, Executive Director of Project NOAH, clarified that unlike other consumer tablets, "Hindi ninyo po ito puwedeng gamitin pang-Candy Crush (You cannot use this tablet for Candy Crush)." "The MOSES tablet can only be used for disaster-related uses," added Lagmay.
In the bible story, Moses had his own tablet recording the Ten Commandments for his people's guidance. Moses also used his staff to save his people from pursuing enemies.
Perhaps the handy Pinoy MOSES tablet will prove to be a super tool just as useful to the Filipino people.
Facebook Comments