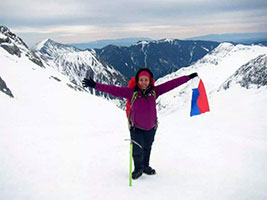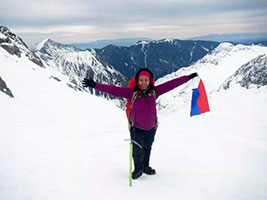 The Filipino diaspora has once again brought a Filipina domestic helper in Hongkong to international media attention.
Davao native 43-year-old Liza Avelino is scaling new heights as she makes her way up to Island Peak, a 6,189-metre tall mountain in the Everest region.
Avelino paid a trekking company US$3,500 (HK$27,000) to help her get to Island peak, a snowy ridge where the temperature is known to drop down to minus 7 to 15 degree Celsius.
She's being accompanied by two Irish guides, three fellow hikers from Europe and a crew of sherpas.
Avelino has already reached Namche village in Nepal, 3,440 metres at its lowest point, from which she will move on to an Everest base camp for 15 days of trekking through ice crags and walls to reach Islands Peak. Once on top, she plans on pitching a Philippine Flag.
In a feature on South China Morning Post, writer Kristine Servando wrote about how Avelino transitions from being a house maid to mountaineer during her days off, going off on adventures using money saved up from her salary and bonuses as a helper.
It took Avelino two years to save up enough money for her Island Peak expedition, a mountain less than 10 kilometres from Mt. Everest.
In preparation for her Everest climb, she would take her employers along with their children with her to go hiking in Hong Kong's hiking trails. She would carry the children with her as training for carrying heavy loads during her climb for the icy mountains.
Avelino started mountain climbing when her family in Davao no longer needed her to send her income to the Philippines.
When more and more people wanted to give her funding for her climbs, she redirected the funds to Enrich HK, an NGO that provides financial literacy programmes for helpers like herself.
Everest is just one of many more mountains that Avelino plans on trekking. She says she also plans to go to the [5,947-metre-high] Alpamayo in Peru and to also go back to Japan to climb the Ice candy wall, a slippery, vertical face at the volcanic Yasugatake Mountains in the north.
But no matter where Liza Avelino plans to go to next, she serves as an inspiration for all Filipinos that with passion and determination, you can move mountains. Or climb them.
Facebook Comments