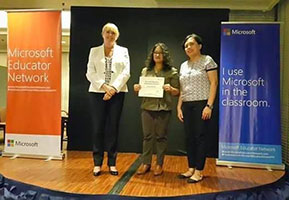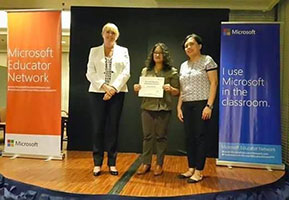 A De La Salle University-Dasmariňas (DLSU-D) Business Management professor in Cavite and a public grade school teacher from Union Elementary School in Davao province in Mindanao are representing the Philippines in a global Information Technology conference that brings together education experts to present the best IT practices from classrooms around the world.
Jenielyn Espineli-Padernal, faculty in-charge of DLSU-D's Virtual Learning Environment in the university's Educational Technology Center and Jecson Oafallas, Department of Education Tagum Division public school teacher for science and health subjects at the Union Elementary School bested 14 other entries to represent the Philippines as Microsoft Ambassadors in the Global Educator Exchange in Redmond, Washington, United States on April 28, 2015 to May 1, 2015. All expenses including travel and accommodation of the selected educators are paid by Microsoft Corporation.
Referred to as Microsoft Innovative Educator Experts (MIE Experts), the educators were selected for their outstanding MS instruction and are entitled to use Microsoft technology as they make a difference in their communities through different activities that integrate technology.
The MIE Experts were screened last October 2014 based on the learning activity they submitted to the Microsoft Educator Network (MSEN) website as their entry.
The educators will present their winning submissions at the Washington conference.
Espineli-Padernal earned her ambassadorship status for sharing two learning activities, "The Technopreneur in you" and "Experiencing e-training."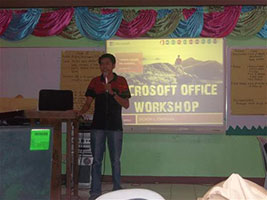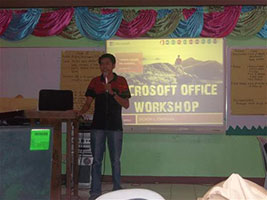 In the "Technopreneur" module students are asked to promote a product through any digital media. In the e-training module students enroll in a 3-week online course.
When asked about what she expects to gain from the conference, Espineli-Padernal told GoodNewsPilipinas in a Facebook chat interview, "After the seminar, the only thing that Microsoft asked of us is to transfer the learning that we acquire from them to other teachers as well, preferably public school teachers, those who do not have that much access to technology."
Oafallas for was awarded his slot for submitting the entries "Experiment Made Easy" and "Bridging the Gap."
In the experiment, students are asked to identify, differentiate, and define kinds of mixtures using ICT research tools. The second entry helps students identify and create documents using Microsoft platforms.
"Microsoft allows us educators to learn best practices from other colleagues and experts… promoting innovations, technology and reaching 21st century skills," Oafallas shared with GoodNewsPilipinas in a Facebook chat interview about his forthcoming trip to the United States.
Prior to the Global Educator Exchange, DLSU-D's Espineli-Padernal and Oafallas are attending Microsoft Webinars and Educasts, monthly online seminars for those who have been selected to attend the global forum. They also participate in Microsoft's online activities via Twitter and Facebook groups, exclusively created for the selected educators.
Facebook Comments