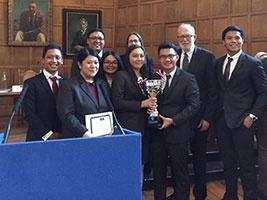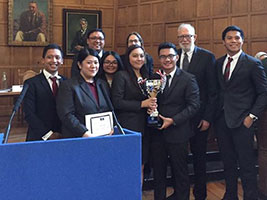 What do you get when you put together champions of human rights and veteran mooters from the University of the Philippines College of Law? A first win for the Philippines at the Oxford Moot Court competition, finally.
The champion team from the UP College of Law finally received the championship cup for the Philippines after ruling the 2015 International Rounds of the 8th annual Price Media Law Moot Court Competition held at the University of Oxford in late March.
"We are the champions! This proves UP Law's place in the truly great Universities of the world," declared team coach and UP law professor Harry Roque on his social media accounts moments after UP emerged victorious in the United Kingdom.
The winning team is composed of UP law students Gil Anthony Aquino, Gemmo George Fernandez, Rachel Miranda, Raphael Pangalangan, Pip Chungalao, and Pauline Gairanod. Gairanod was also declared as Best Speaker of the Oxford competition.
Roque, an activist lawyer in the Philippines, recounted to Philippine media how the UP team defended a legislation of a fictitious country that found a blogger civilly liable for advocating converting a minority religion by all means.
The Philippine team also argued that the Internet service provider that did not remove a video that led to a riot injuring hundreds was civilly liable under a conditional liability regime because it had noticed but did not take down the video.
UP represented Asia Pacific after winning in the regional rounds held at Beijing's Renmin University.
"It was tough. They had to compete in China first to qualify for London. All teams in London already won their regional rounds. All the teams in London hence were very good but UP had a perfect winning record in Oxford," Roque shared with GoodNewsPilipinas.
The team defeated 91 countries who participated in the regional rounds held in South East Europe, Middle East, Americas, South Asia, and Asia-Pacific. In the final international rounds, the UP Diliman team beat the 2010 winner, Singapore Management University.
Oxford University's Price Media Law Moot Court is the premier international annual competition on media law, information and technology, and free speech.
Facebook Comments