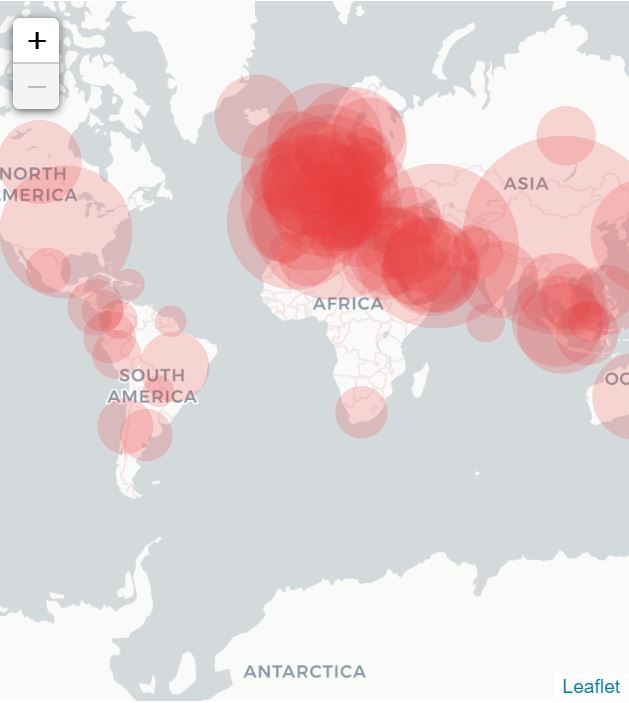 The Pinoy champion team of Project Advanced Early Detection-Prediction and Exploration Service (Project AEDES), a dengue case predictor mapping system developed by a multi-university Philippine team that won in the National Aeronautics and Space Administration (NASA) Space Apps Challenge 2019 global hackathon, is also involved in a 100% open source worldwide initiative to map and analyze data on the Coronavirus Disease 2019 (COVID-19).
The Project AEDES team from CirroLytix Research Services championed the use of Open Data by developing the award-winning forecasting model of dengue cases using climate and digital data, pinpointing possible hotspots from satellite data.
GoodNewsPilipinas.com learned that the winning team, comprised of team leader Dominic Ligot from the University of the Philippines Diliman (UP Diliman), Statistical Models expert Claire Tayco of UP Diliman, Data Engineer Mark Toledo of Far Eastern University (FEU), and Geospatial Models expert Jansen Lopez of the University of Santo Tomas (UST), are also currently involved in Coronatracker.com, a portal for the public to keep track of the latest verified news and worldwide developments about the COVID-19.
The community-based project is run by over 1,000 volunteers from across the globe, ranging from data scientists, medical professionals, UI/UX designers, fullstack developers, to the general public, gathered by an 8-member specialists team called the "Heroes behind CoronaTracker" and led by Dr. Lau Cher Han, with the Philippines' Dominic Ligot as its Lead Analyst.
Dominic Ligot shared with Good News Pilipinas that Coronatracker uses a webcrawler to aggregate news about coronavirus from global news organizations with statistics from WHO, CDC, ECDC, NHC of the PRC, JHU CSSE, DXY, QQ, and various international media.
"Right now everyone has a 'dashboard' on coronavirus. We try to go beyond just displaying the data to becoming a one-stop shop for information," explains Ligot.
"So far no one I know has gone this far. There are no concerted efforts to gather info, and there are lots of fake news," says Ligot.
The Coronatracker.com site makes available the following for public use:
news
travel alerts
COVID-19 basics
analytics
prevention information
The researchers are also building some analytics models to help understand the virus, with 4 areas of collaboration:
Data visualization
Forecasting / Simulation
Sentiment Analysis
Economic Impact
The volunteer group says the contents on the website are curated based on reliable data that avoids hoaxes and fake news. Natural Language Processing (NLP) is used to analyze trending content and identify meaningful topics over various news sources and social media platforms prior to being verified by the team. Coronatracker.com gathers data for in-depth analysis and localized news.
"We are also careful not to cause panics because of unvetted predictions and forecasts," shares Ligot.
"The team's goal is to get recognition from parties like WHO so we can be part of the public health information flow. For less advanced countries like the Philippines, we can be the citizen's portal for information," says the Pinoy lead analyst.
"Right now there are few opportunities to send and receive info on coronavirus. One enhancement is if we can also get input from the ground to relay back to DOH, WHO, like contract tracing, etc," Ligot adds.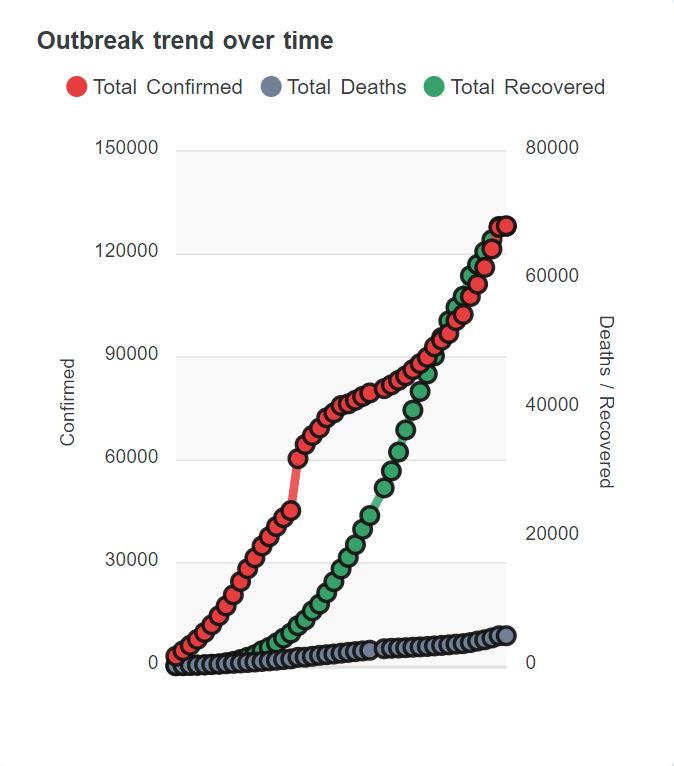 Coronatracker.com data scientists use OSEMN framework to collect, clean, explore, model, and run their own analysis which is then presented using graphic visualizations and dashboards. The team says they hope to build machine learning models very soon using the data.
The 100% open source project makes all information and publishable data available for use by the public. Data is also available on Github and the public is welcome to contribute through the Coronatracker telegram channel.
The Coronatracker.com traces its beginnings to being inspired by the Coronavirus Outbreak Map by John Hopkins University. They say they also recognised the difficulty to gather data for in-depth analysis through various other sources of scattered data on different news portals as well as in different languages.
The volunteer group started working together on January 25, 2020, and officially launched Coronatracker.com on January 27th.
The rallying cry for the Coronatracker volunteer team: "We aim to use technology and make information more accessible, gather talented people all around the world to win the fight!"
Dominic Ligot led another collaborative team that won the 2019 Break the Fake Grand Hackathon global rounds.
On the evening of Thursday, March 12, the Philippine president declared a community quarantine on Metro Manila in the midst of an escalating COVID-19 outbreak.
Earlier in the day, the UP National Institutes of Health presented its locally-developed GenAmplify Rapid Diagnostic Test kit for COVID-19, a cheaper version that releases results faster. The innovation was praised by netizens which sent their gratitude to scientists and health workers to trending status.
Meantime, a Filipino-developed virgin coconut oil derivative as a cure to the COVID-19 is being tested in Singapore as the dreaded coronavirus continues to spread across the world and while researchers, scientists, pharmaceutical companies, and medical institutions are scrambling to create a vaccine and are pitching in to find a cure to stop the dreaded coronavirus.
TELL US in the comments below how you are protecting yourself from the COVID-19?
Want to know how to be a Proud Pinoy? Like, Follow, Subscribe to GoodNewsPilipinas.com and our socials Facebook, Twitter, Instagram, Good News Pilipinas! TV on YouTube, for new story notifications and e-mail newsletters for updates on more Filipino Pride stories.
Facebook Comments