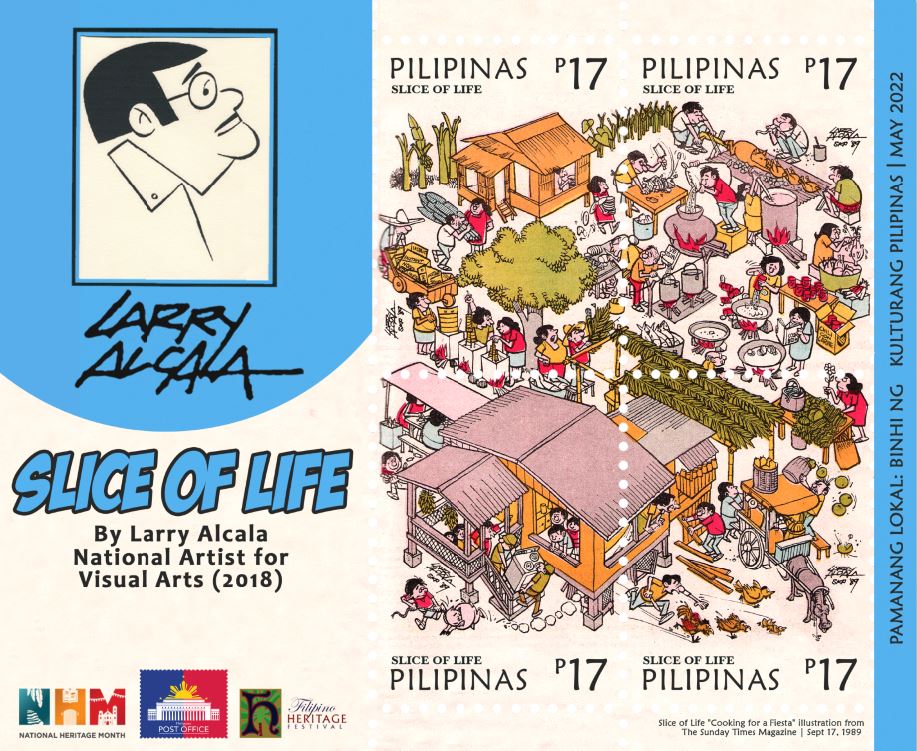 Lauro "Larry" Alcala's iconic editorial cartoons which brought on a national pastime for readers in the 1980s through the 90s who sought to find the creator's face hidden among the illustrated humorous critique and lessons from Philippine society are returning to public view as the Philippine Heritage Month wraps up this May.
The Albay native National Artist for Visual Arts who passed away at the age of 75 years in June 2002 after an illustrious career that spanned 56 years will have his works on exhibit at the SMX Convention Center Aura in Bonifacio Global City, Taguig from May 31 until June 6, 2022.
Larry Alcala's long-running comic strip "Slice of Life" is also being given a tribute on special issue commemorative stamps recently launched by the Philippine Postal Corporation.
The professor from the University of the Philippines College of Fine Arts and Department of Visual Communications Chairman contributed to Philippine education by pioneering the state university's degree program for popular and commercial art designs and the first 8mm film production of animated cartoons.
His comic strips in newspapers and magazines such as the Slice of Life, Kalabog en Bosyo, Asiong Aksaya, Siopawman, and Mang Ambo, to name a few, have become part of the history of popular Philippine culture.
Alcala led the formation of the Samahan ng Kartunista and took an important role in the formation of Ang Ilustrador ng Kabataan (Ang INK). The National Museum Bicol recounts his significant contributions to Philippine arts and culture:
over 500 characters
20 comic strips
six movies
two murals
15,000 published pages
pioneered animated cartoons and TV commercials
Larry Alcala's works are feted this National Heritage Month as part of local heritage that needs to be preserved and promoted for their impact on shaping Filipino cultural identity.
"I must convey a good message by making my strip as a mirror of them, perhaps, in a way it might help reform the society," The National Museum Bicol recalls Larry Alcala said in an interview during a TV documentary episode aired on August 25, 1995.
SMX Exhibition
The Larry Alcala collection of archival reproduction of comics and tribute works in drawing, print, and digital media, are to be presented together in the exhibition "Larry Alcala: Slices of Life, Wit, and Humor" in what organizers say will be a "testament to the endurance and timeliness of Alcala's observations, candor, and wit through visual form."
"This special offering explores Filipino comics and illustrations as popular and enduring art forms that channel humor alongside hard-hitting commentary about Philippine society," according to the event team.
The Larry Alcala retrospective is organized by the Metropolitan Museum of Manila and Filipino Heritage Festival Inc., with the support of the National Commission for Culture and the Arts and SM.
The opening reception is on May 31 at 4 PM at Function Hall 1 of SMX Convention Center Aura.
Larry Alcala's "Slice of Life" cartoon series, considered his most popular cartoon series which had its run in various publications including the Weekend, Sunday Tribune, Sunday Times, and PhilStar from 1980 until his death in 2002, is featured on the official Philippine postal stamps that the Post Office says, provide a "glimpse of the important things, in an important time".
The Post Office notes how in 1988, the "Slice of Life" cartoon series received the Best in Humor Award and was cited for "helping to keep alive the Filipino's ability to laugh at themselves in the midst of adversities, through a combination of art and humor."
The annual National Heritage Month Commemorative Stamps issuance is seen to play an important role in celebrating and promoting national heritage and shared national memory.
Previously in December 2003, a year after Alcala passed away, the Post Office honored the visual artist by issuing stamps for his work, Kalabog En Bosyo (1947), the longest-running serial ever by any Filipino cartoonist which was made into movies by celebrated comedians Dolphy and Panchito.
"His commentaries that are both critical and compassionate, evoked laughter and reflection in the everyday life of Filipinos. Alcala's art embodied Philippine culture, tradition, heritage, and serious social issues in the most captivating and relatable way," states the Post Office.
"Tinulungan po tayo ni Mr. Alcala na mas mapansin at maintindihan ang mahahalagang aspeto ng buhay Pilipino," Fulgencio said during the launching ceremony attended by representatives from the National Commission for Culture and Arts and Filipino Heritage Festival Inc. and attended by the Alcala family represented by Socorro Braga Alcala and Ana Iris Braga Alcala.
The Post Office In-house stamp is designed by Ryman Alburadora with a layout by Agnes Rarangol.
Stamps and Official First Day Covers are now available at the Philatelic Counter, Manila Central Post Office.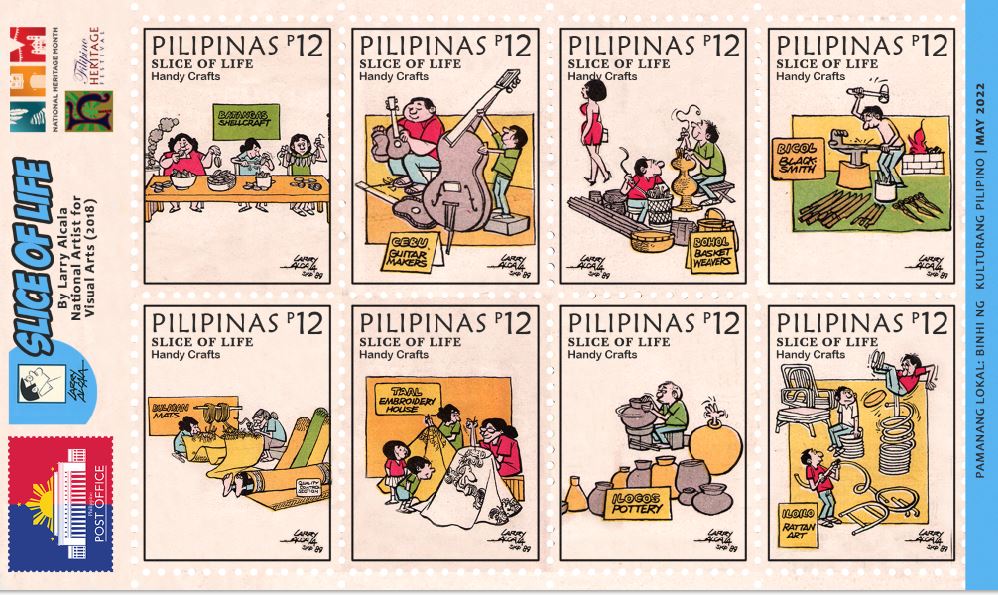 TELL US about your memory of Larry Alcala in the comments below and SHARE THIS ARTICLE to encourage more people to view his works this National Heritage Month.
Good News Pilipinas is a Lasallian Scholarum Awardee. TELL US your good news story tips by messaging GoodNewsPilipinas.com on Facebook, Twitter, Instagram, or e-mail editor@goodnewspilipinas.com and WATCH Good News Pilipinas TV YouTube & Good News Pilipinas TikTok for more Filipino Pride stories!
Facebook Comments