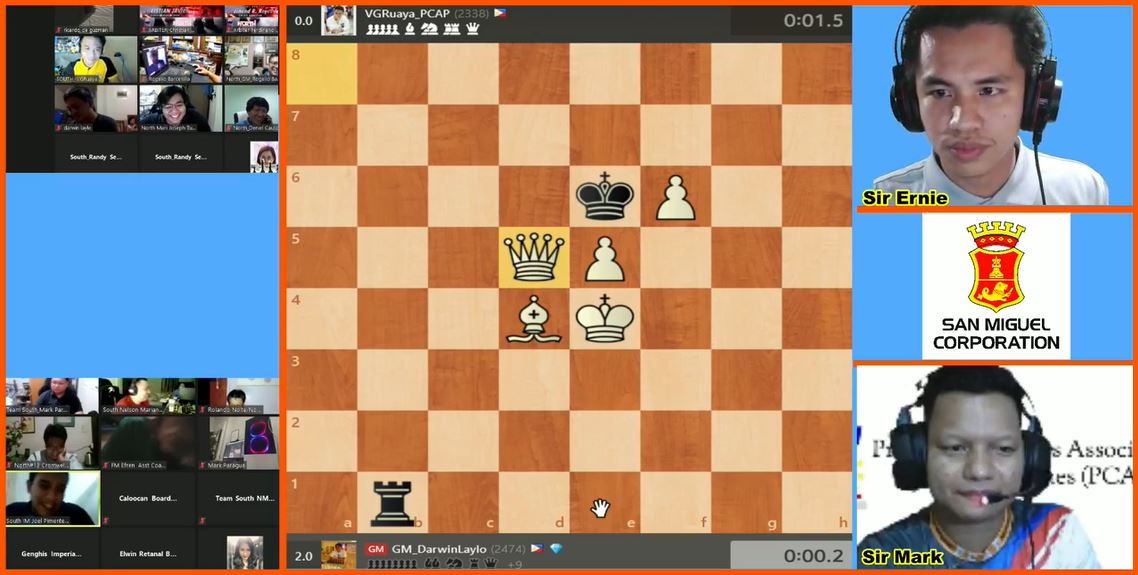 The Northern Philippines All-Star Team won as International Master (IM) Jem Garcia was declared MVP of the first Professional Chess Association of the Philippines (PCAP) All-Star Game.
The Northern All-Star won the close match against the Southern All-Star, 3-2 in Armageddon, decided by 1/5th of a second in the last game of the first PCAP All-Star held on the chess.com virtual platform on May 2, 2021.
It initially looked like the Northerners will have an easy run, with an overwhelming 12-2 victory in the blitz portion of the first set before coasting to a 13-15 score in the rapids, for a 25-17 win. On the second set, however, the Southerners started to come back with a 7-7 score in the blitz and a decisive 16-12 win in the rapids, for a 23-19 winning margin.
With one set apiece, the match went Armageddon over 5 boards. The Northerners chose GMs Rogelio Barcenilla, Jr. and Darwin Laylo, IMs Pau Bersamina and Jem Garcia, and FM AJ Literatus while the Southerners fielded GMs Mark Paragua and Joey Antonio, IM Joel Pimentel, NM Virgen Gil Ruaya, and Ellan Asuela.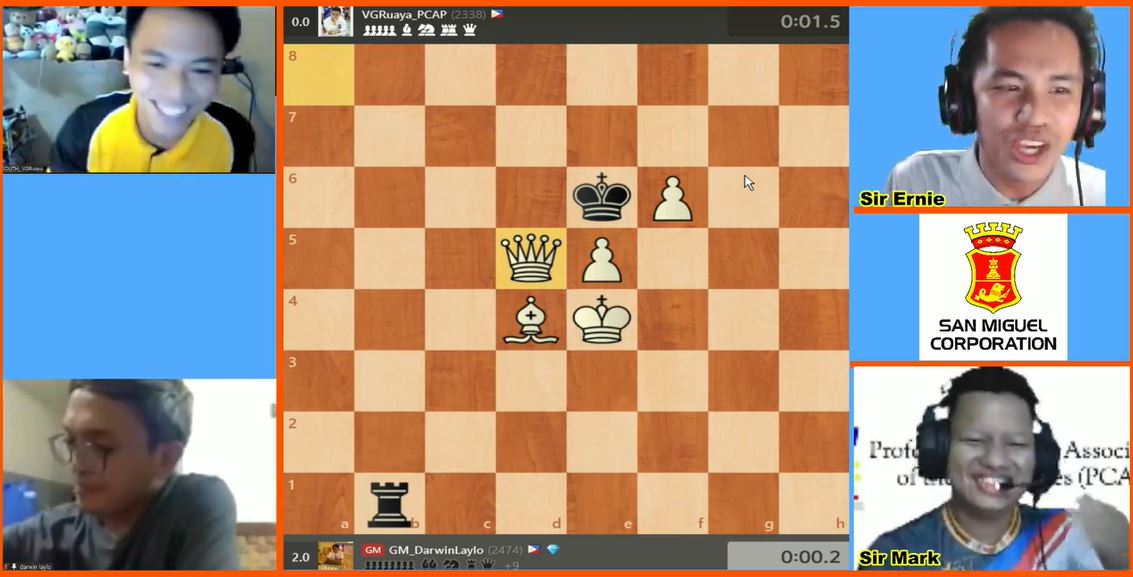 It was a slam-bang affair with both teams securing 2 wins each, with Barcenilla and Garcia winning their matches against Asuela and Antonio, respectively, and Paragua and Pimentel matching their efforts with victories over Bersamina and Literatus. This made the last game between GM Laylo and NM Ruaya the deciding match.
The game was a slam-bang affair, with Laylo looking for a win against Ruaya's play for just a draw. The result was so unpredictable with advantage shifting sides with every move. In the end, Laylo won by checkmate with 0.2 seconds on his clock.
The win gave the Northern Division PCAP's first-ever All-Star Championship.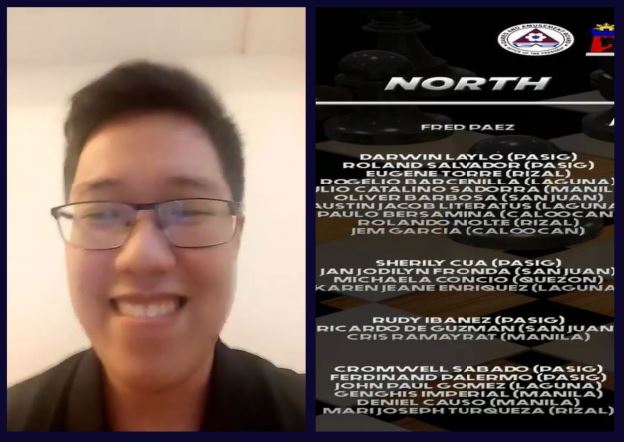 IM Jan Emmanuel Garcia from the Northern Division was unanimously voted the All-Star Games MVP, winning all his matches – 2 blitzes, 2 rapids, and 1 Armageddon.
Prior to the match, IM Garcia was also declared Best Player of the All-Filipino Conference while Grandmaster (GM) Banjo Barcenilla was named the Finals Most Valuable Player of the PCAP's first conference won by Laguna Heroes.
Dr. Fred Paez and Engr. Jojo Buenaventura, respectively, coached and managed the Northern and Southern Teams.
The next PCAP games will be the Reinforced Conference or the Wesley So Cup with a total prize pot of 315 thousand pesos. The Wesley So Cup is scheduled from May 15 to July 31, 2021, with playdates on Wednesdays and Saturdays.
SEND CONGRATULATIONS in the comments below to the Northern Philippines Division and IM Jem Garcia for winning in 1st Professional Chess All-Star Game hosted by the Professional Chess Association of the Philippines.
Good News Pilipinas is celebrating its 15th Anniversary in 2021 by giving away prizes! Subscribe to our Good News Pilipinas! TV YouTube channel and enter the raffle by sending us an email to editor@goodnewspilipinas.com
Facebook Comments