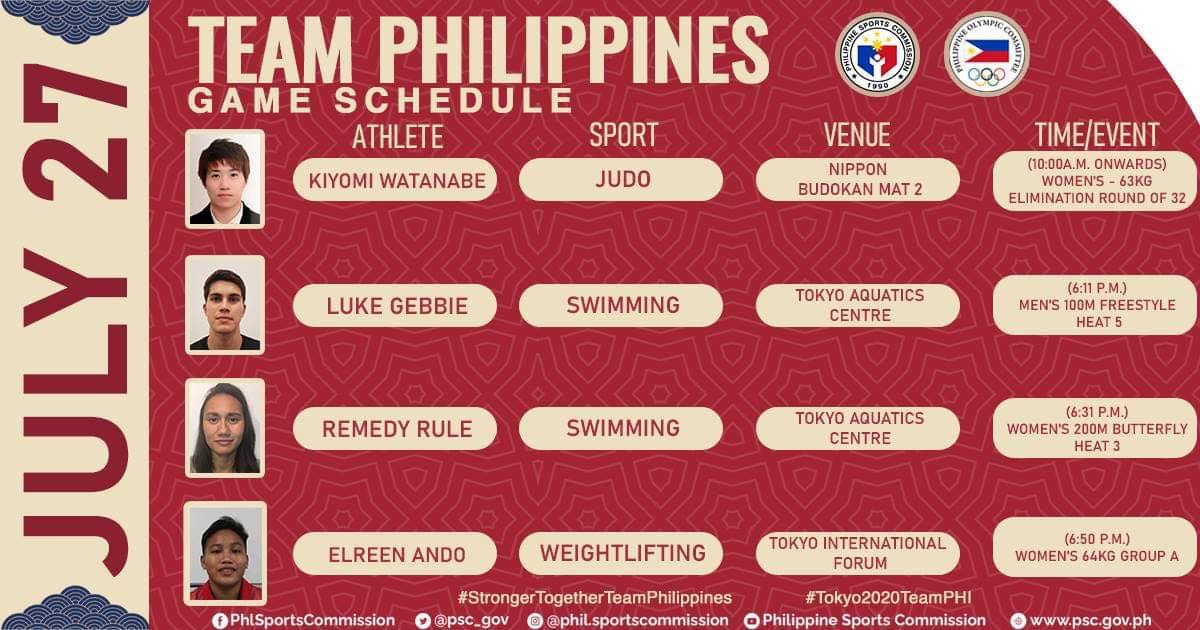 Olympics Schedule Today, July 27, 2021: The Philippines' judoka Kiyomi Watanabe, swimmers Luke Gebbie and Remedy Rule, and weightlifter Elreen Ando see action in their events.
KIYOMI WATANABE (Judo)
10:00 a.m. onwards
Kiyomi Watanabe 🇵🇭 vs Cristina Cabana Perez 🇪🇸
Women -63kg Elimination Round of 32 (Contest #9)
Nippon Budokan Mat 2
4 p.m., repechage (if necessary)
Bronze medal contests (if qualified) – 4:00 p.m. – 6:40 p.m.
Final (if qualified) – 4:00 p.m. – 6:40 p.m.
Kiyomi Watanabe is the first female judoka from the Philippines to ever compete in the Olympics.
The Filipino-Japanese athlete punched her ticket to the Tokyo Summer Games via continental quota for the Games in the women's -63kg division.
The country's top judoka was born in Cebu to a Filipino mother and Japanese father and has previously delivered gold medals for Team Philippines in 2017, 2015, and 2013 at the South East Asian Games.
Kiyomi Watanabe is the Philippines' female flag bearer in the opening ceremony of the 2020 Tokyo Olympics alongside boxer Eumir Marcial.
Kiyomi Watanabe makes history as 1st Filipina Olympian in Judo
LUKE GEBBIE (Swimming)
6:12 p.m.
Men's 100m Freestyle – Heat 5
Luke Gebbie and fellow swimmer Remedy Rule hope to make a splash in their Olympic debut appearance in Tokyo to inspire the next generation of Filipino swimmers.
Gebbie punched his ticket to Japan via universality places and emerging the highest-ranked male athlete among Filipinos in the Olympic qualifying events for swimming.
The Filipino swimmer accumulated 828 FINA (International swimming federation) points and will see action in the men's 50m and 100m freestyle events of the Summer Games.
Gebbie captured silver in the 4x100m freestyle relay and a bronze medal in the 50m freestyle events of the 30th Southeast Asian Games in 2019.
Filipino swimmers Remedy Rule, Luke Gebbie qualify for Tokyo Olympics
REMEDY RULE (Swimming)
6:33 p.m.
Women's 200m Butterfly – Heat 3
Swimmer Remedy Rule had her first event last Saturday and finished in second place in the Women's 100-meter Butterfly with a time of 59.68 but did not make the Top 16 who qualified for the semifinals.
Rule will continue her Olympic journey today as she competes in another event, the Women's 200-meter Butterfly.
Rule alongside fellow swimmer Luke Gebbie were awarded universality places in the Tokyo 2020 Olympics swimming competition.
The University of Texas standout tallied 830 FINA ranking points, emerging as the top point earner among female swimmers in the Philippines in the Olympic qualifying events for swimming.
ELREEN ANDO (Weightlifting)
6:50pm
Women's 64kg Group A
Elreen Ann Ando is poised to become one of the future weightlifting stars in the Philippines.
The Filipina weightlifter booked an Olympic berth by earning a continental allocation and emerging as the highest-ranked athlete in the International Weightlifting Federation (IWF) ranking for the women's 64kg event in Asia.
Ando captured two silvers and a bronze medal in the 2021 Asian Weightlifting Championships.
Elreen Ando is the Philippines' second representative in weightlifting to the Summer Games in Tokyo behind 2016 Rio Olympics silver medalist and 2020 Tokyo Olympics Gold medalist, Hidilyn Diaz.
Weightlifter Elreen Ando qualifies as Philippines' 11th athlete in Tokyo Olympics
Good News Pilipinas is celebrating its 15th Anniversary in 2021 by giving away prizes! Subscribe to our Good News Pilipinas! TV YouTube channel and enter the raffle by sending us an email to editor@goodnewspilipinas.com saying what you like about our site.
Facebook Comments