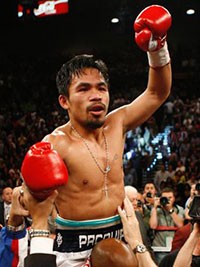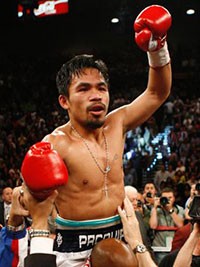 The touted Fight of the Century of Filipino international boxing champion Manny Pacquiao may have ended in a heartbreak for this nation of fighters, but analysts and fans all agree that the "People's Champ" reigns supreme in global boxing history.
As eight-division title holder Manny Pacquiao was announced to have lost to Floyd Mayweather Jr. by a unanimous decision of the Nevada Boxing jurors, fan reaction rang high not only in the MGM stadium, but also in gyms, homes, streets, and wherever people gathered to witness the fight on television, on the internet, and on radio.
Boxing world's icon Muhammad Ali, was quoted by Jiodeslate in a post-fight interview as saying, "He (Mayweather) will never be remembered the way Pacman will be, as a true fighter…he is not a champion. Manny Pacquiao is and always will be."
Pacquiao had won the people's hearts long before the anticipated fight took place. More than being a prize fighter, the Pacman had carried the country's flag with pride in every arena he fought.
The popular boxer's rise from humble beginnings had captured the imagination of the masses with his rags to riches story. He has retained his humility through all the millions of dollars, fame, and power he now wields. His character defined the Pacquiao legacy, not the fame and fortune he has acquired or his success in the ring.
The career of the People's Champ, marked by his avowed love for his country and countrymen, his devotion to God, his sympathetic heart and endless help extended to the poor, his humble demeanour, his Filipino smile, and even his love for singing – all these have endeared him to people. When people watch Pacquiao fight, they do not only see an 8-division world champion, they see someone who is "one of us;" someone who has shared the pains and joys of a struggling people, one who shares our culture and represents our nation.
Manny Pacquiao has brought joy and hope to Filipinos throughout his boxing career. With every knockdown he scored we cheered, with every combination he threw we stood up in excitement, with each punch he took we worried, in his victory we celebrated and in his defeat we have mourned. Pacquiao lost to Floyd Mayweather Jr., yes. But even before the fight, he had already won our hearts. He had already achieved greatness even before the battle began because no amount of money can buy the love and support of an entire nation. He is, and will forever be the "Pambansang Kamao." Manny "Pacman" Pacquiao may have lost the battle, but he won the war.
Facebook Comments