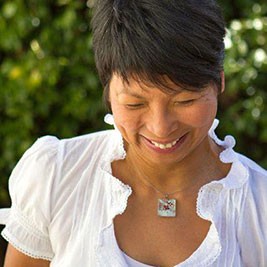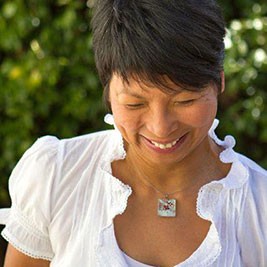 Filipina designer Vina Lustado has done away with the trappings of luxurious living althoughshe can very well afford it, and has found comfort in style in a tiny, modern, environmental-lifestyle-attuned "trailer home."
Lustado, owner of Sol Haus Design and a resident of a 1-acre lot in Ojai, California, has designed for herself a modern space-saving home in the woods, using just 140 square feet for all her shelter needs.
Media, including the San Francisco Globe, have reported how the Philippine-born designer was able to fuse function with comfort to provide an environmentally-friendly lifestyle and choosing to focus on maintaining relationships rather than attending to the needs of a larger home.
In a house tour with Tree Hugger, Lustado showed off her 8.5-foot by 20-foot dream house, built over a year at a cost of $40,000. Working with local artisans and friends, Lustado has made herself a built-in drafting desk, kitchen, bathroom, and loft. A custom-made sofa that transforms into a guest bed, is paired with hand-crafted transformer furniture. What has made Lustado's house more amazing is how it is designed to conserve energy.
Three solar panels provide the house electricity stored in four batteries. The trees surrounding her house partially shade the solar panels so she has to be more conscious of her energy use.
Lustado's kitchen utilizes a 7-gallon propane tank for the fireplace, stove, and hot water heater. She only pays for the water, fed to the house by a garden hose.
Lustado has French doors found in her central living area which opens to an 80-square foot deck allowing her to open her space to parties and the outdoors. She has a loft with an operable skylight window that allows her to feel natural ambiance, something Lustado says she did because she wanted to again see how the sun sets and rises, remembering her days in her native Philippines.
She even has a compost toilet inside her house, which doubles as a bench in her bathroom because she just occasionally uses it – just in the middle-of-night runs.Lustado tells Houzz Tour that she designed and built the house as a permanent home. "It's not temporary. It's my house. If I move, it will move with me," asserts the designer.
Lustado constructed the minimalist home on a trailer with wheels which technically makes it a temporary housing unit, to get around state requirements for permanent living units to be at least 600-700 square feet.
Lustado has said she considers the importance of natural resources when building more efficient and affordable homes, building on what she learned from Tumbleweed Tiny House Company and the Tiny Home Movement. She continually scales down her belongings and thinks twice before buying new items. She has proceeded to involve others in a growing community of builders with new and fresh ideas inspired by energy conservation.
The designer, who has designed homes and commercial buildings for 20 years, anticipates engaging a fast-growing number of people who also want to have functional yet flexible abodes like her Sol Haus designs.
Facebook Comments