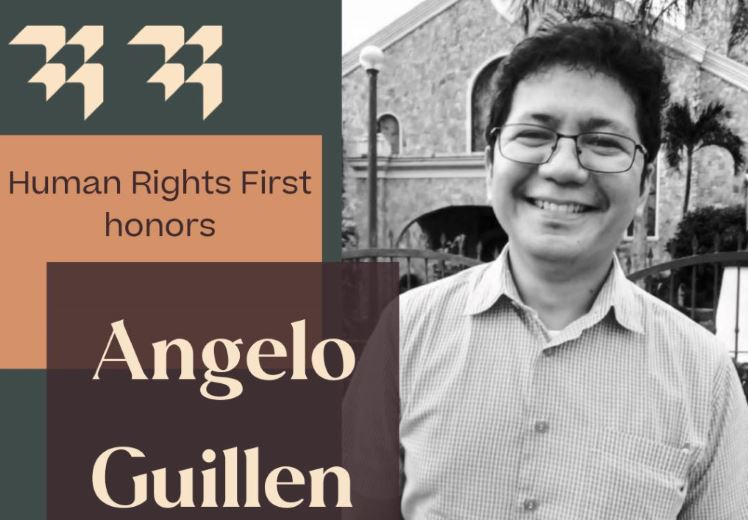 Filipino lawyer Angelo Karlo Guillen is set to receive the Baldwin Medal of Liberty for his continued efforts to defend human rights despite facing threats and risks to his own life.
The Panay-based human rights lawyer, whose legal work includes the protection of farmers and indigenous communities and documenting human rights violations, was named the winner of the international award after surviving an assassination attempt last year.
Guillen of the National Union of Peoples' Lawyers (NUPL) survived a stabbing attack by masked assailants in Iloilo City in March 2021. Despite the many risks, he still continues to work for marginalized sectors and has not stopped taking on cases involving human rights abuses.
The human rights defender was announced as the recipient of the 2022 Roger N. Baldwin Medal of Liberty Award, established in 1989 and named in honor of the principal founder of the American Civil Liberties Union (ACLU) and the organization later known as the International League for Human Rights.
The award aims to bring recognition and support to "activists who are advancing the protection of human rights at great personal risk," according to Michael Breen, President and CEO of Human Rights First, an organization based in New York and Washington, DC, United States.
"For more than 30 years, the Baldwin Medal has brought recognition and support to extraordinary activists who are advancing the protection of human rights at great personal risk," said Michael Breen, President and CEO of Human Rights First in a press release dated on August 8, 2022.
"Angelo Guillen is a courageous and effective advocate whose work has made a difference in the lives of his fellow Filipinos and put a spotlight on abuses and calling for accountability," Breen adds.
Guillen hopes the award will encourage fellow human rights defenders in the country to continue fighting for their cause even in difficult times.
"I am honored to accept the Baldwin Medal, which I do on behalf of all Filipino human rights lawyers and defenders," said Angelo Karlo Guillen. "This award will encourage us even more, to continue our work defending human rights and civil liberties in the Philippines, even in these difficult times."
"I am especially glad this award could be announced on the International Day of the World's Indigenous Peoples, which is also National Indigenous Peoples Day in the Philippines," Guillen continued.
"Indigenous peoples, like the Tumandok community, as well as farmers, labor leaders, and activists, have borne the brunt of unjust arrests, extrajudicial killings, and other human rights violations committed by state security forces that, to this day, still take place throughout the country. Their rights must be protected, and we hope that this recognition will help bring attention to their plight," Guillen adds.
Guillen was chosen winner of the Baldwin Medal of Liberty by a distinguished jury that included Cristina Palabay of Karapatan Human Rights Alliance, winner of the annual Franco-German Prize for Human Rights, and Radhya Almutawakel, the co-founder and chairperson of Mwatana for Human Rights, among many others.
The Filipino lawyer will receive a $30,000 prize and is set to be presented with his award at an event in the United States later this 2022.
Filipinos who have been recognized for leading human rights efforts and advocacies include press freedom champion and first Filipino Nobel Peace Prize Laureate Maria Ressa and Fr. Flaviano "Flavie" Villanueva, the first Filipino winner of the Human Rights Tulip Award from the Dutch government.
SEND CONGRATULATIONS in the comments below to Filipino lawyer Angelo Karlo Guillen for continuing to defend human rights in the country and for winning this year's Baldwin Medal of Liberty Award!
Good News Pilipinas is a Lasallian Scholarum Awardee. TELL US your good news story tips by messaging GoodNewsPilipinas.com on Facebook, Twitter, Instagram, or e-mail editor@goodnewspilipinas.com and WATCH Good News Pilipinas TV YouTube & Good News Pilipinas TikTok for more Filipino Pride stories!
Facebook Comments