Pauwi Na, titled Pedicab in its international release, received the top 20th Golden Goblet Award as Best Film at the Shanghai International Film Festival (SIFF).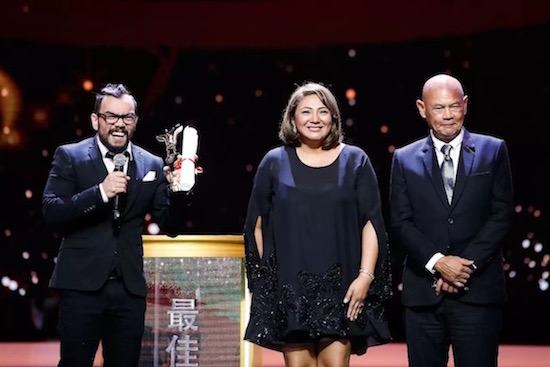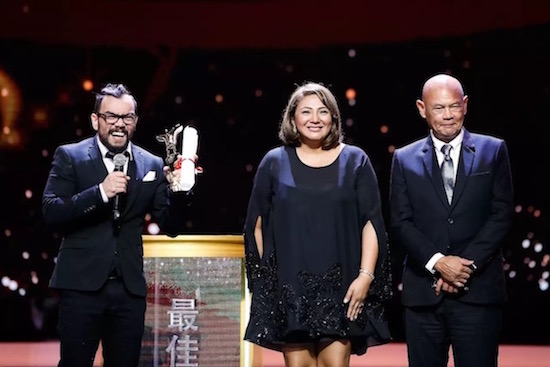 Pauwi Na (Pedicab) director Paolo Villaluna, with actors Cherry Pie Picache and Bembol Roco received the SIFF Best Feature Film award at the Golden Goblet Awarding Ceremonies in China.
The Philippines' entry was announced the winner – "For the humanism and universality of the story, for the simplicity of the style and realization – for the non-conformism with which it represented our desire to believe that there is a sense in this Universe, the award for the Best Film goes to PEDICAB, from the Philippines."
Pauwi Na (Pedicab) received the plum award from among three SIFF competitions and 24 nominations judged by a panel led by Cannes' winning director, Cristian Mungui.
When deliberating on the Golden Goblet Best Film awardee, the SIFF Jury reportedly paid more attention to the work itself compared with film background and director's experience.
Jury President Mungui revealed in an interview published by SIFF: "Selecting Best Film is always the hardest, for other categories have prominent and separate considering criteria. Yet every jury member had his or her own opinion on Best Film, so there was a lot of argument during the process. Fortunately, we finally reached consensus and basically every member's requirement has been satisfied."
"Compared with the film production powers like Iran, Japan and Italy, Philippine production seems to be less familiar to the Chinese audience. However, the Philippine film PEDICAB, during its screening as a competing work for the Festival, has moved a large number of audience with its genuine emotions and novel narration," stated the 20th SIFF release.
"After taking the most prestigious award that night, the director Paolo VILLALUNA was somehow shocked and nearly burst into tears because of the excitement. In the interview, Paolo admitted: 'The award means a lot to me. I feel like I was in heaven. It's incredible.'" 
Villaluna's film, edited by Ellen Ramos, follows the story of an impoverished city family on a journey back to the countryside. The film is based on a true story of a family who pedaled their way from Manila back to Leyte in 2003.
The To Farm Film Festivals Jury Prize recipient also stars Meryll Soriano, Jerald Napoles, Jess Mendoza, and Chai Fonacier.
The award-winning Pauwi Na (Pedicab) will be shown nationwide in Philippine theaters during the Pista ng Pelikulang Pilipino on August 16-22.
Facebook Comments