The Philippine economy grew 7% in the second quarter of 2016, the fastest quarterly pace in three years.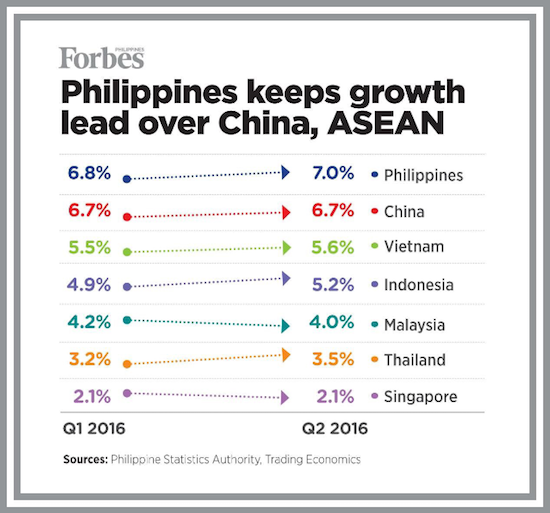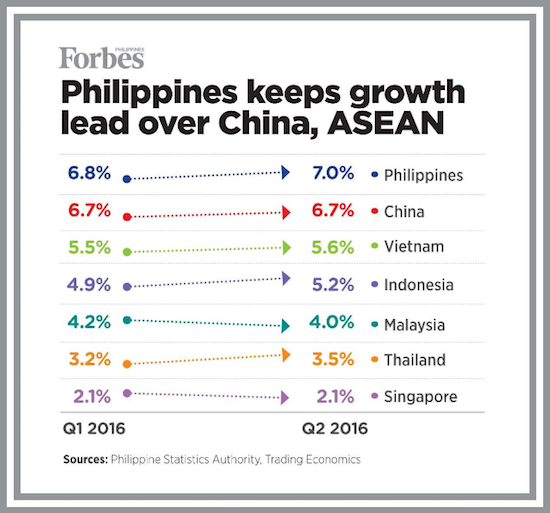 Growth in the April to June period beat market expectations on the back of solid macroeconomic fundamentals. Election-related spending also boosted the economy, as the Philippines held national elections last May 9.
The service sector remained the key driver of economic growth, with agriculture pulling down the overall number. On the demand side, investment and consumer spending helped make up for a decline in net exports.
The latest Gross Domestic Product (GDP) figure builds on the 6.8% growth recorded in the first 3 months of the year, which made the Philippines the fastest growing economy in the region.
The second quarter of the year benefited from election spending which intensified in the final months to the elections in May. Remittances from Overseas Filipino Workers, which help fuel the consumption that drives the economy also remained strong despite worries at the start of the year.
President Rodrigo Duterte, who took office June 30, promised to keep the economic policies of his predecessor and has outlined initiatives to boost growth and create jobs to lift people out of poverty.
The former mayor is seeking to relax economic restrictions and make it easier to do business, in a bid to attract more foreign investment. Duterte, 71, is also pledging to lower personal and corporate income taxes, accelerate infrastructure spending and ease rules protecting the secrecy of bank deposits.
Facebook Comments