The Philippine team won its 4 th straight championship title at the 2016 Singapore Invitational Swimming Championship, winning 79 gold, 54 silver, and 39 bronze medals.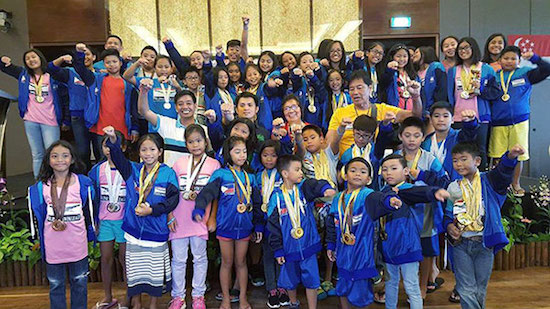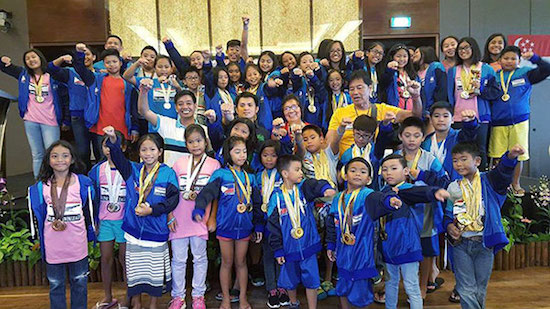 The Philippine Swimming League (PSL) team also set two new records.
Aubrey Tom of International Learning Academy of Cainta clocked at 1:13:31 in the girls' 8-9 100m freestyle category, beating last year's record at1:14:64 set by Singaporean Naomi Rui Ern Ong.
Sean Terence Zamora of University of Santo Tomas came in at 26.80 seconds for the boys' 16-17 50m butterfly, breaking the record of 27.06 set in 2011 by Chinese Di Sheng Chin.
The medal tally include:
Jazmine Mirasol – 3 gold medals for girls' 18-over 100m freestyle, 100m breaststroke (1:45.17) and 50m butterfly (45.27)
Jerard Dominic Jacinto – 4 gold medals for boys' 14-15 200m IM (2:22.17), and 100m freestyle (57.74)
Aubrey Bermejo – 2 gold medals for girls' 12-13 100m freestyle (1:05.19) and 50m butterfly (32.13)
Weisenheimer Academy's Marc Bryan Dula – 1 gold in boys' 8-9 50m butterfly (35.83)
Immaculate Heart of Mary College-Parañaque's Micaela Jasmine Mojdeh – 1 gold for girls' 10-11 100m breaststroke (1:31.99)
De La Salle-Zobel's Joey Del Rosario – 1 gold in boys' 8-9 100m breaststroke (1:50.36) PSL President Susan Papa said, "We would like to commend our young swimmers who fought hard to win medals for our country. We're so blessed to be here waving our flag against some of the region's best young tankers. It's a job well done."
Secretary General Maria Susan Benasa, and coaches Alex Papa, Joey Andaya and Ryan Robles led the PSL team.
The PSL also won the championshipin 2011, then went on to win the 2013, 2014, 2015 and 2016 titles.
Facebook Comments