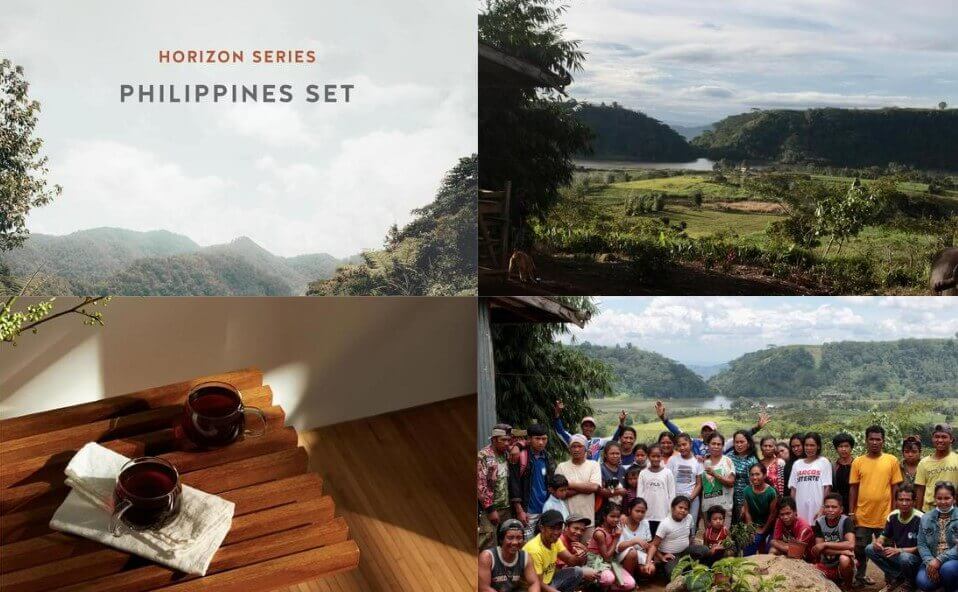 Philippine coffee is regaining international attention with two specialty products grown from Bukidnon farms now serving the international market of Blue Bottle Coffee, a well-known roaster and retailer among coffee enthusiasts.
The partnership between Manila's Kalsada Coffee and California-headquartered Blue Bottle was revealed today, March 1, 2023, with the announcement of the availability of the store's first-ever Philippine Set: the Philippines Sitio San Roque Typica Sweet and Philippines Sitio San Roque Anaerobic Natural.
The two new natural process coffees grown and produced by the Kalsada Coffee community at Sitio San Roque in Bukidnon province of Mindanao are presented by Blue Bottle as "Ushering in a New Era" for the Southeast Asian country that was reputed in the 19th century to be the world's fourth largest exporter of coffee beans.
Kalsada Coffee, which champions Philippine specialty coffee roasted in Manila and exported to the United States and France, shared on social media the story of how they finally made Philippine-origin coffee get introduced to the world market via Blue Bottle.
"Five years in the making. We started sending green bean samples to Blue Bottle Coffee in 2018, and after repeated evaluations, rejections, and encouragement from their graders to keep improving, our coffee finally met their standards in 2022," Kalsada Coffee's social media stated.
"This is the first Philippine origin that Blue Bottle is serving and we're proud to share that the two microlots they chose come from one of our communities in Sitio San Roque, Pigtauranan in Bukidnon.
"Elevating Philippine specialty coffee by partnering closely with producers has been the center of our work these last nine years. It's been largely difficult, but every so often, we're reminded why we do what we do and why we need to keep going. Cheers to our partners in Sitio San Roque led by Alyn and Arnold Libante! This is a win for them and for Philippine coffee," they added.
Kalsada Coffee's Corazon Padilla introduces the coffee products on the website: "We're slowly witnessing the quality of Philippine coffee improve—from processing to roasting to brewing—and along the way, we're also seeing some farm communities' quality of life improve because of coffee."
Blue Bottle Coffee's social media presented why its new products are noteworthy:
"Introducing the final coffees in our Horizon Series: The Philippines Set, an exploration in the resurgence of Philippine coffee.
"The Philippines' newest wave of coffee exploration is shaping the nation into a hub for experimentation. Farmers and producers from the region are finding inspiration in their country's long history with coffee to reinvigorate the craft. Now, microlots like these two from Sitio San Roque are returning the Philippines to coffee exceptionalism.
"For a complex taste of the Philippines' rebirth of coffee, try these single origins and savor the dimensions of flavor.
"As a part of our Horizon Series, this set brings you two tastes from a region underrepresented in recent years, but was once well-known for their coffees. The Philippines has a fluctuating history with coffee, once ranking among the top five exporting countries in the world to now mostly feeding only local demand. These coffees from Sitio San Roque farm expose us to a new wave of Philippine coffee."
Blue Bottle's Philippine Set from the shop's Horizon Series which explores coffees from Asia, also notes why they chose to introduce the Sitio San Roque coffees.
"The growers and producers at Sitio San Roque are ushering in a new era of coffee production in the Philippines through their dedication to experimentation. We see the bold use of anaerobic fermentation in both of these remarkable coffees," the shop said.
Here are the product descriptions of Blue Bottle's first offerings from the Philippines:
PHILIPPINES SITIO SAN ROQUE TYPICA SWEET
The experimental fermentation in the Typica Sweet coffee lends itself to a thick, comforting coffee with bold spices and notes of dried fruit typical to natural processing.
PHILIPPINES SITIO SAN ROQUE ANAEROBIC NATURAL
Their Anaerobic Natural coffee, on the other hand, has a jammy flavor with bright notes of plum and grape, tantalizing you with the scent of baking spices before your first sip.
Orders for the Philippine Set on the Blue Bottle Coffee website can be ready for shipment in 1 to 3 business days.
Check out their website for details:
After lobbying for 5 years, @KalsadaCoffee finally gets Philippine origin coffee from Bukidnon introduced to the world market today via @bluebottleroast stores. STORY on @GoodNewsPinas_ Here's how to order the Philippine Set: https://t.co/4EdUP6hPFq pic.twitter.com/rSDAuqPjqk

— Angie Quadra-Balibay (@AngieQBalibay) March 1, 2023
More signs of coffee production resurgence in the Philippines include its Arabica and Liberica coffees winning recognition at the Signature Coffee Awards in South Korea and top barista Michael Harris Lim showcasing Philippine coffee at the World Barista Championships.
SEND CONGRATULATIONS in the comments below to Kalsada Coffee and its growers and producers community in Bukidnon for finally getting their coffee served at Blue Bottle coffee stores!
Good News Pilipinas is a Lasallian Scholarum Awardee. TELL US your good news story tips by messaging GoodNewsPilipinas.com on Facebook, Twitter, Instagram, or e-mail editor@goodnewspilipinas.com and WATCH Good News Pilipinas TV YouTube & Good News Pilipinas TikTok for more Filipino Pride stories!
Facebook Comments