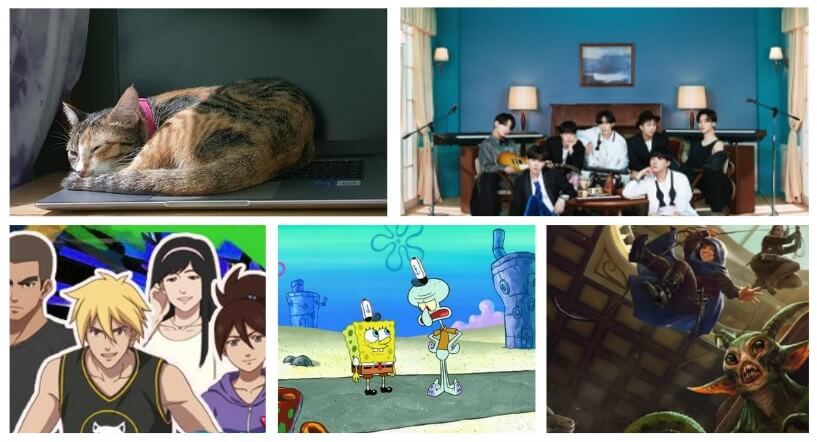 From training in pet care to being a responsible K-Pop fan, creating anime stories to gleaning insights from cartoon shows, and having fun with role-playing games – these are just some of the unusual subject offerings which have hit the right notes with students of De La Salle University – Dasmarinas Senior High School (DLSU-D SHS) who eagerly sign-up for these creative classes.
These DLSU-D SHS course electives for students preparing to enter university studies correctly picked up on the actual personal interests of learners and turned the classes into enjoyable learning sessions while instilling academic and real-life competencies.
Good News Pilipinas interviewed DLSU-D Senior High School Principal Marlon Pareja about how these out-of-the-box courses started and the interest they have generated over the years.
The creative subjects were first offered in 2019 at the Lasallian educational institution in Cavite to complement the very structured system of the SHS strands (academic track, arts and design track, and sports track) which had students only taking up subjects directly related to their strand.
However, DLSU-D observed that most SHS students were undecided on the courses they want to take up in college. And so, the administration devised a curriculum that allowed students to cross-enroll in elective subjects from other strands.
"So we came up with electives, at first, our objective is for students to take courses offered from other strands like cooking from TVL, programming from ICT, and calculus from STEM, and offered it to all," the DLSU-D SHS leader recalled.
"This will help them get a feel of what their interests are, and hopefully help them decide their career path," Pareja added.
.@DLSUD Senior High School creative course electives complement the 3 structured SHS strands FULL STORY on @GoodNewsPinas_ https://t.co/zskBtjviFg pic.twitter.com/iJ44W85smy

— Angie Quadra-Balibay (@AngieQBalibay) March 1, 2023
The more creative and interesting elective courses came later – critical analyses of star wars movies, Harry Potter, and the ongoing courses:
Learning to care for pet cats (Meowmy Academy)
Introduction to Dungeons and Dragons Gaming (Introduction to Tabletop Role-Playing Games)
Understanding Kpop and Kdrama and Fan Culture (ScholastiK-Pop)
Critical Viewing of TV Shows: Spongebob Squarepants (Keeping Up with Bikini Bottom)
Creating Manga, Anime, Manhwa Stories (Shohoku)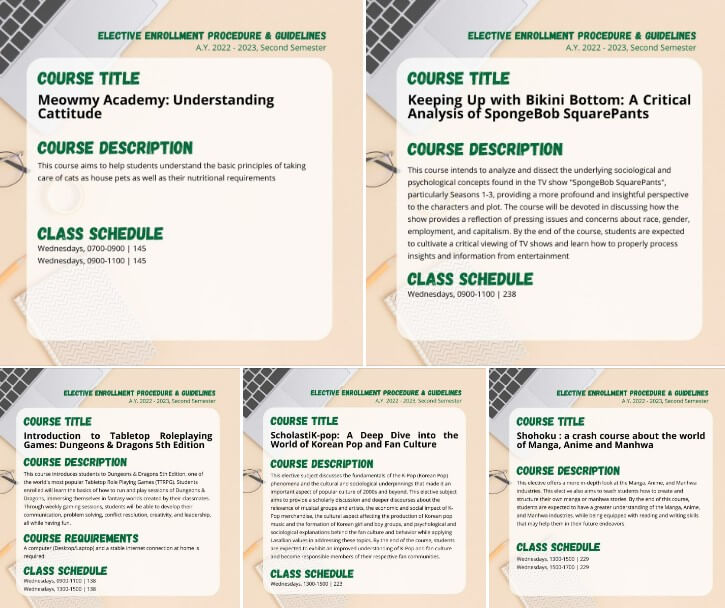 The fun learning is exemplified by the previous semester's K-Pop class which had a culminating activity that had the students hold a program where they get to cosplay K-pop or K-drama.
"We now want to connect to the actual interests of students and instill in them the competencies of critical thinking and analysis. Or instill in them Lasallian values of grit and service to others," Pareja shared.
The initiative has been rewarded with full-load classes, indicating the very high interest generated by these creative course electives from both the students and their parents who also welcomed the subject offerings.
DLSU-D SHS students have also been making headways in research on sustainable solutions, such as an alternative to single-use plastic, a plastic straw substitute, and generating electricity from pedestrian traffic – beefing up the reputation of De La Salle University Dasmariñas as the Philippines' Greenest University Campus – a lasting legacy initiated by current DLSU-D SHS principal Marlon Pareja who is a nationally and internationally acknowledged sustainability expert.
This leads us to look forward to more creative course offerings that instill environmental action in its SHS students.
And the target's not far off, as Pareja shares that the upcoming semester will have a Physical Education elective encouraging biking to school – how cool is that!
SEND CONGRATULATIONS in the comments below to DLSU-D SHS for innovating on course electives that generate high interest from students!
Good News Pilipinas is a Lasallian Scholarum Awardee. TELL US your good news story tips by messaging GoodNewsPilipinas.com on Facebook, Twitter, Instagram, or e-mail editor@goodnewspilipinas.com and WATCH Good News Pilipinas TV YouTube & Good News Pilipinas TikTok for more Filipino Pride stories!
Facebook Comments