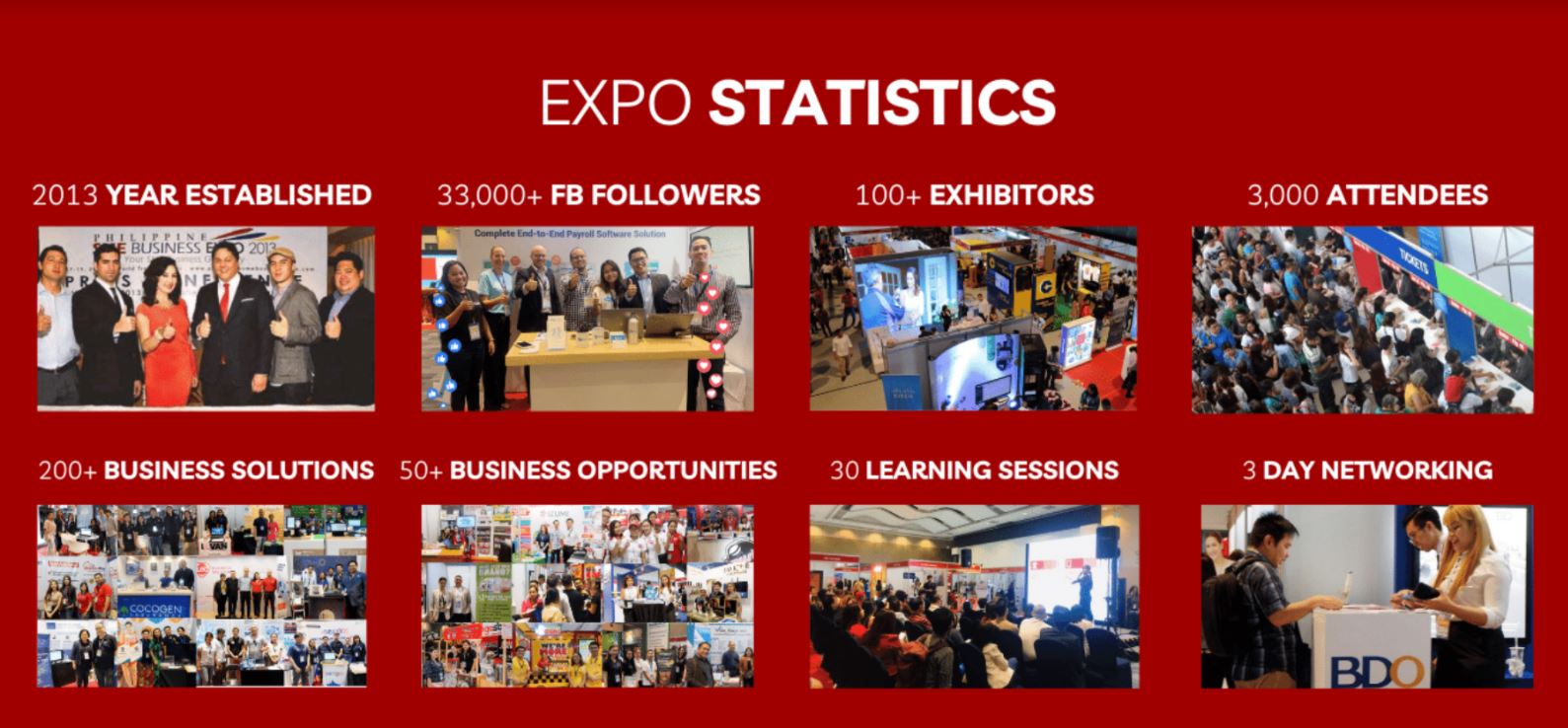 The Philippines' biggest business expo is all set to inspire businesses to thrive in the "New Normal" following the COVID-19 pandemic.
The 11th annual Philippine SME Business Expo will again go virtual on its second year with its three-day run from March 16-18, 2022.
The Phil SME virtual expo is the country's biggest expo, conference, and networking event for small and medium enterprises (SMEs), start-ups, and entrepreneurs.
Why Join the 11th Philippine SME Business Expo?
As the global economy continues to face a raging pandemic, Philippine businesses must learn to survive and thrive in today's "new normal." Fortunately, in the upcoming business expo — SMEs, start-ups, and entrepreneurs across the country can expect to:
Explore 200+ business solutions and opportunities to empower businesses;
Discover and learn new business insights from 30 top speakers;
Get special deals and discounts from exhibitors (available only at the expo); and, Expand networks and build relationships with 3,000 attendees.
The latest "virtual edition" of the expo will be held online, using a highly interactive platform that enables participants to join live learning sessions. Just like in previous editions, the event will also be featuring exhibitors' products and services.
Business Solutions and Opportunities… All in One Place
Since 2013, the Philippine SME Business Expo has been empowering businesses from all over the country. Over the years, the expo community has grown to include 100+ exhibitors, 3000+ attendees, 33,000+ social media followers… and counting!
"The Philippine SME Business Expo was founded in 2013, with the objective to provide the best business solutions and opportunities for SMEs, start-ups, and entrepreneurs, all in one place," David Abrenilla, Expo Founder and Managing Director, shared in a video. "I am excited to welcome you to our Philippine SME Business Expo community."
The expo community includes businesses from various industries: IT solutions, financial technology, business consulting, telecommunications, logistics, food and beverage, food franchising, real estate, and many more. Notable exhibitors from previous editions include DHL, Grab, Grainsmart, Kettle Korn, Lazada, LBC Business Solutions, Maxicare, Skybiz, Smart, Sun Life Financial, Walker, and 2Go Express.
SMEs, Start-Ups, and Entrepreneurs are Invited
The 11th Philippine SME Business Expo is organized by MediaCom Solutionc Inc., with support from the Department of Trade and Industry and the Filipino International Franchise Association. SMEs and start-ups are invited to attend, along with investors, trade associations, government agencies, media, and of course… aspiring entrepreneurs!
To join the event, simple visit https://www.philsme.com/ and fill up the visitor registration form. Registration is FREE! You can also contact the Philippine SME Business Expo team at sunshine@philsme.com and+639685698358 for more details.
TELL US your good news story tips by messaging GoodNewsPilipinas.com on Facebook, Twitter, Instagram, or e-mail editor@goodnewspilipinas.com and WATCH Good News Pilipinas TV YouTube for more Filipino Pride stories!
Facebook Comments