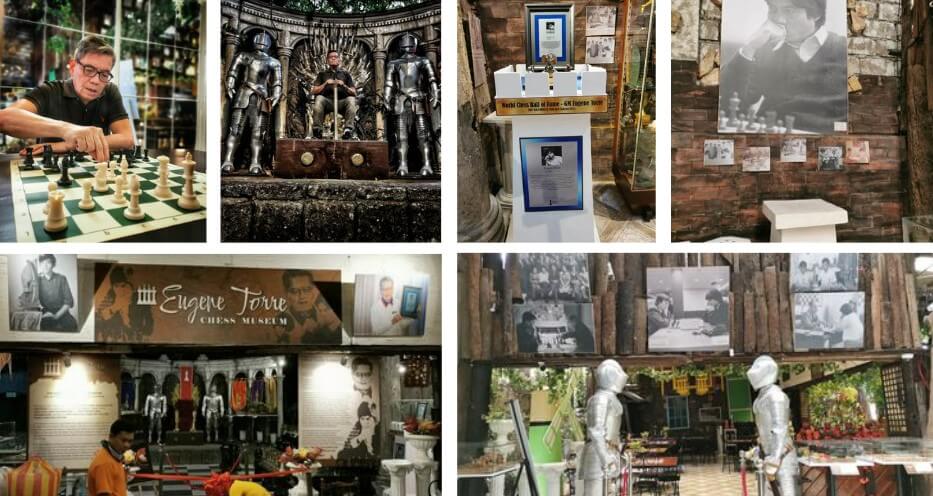 The Philippines' first official Chess Museum honoring legendary world chess icon Eugene Torre officially opened its doors to the public today in Marikina City, showcasing handcrafted chess sets and memorabilia from Torre's illustrious 50-year career in the sport.
The Eugene Torre Chess Museum, honoring the Filipino as a trailblazer for Asian chess for half a century and achieving a number of continental milestones, is the country's first accredited chess museum, recognized by the Department of Tourism (DOT).
The grand opening on April 12, 2023, showcased a Human Chess exhibit, where children dressed in costumes act as chess pieces, and GM Torre demonstrated the "Shortest 10 move checkmate move."
The event was attended by notable guests such as the First Philippine Female Grandmaster Janelle Frayna and the Youngest Filipino to attain a FIDE Master rating, Alekhine Nouri.
The museum proudly displays all of the 71-year-old GM Eugene Torre's trophies, medals, and certificates, including major awards like his induction into the International Chess Federation's (FIDE) list of 40 elite chess players at the World Chess Hall of Fame in Saint Louis, Missouri, USA.
Visitors can also see several pieces of memorabilia from Torre's career, including photos, newspaper clippings, awards, and even the IDs he used during his games.
Eugene Torre's contributions to Asian chess are also highlighted in the museum:
being the first Asian Grandmaster (1974)
first Asian to defeat a reigning world champion (Anatoly Karpov in 1976)
a record 23-time member of the Philippine Olympiad team
first Asian to reach the Candidates stage of the World Championship (1982-1983)
member of the Philippine Olympiad team a record 23 times
winner of three individual medals on board one (silver at Nice 1974 and bronze at Malta 1980 and Dubai 1986)
winner of bronze medal on board three at Baku 2016 at the age of 64
official second of Bobby Fischer in his 1992 rematch with Boris Spassky
HAPPENING: The Philippines' 1st Eugene Torre Chess Museum opens today with the @WorldChessHOF 1st Asian Grandmaster in attendance. Accredited by @TourismPHL the museum is located in Marikina City. Follow @GoodNewsPinas_ for more updates on this historic event #ChessEnthusiasts pic.twitter.com/zt9awIDwDa

— Angie Quadra-Balibay (@AngieQBalibay) April 11, 2023
The Chess Museum also features handcrafted chess sets from various countries, such as:
a Star Wars episode II Attack of the Clones set
a Coca-Cola collector's edition chess set
a Super Mario Bros. Collector's edition chess set
a unique wood-crafted Igorot Chess set
a hand-painted chess sets from Peru featuring the historical battle between the Incas and Spanish conquerors
a unique recycled Auto parts chess set from Mexico
Visitors can view the smallest chess set located at the center of the stage, while the biggest chess set, which is as high as a table, can be found in the museum's middle area.
The Eugene Torre Chess Museum located at Pan De Amerikana along Gen. M. Ordoñez St., Brgy Marikina in Marikina City, is a must-visit destination for chess enthusiasts and admirers of Eugene Torre's illustrious career in the sport. Admission is free. The museum is managed and funded by Pan de Amerikana in collaboration with DOT Marikina.
Marikenyo sculptor Lan Magboo had previously crafted a Jose Rizal chessboard with chess pieces patterned after the characters of the Philippine national hero's famous novels.
SEND CONGRATULATORY MESSAGES in the comments below to GM Eugene Torre and the movers behind the establishment of the Philippines' first official Chess Museum honoring the legendary first Asian Grandmaster, located in Marikina City!
Good News Pilipinas is a Lasallian Scholarum Awardee. TELL US your good news story tips by messaging GoodNewsPilipinas.com on Facebook, Twitter, Instagram, or e-mail editor@goodnewspilipinas.com and WATCH Good News Pilipinas TV YouTube & Good News Pilipinas TikTok for more Filipino Pride stories!
Facebook Comments