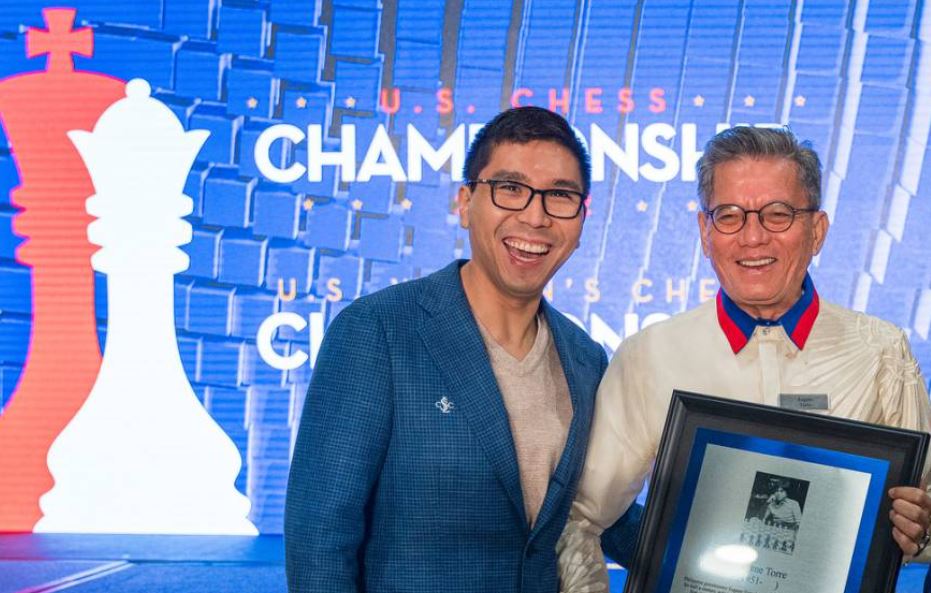 Filipinos in world chess – Hall of Famer Eugene Torre and three-time United States Chess Champion Wesley So – patriotically traded praises on the occasion of the former's induction into the World Chess Hall of Fame held during the opening of the 2022 U.S. Chess Championships where So is defending his title.
First Asian Grandmaster Torre was officially inducted into the International Chess Federation's (FIDE) list of elite chess players during ceremonies hosted by the St. Louis Chess Club in Missouri, more than a year after FIDE announced his selection as the first Asian male Hall of Famer.
The Filipino icon is now commemorated at the World Chess Hall of Fame in Saint Louis with a plaque bearing his image and biography among the world's 40 best chess legends whose careers are deemed helpful in building awareness of the cultural and artistic significance of chess.
The Hall of Fame citation describes the 70-year-old Eugene Torre's notable contributions to the world of chess:
trailblazer for Asian chess for half a century achieving a number of continental milestones
first Asian grandmaster (1974)
first Asian to defeat a reigning world champion (Anatoly Karpov in 1976)
first Asian to reach the Candidates stage of the World Championship (1982-1983)
member of the Philippine Olympiad team a record 23 times
winner of three individual medals on board one (silver at Nice 1974 and bronze at Malta 1980 and Dubai 1986)
winner of bronze medal on board three at Baku 2016 at the age of 64
official second of Bobby Fischer in his 1992 rematch with Boris Spassky
The new World of Chess Hall of Fame inductee personally accepted his plaque on his first trip to the chess capital of the world while proudly wearing a Barong Tagalog bearing Philippine flag symbols and colors designed for the country's athletes by world-renowned Filipino designer, Francis Libiran.
In his acceptance speech, the Filipino grandmaster dedicated his newest feat to his family, country, and the world's chess players, especially Asians.
GM Torre also spoke of his friendship with World Champion Bobby Fischer whom he recalled had finalized his Fischer Random rules while they were together and then proudly acknowledged the achievement of reigning U.S. Chess Champion Wesley So, who started his career in the Philippines before moving to America to continue playing internationally, as the inaugural World Fischer Random Chess Champion who is set to defend his title this October.
"I'm happy to mention that my countryman, Grandmaster Wesley So, is the first and reigning Fischer Random World Champion!" GM Eugene Torre said in his speech delivered on October 4 at the St. Louis Aquarium at Union Station in Saint Louis, Missouri.
The first Asian Grandmaster Eugene Torre acknowledges Filipino American Wesley So in his acceptance speech at the World Chess Hall of Fame induction FULL STORY on @GoodNewsPinas_ #FilipinoAmericanHistoryMonth https://t.co/a91zkcPiJc

— Angie Quadra-Balibay (@AngieQBalibay) October 6, 2022
In his post-game interview, Wesley So acknowledged Eugene Torre as one of his very early coaches and shared that the new Hall of Famer is one of the few people who supported him when he switched federations.
"I'm really thankful he's one of the most decent man in chess you could look up to… I think he's a very talented player and I think he could have gone further if he maybe switched federations like me (laughs)… He's overall a great guy," said Wesley So, who just turned 30 on October 9, in his interview after Round 1 of the US Chess Championships being played at the Saint Louis Chess Club until October 20.
Wesley So honors fellow Filipino GM Eugene Torre who was inducted into the World Chess Hall of Fame. Check out his interview streamed on @STLChessClub #FilipinoAmericanHistoryMonth #Philippinechesshttps://t.co/ei5gxtzN6z

— Angie Quadra-Balibay (@AngieQBalibay) October 6, 2022
SEND CHEERS in the comments below to Filipinos in world chess – Eugene Torre of the Philippines who has been inducted into the World Chess Hall of Fame by the World Chess Federation (FIDE) and U.S. Chess Champion Wesley So! WATCH the induction below:
Filipino GM Eugene Torre earlier today was inducted into the World Chess Hall of Fame during the Opening Ceremony of the U.S. Chess Championships @FIDE_chess @STLChessClub #halloffame #chesschamps FULL STORY on @GoodNewsPinas_ https://t.co/gu0mR56dlM

— Angie Quadra-Balibay (@AngieQBalibay) October 5, 2022
Good News Pilipinas is a Lasallian Scholarum Awardee. TELL US your good news story tips by messaging GoodNewsPilipinas.com on Facebook, Twitter, Instagram, or e-mail editor@goodnewspilipinas.com and WATCH Good News Pilipinas TV YouTube & Good News Pilipinas TikTok for more Filipino Pride stories!
Facebook Comments