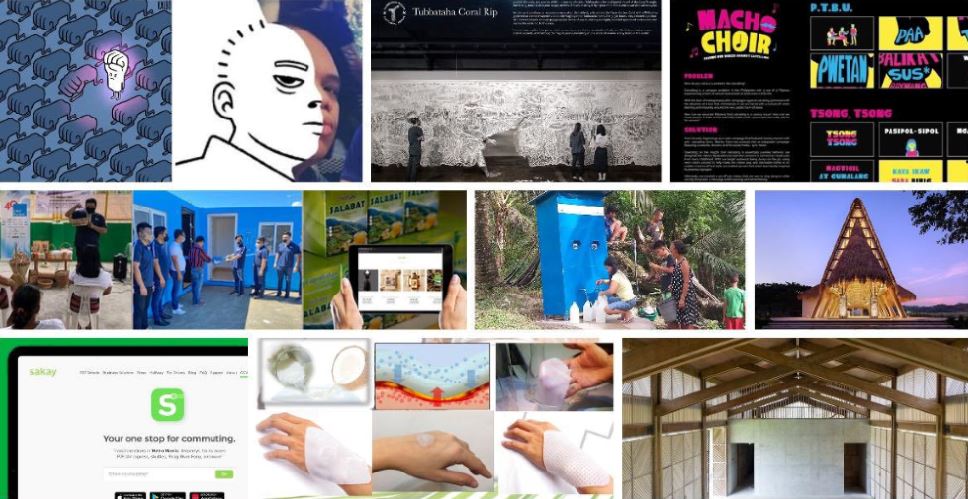 Philippine social issues artwork "Tumindig" viral series on the 2022 national elections and eight other innovative Filipino creations have won the Good Design Awards in Japan.
Kevin Eric Raymundo's viral creation and other Filipino designs that address social justice and environmental concerns including an anti-catcalling campaign and a coral reef paper installation, and innovations such as a mechanical water kiosk, a navigation app, architectural designs, and more, were awarded in this year's design competition organized by the Japan Institute of Design Promotion.
The nine Filipino designs were among the 31 international Good Design Award winners selected in cooperation with foreign design awards from among the 392 awardees from outside Japan, and are among the 1,560 chosen works out of 5,715 entries from 21 countries announced as winners on October 7.
Here are 9 winners of the Good Design Awards from the Philippines:
Contents for the General Public category
Popular comic artist Eric Eric Raymundo's digital design of a fist representing people taking a stand and registering for the Philippine national elections inspired a movement among Filipinos and won for its "high appeal" and accessibility. The fist artwork went viral as it called for participation by creating derivative works. Proceeds from sales were used for various support activities such as donating to the artists' labor union.
Application, Software for the General Public
SakayPH is a navigation app that provides over 50 million transportation routes to over one million commuters.
Construction/Space Design for Public Facility
The MLR Polo Pavilion pushes the boundaries of bamboo architecture and aims to encourage growth and awareness in innovating indigenous materials through contemporary design and technological advancement.
Streetlight Tagpuro is a reconstruction project of an orphanage and rehabilitation center managed by a local NGO.
Exhibition/Display
"Tubbataha Coral Rip" directed by Portla Catulra raised awareness for the Tubbataha Reefs National Park in the Philippines through a coral reef paper installation that was publicly ripped apart in response to an incident that destroyed more than 6,000 square meters of Tubbataha's reefs in 2013.
Initiative and Activity for the General Public
The Macho Choir anti-catcalling campaign aims to counter harassment on the streets through catchy tunes, striking design, and educating the perpetrators themselves.
The Mechanical Water Kiosk of the Alternative Indigenous Development Foundation, Inc. (AIDFI) provides water to about 580 communities in upland areas without water supply in the Philippines.
Project ANI was launched to support the indigenous people in the Philippines during the COVID-19 pandemic.
Other Products for Medical Use and Manufacturing
The Nata de Coco Wound Dressing by PatchMed Cosmetics is made from natural materials that are readily available in the Philippines to provide comfort, protection, and treatment that is easy to apply, painless when removed, and cost-effective.
Japan's Good Design Award program is a uniquely comprehensive platform for design evaluation and advocacy. Its purpose is to discover and promote exceptional designs with the potential to enrich people's lives.
Filipinos who won awards for their designs that promote sustainability and other worthwhile causes include Neil Capistrano and Mark Boni Marter of Neil & Marter who created a Tamaraw-inspired bag and University of the Philippines Diliman (UPD) student Andre Judiel Parabas who designed a low-cost and biodegradable urine rapid-testing kit.
SEND CONGRATULATIONS in the comments below to the Filipino designs that won the 2022 Good Design Awards organized by the Japan Institute of Design Promotion!
Good News Pilipinas is a Lasallian Scholarum Awardee. TELL US your good news story tips by messaging GoodNewsPilipinas.com on Facebook, Twitter, Instagram, or e-mail editor@goodnewspilipinas.com and WATCH Good News Pilipinas TV YouTube & Good News Pilipinas TikTok for more Filipino Pride stories!
Facebook Comments