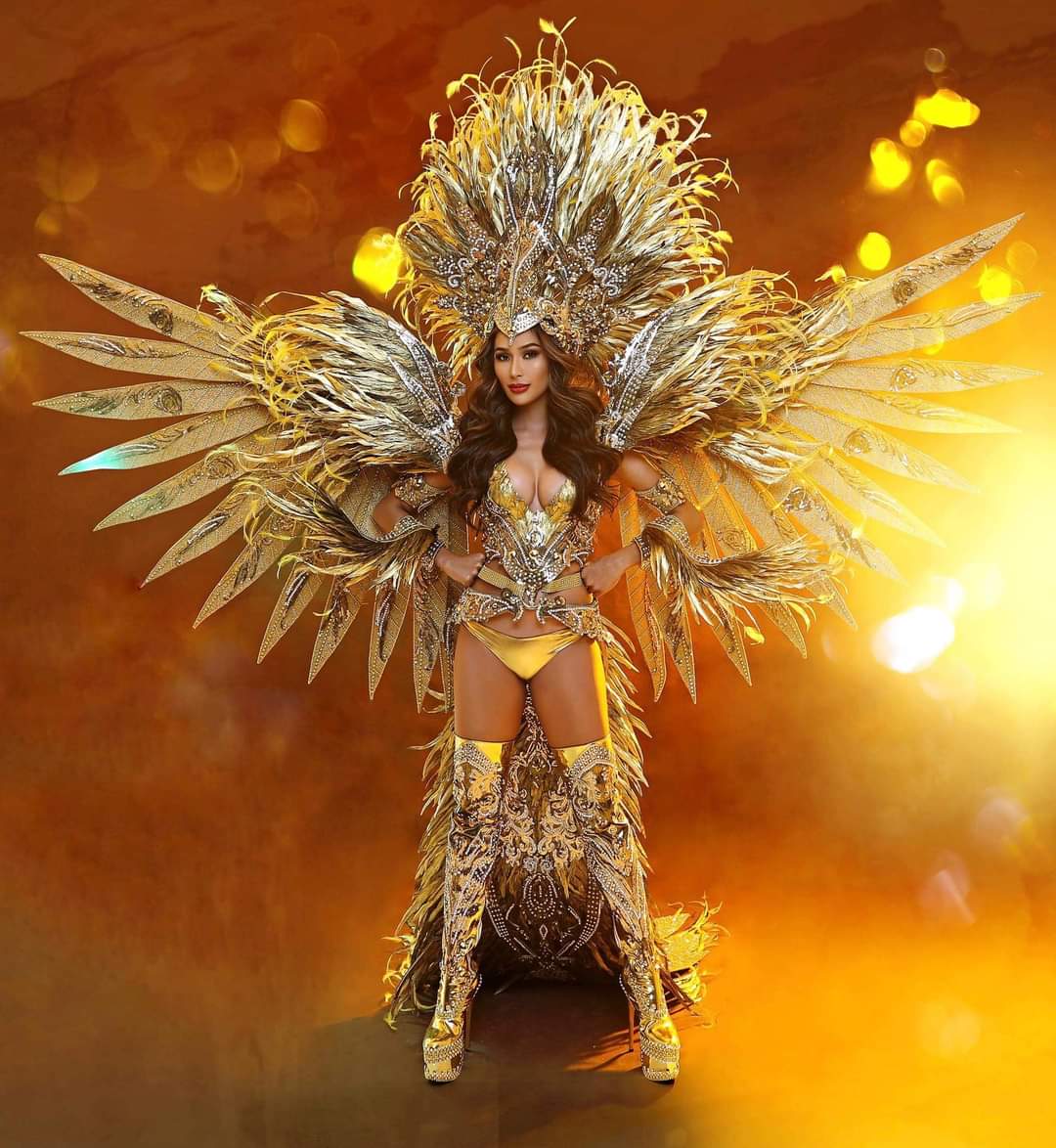 Miss Grand Philippines 2020 Samantha Bernardo has made the Filipino nation proud after showcasing local talent and creativity in her Philippine eagle-inspired national costume in Bangkok, Thailand.
The Palawan-born pageant candidate competed in her golden "Agila" costume during the Miss Grand International (MGI) national costume competition held at DC Show Hall in Bangkok on March 24, 2021.
Costume designer Patrick Isorena explained in his Instagram post that Samantha's eagle costume is patterned after the country's national bird which is also considered as one of the world's most powerful feathered creatures.
"The Costume is inspired by our National Bird – The Philippine Eagle also known as the Monkey-Eating Eagle or Great Philippine Eagle," Isoreno wrote.
"It is considered the largest of the extant eagles in terms of length and wing surface, the rarest and most powerful birds in the world," he added.
The Filipino designer said that through his creation he would like to raise awareness about the Philippine national bird which is one of the most endangered species in the country.
"This costume also intend to create awareness because the Philippine Eagle is critically endangered, mainly due to massive loss of habitat resulting from deforestation in most of its range," Patrick explained on his post.
He further explains that the costume is golden as it represents the characteristic of the Philippines' candidate, Samantha.
"Gold as the main color of the costume to represent the magnificent journey of our Queen. And to pay homage to the MGI Golden Crown.
"Just like gold it is extravagant, wealthy, rich and indestructible, like Samantha – A queen who never gave up on her dreams," Isorena concluded.
In 2019, Miss Grand Philippines Samantha Ashley Lo of Cebu led the online voting for the of the swimsuit and national costume competitions at the Miss Grand International pageant held in Caracas, Venezuela.
In the same year, Cebuana-Palestinian beauty Gazini Ganados bagged the Best in National Costume Award at the Miss Universe pageant held in Atlanta, Georgia for her Philippine eagle-inspired costume made by renowned Filipino designer Cary Santiago of Cebu.
SEND CHEERS in the comments below to Samantha Bernardo and Patrick Isoreno for showcasing the Philippine eagle-inspired national costume in Thailand!
Good News Pilipinas is celebrating its 15th Anniversary in 2021 by giving away prizes! Subscribe to our Good News Pilipinas! TV YouTube channel and enter the raffle by sending us an email to editor@goodnewspilipinas.com
Facebook Comments