The first Philippine-made microsatellite Diwata-1 has received praises for capturing world-best high-resolution images during its test phase.


The Department of Science and Technology's Advanced Science and Technology Institute (DOST-ASTI) and the University of the Philippines Diliman (UPD) announced the recognition given to the Philippine microsat in a report released by Japan's Hokkaido University.
Diwata-1 used the High Precision Telescope (HPT) installed on the Philippine microsat to take photos with a ground resolution of 3 metres at nadir (or lowest point), the highest taken by a satellite of its type.
The HPT "has successfully captured images with a ground resolution of about 3 meters—a world-best for a 50 kg-class microsatellite," the Hokkaido University report said. 
Researchers compared the Diwata-1 images to those taken by the 2,600 kg American earth observation satellite Landsat 8's operational land imager (OLI).
Diwata-1's 3m ground resolution fares better with images that "clearly identify trees, rock surface, mountain paths, river and some man-made objects" compared to that of Landsat 8's OLI's 30m captures with "unclear geographical features and are only able to identify rough structures," the report stated.
Because of Diwata-1's ability to capture clear images, the Philippine Council for Industry, Energy, and Emerging Technology Research and Development (PCIEERD) noted how helpful the microsatellite could be in determining disaster affected areas.
The PCIEERD noted that "with a clearer photo from Diwata 1's HPT camera, it will be easier to see which areas are affected by natural and even man-made disasters such as floods and fires."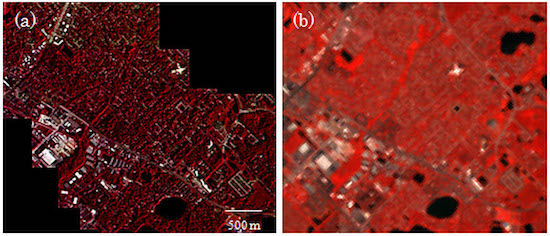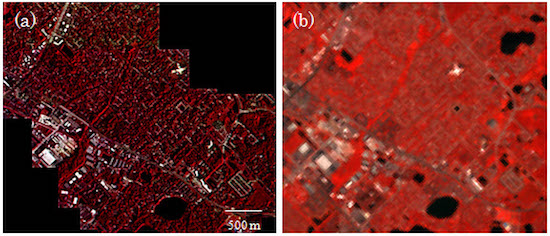 Diwata-1 has been on normal operations since August, capturing images on a regular basis to provide data that would help improve the country's damage assessment from disasters, weather detection technology, fisheries and vegetation survey, and observation to the environmental changes.
The Philippine Earth Data Resources Observation (PEDRO) located in Subic, Zambales is the ground station to receive data from Diwata-1.
Diwata-1 is a product of thesis studies of Filipino scientists and joint project of University of the Philippines and DOST in cooperation with Hokkaido and Tohoku Universities in Japan where the Filipino scientists are studying for their Masters program.
Engineering students Ariston Gonzalez,DelburgMitchao, John Leur Labrador, Juan Paolo Espiritu, Julian MarvickOliveros, Kaye Kristin Vergel and Menjamin Jonah Magallon built the satellite are from the University of the Philippines.
DOST's Advanced Science and Technology Institute senior research specialists Gerwin Guba and Harold Bryan Paler are also part of the team.
The next Philippine-made microsatellite and Diwata-1's successor, the PHL-Microsat- 2, is set to be launched in 2017.
Facebook Comments