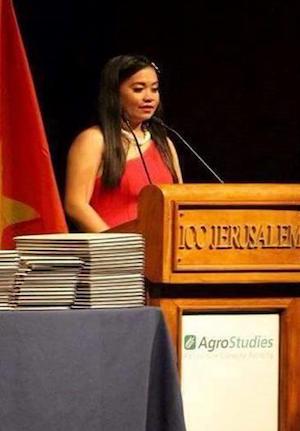 Five Filipino students of Agrostudies On-The- Job Training Program in Israel received the Excellence Award for Extracurricular Activities during their graduation ceremony at the Jerusalem International Convention Center.
According to Geoffrey Olayan, Filipino Community President of Israel, the Filipino students were recognized for their diligence and intelligence.
The students underwent the Agrostudies OJT Program for an 11-month course of academic studies and practice in the latest agro-based technology and techniques used in Israel's modern farms where they were exposed to dairy production, poultry growing, mushroom cultivation, citrus farming, horticulture, and agricultural pollination.
The Filipino Agrostudent awardees came from different Philippine universities:
Michelle Rafael, Tarlac Agricultural University
Anna Muriel Castro, Tarlac Agricultural University
Ruxell Jay Sorela, Central Mindanao University
Carol Damugo, Western Philippine University- Palawan
Raymund Jay Antipuesto, Western Philippine University- Palawan
Michelle Rafael, a senior at Tarlac Agricultural University, spoke on behalf of the awardees and the 500-member Philippine delegation, the largest group in the program.
"We have had the opportunity to gain knowledge and skills that we would not have been able to acquire in our countries. I believe that these experiences have helped us grow. We are now in the perfect position to give back to and serve as leaders in our local communities. To accomplish these forward-looking goals, we need to do our job as agriculturists in our country," the senior Agricultural Studies major said.
The Philippine delegation is the 11 th batch since 2005. Over 1,400 OJT students of batch 2015- 2016 come from 13 different countries in South East Asia and Africa.
Facebook Comments