Wearable art made with Piňa fabric hand-painted with the artwork of Filipino children diagnosed with autism were presented on a fashion runway at the Philippine Center in New York.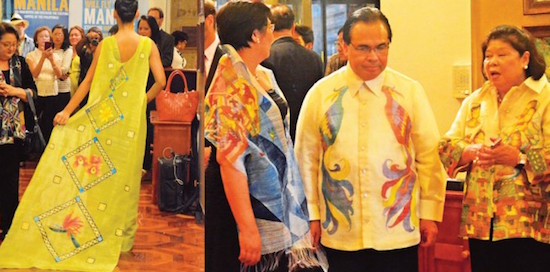 Five young artists hand-painted their masterpieces on the silk-like threads of the piňa fabric. The children are trained in Kalibo, Aklan by the famed artist Anna India de la Cruz-Legaspi.
The children's art were inspired by the works of Filipino national artists Fernando Amorsolo, Manuel Baldemor, Carlos "Botong" Francisco, Abdulmari Imao, Jose Joya, Mauro Malang, Vicene Manansala, Oscar Zalameda, among other noteworthy artists.
Filipino-American designer Anthony Cruz Legarda then transformed the specially designed Philippine fabric woven from pineapple fibers into evening wear, skirts, wraps, shawls, along with updated looks for the Filipiniana gowns and Barong Tagalog.
Legarda noted the young artists' work, "The challenge really is, it's a new medium. They're used to painting on canvas but now they're painting on piňa. After a month or so of doing it, it became easier for them to express their ideas and emotions. It's very challenging but the artistry is there. They're really very artistic people."
Erlinda Borromeo, Founder and President of Autism Hearts Foundation Philippines, revealed the process of the creation of the special works of art. "For this fashion show, we are showcasing the talents of our special artists with autism as young as 14 years old," shared Borromeo to media.
San Francisco-based Autism Hearts Foundation led the presenters of the Fashion Arts Autism Benefit (FAAB) Fashion Show to showcase how children with autism can be helped to live full and meaningful lives and contribute to mainstream society.
The works will be on tour in Manila, New York, San Francisco, and Geneva. The gowns will be showcased in April 2016, in time for the celebration of the next World Autism Awareness Day.
The year-long fashion tour ends in April 2017 with the gowns given to the winning bidders in Manila. Organizers intend for the proceeds of the auction to help the participating artists save up for their future.
Facebook Comments