The nationwide consumer outlook in the Philippines indicate a new record high, according to the Consumer Expectations Survey of the Bangko Sentral ng Pilipinas.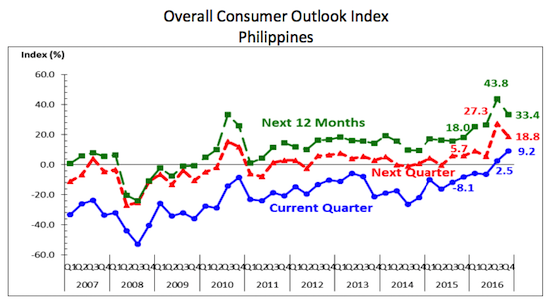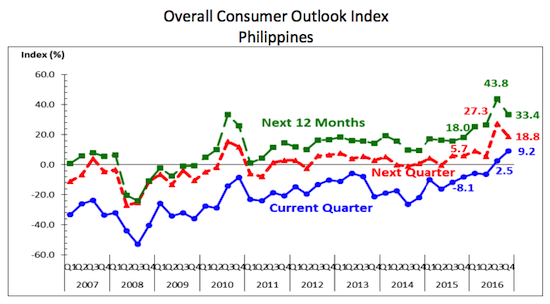 Filipino consumers' overall confidence in the economy rose to an all-time high of 9.2 percent from 2.5 percent in the third quarter of 2016.
The Central Bank Consumer Expectation Report noted the two consecutive quarters that registered a positive rating, indicating the increased optimistic views versus pessimistic views of households.
Survey respondents gave the following reasons for their increased confidence in the economy:
improvements in the peace and order situation,
effective government policies (e.g., end to job contractualization or "endo" and no-window-hour policy in the number coding scheme),
anticipated increase in salaries, and
availability of more jobs.
The Central Bank survey respondents also cited:
assistance from government such as the Pantawid Pamilyang Pilipino Program (4Ps),
new administration/president,
less corruption,
anti-drug campaign and
improvement in services of government agencies (e.g., NBI clearance and birth certificate)
The Consumer Expectations Survey (CES) is a quarterly survey of a random sample of about 5,000 households in the Philippines. Consumer confidence is measured across three component indicators, namely, the country's economic condition, family financial situation, and family income. For Q4 2016, the strongest confidence registered on the country's economy (21.9 percent), followed by family income (4.9 percent) and family financial situation (0.7 percent).
Facebook Comments