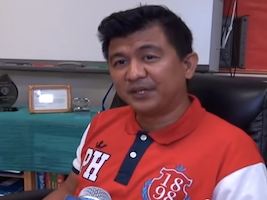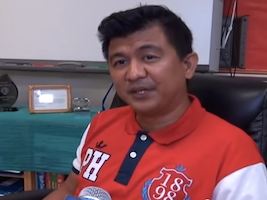 Say what you will about math as a school subject, but this Queens-based Pinoy teacher makes studying numbers interesting and fun for his students.
Award-winning Pinoy math teacher, Ramil Buenaventura ingeniously incorporates rapping, dancing and movies with his math lessons.
He teaches Algebra to seventh and eighth grade students at Renaissance Charter School in Queens, New York. But does his unorthodox style of teaching really work?
In a TFC America feature one of the math students, Andres Aguirre, admits Buenaventura's method of teaching may be unconventional but it resonates well with students like him. "Sometimes lectures do get boring, I will admit," Aguirre said. "This is modern, a lot of use of technology, and this is meant to keep you awake and meant to help you learn." Another student, Caitlyn De Jesus, says that she remembers things better, thanks to Buenaventura's dance moves.
The teacher's talent and dedication did not go unnoticed outside of the classroom. Buenaventura has been given the New York Daily News Hometown Heroes of Education Award.
Buenaventura says that the "relatively informal culture" of American classrooms suited his teaching style. "My style is to connect with the students: I am your friend and I am your teacher," Buenaventura told the Daily News. "In my class you see me rapping, singing, dancing on the tables—I even made a music video about math to grab their attention."
The 44-year old Buenaventura hails from Mandaluyong and taught for 13 years in Manila including in La Salle Greenhills before he came to the United States as one of the 169 Filipino teachers that became a part of an exchange program that then-Mayor Michael Bloomberg created.
Buenaventura's teaching prowess was also awarded second place in the PBS Teachers' Innovation awards in 2011. The Hometown Heroes in Education award honors teachers and educators "for their good deeds, which often go unnoticed." The awards body recognizes school workers who demonstrate unwavering "generosity, compassion, dedication, selflessness, and ingenuity." Out of more than 200 nominations, Buenaventura was chosen as one of the 11 educator awardees.
The award came with a fellowship grant that would allow him to make a difference not just inside, but also outside of the classroom.
"The good thing is I will be part of the voice of teachers here in New York," he said. "Na kakausapin namin ang lawmakers, yung mga union leaders to talk about policies that will help improve the teachers teaching and learning development."
Facebook Comments