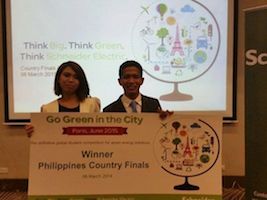 Polytechnic University of the Philippines (PUP) engineering students John Paul Santos and Christian Sta. Romana will be flying to Paris as finalists to the Schneider Electric Go Green in the City Global Finals.
The state university team won a slot in the international energy efficiency competition after winning the East Asia regional finals.
The PUP Electronics Engineering team bested other competitors from different schools in the Philippines during the Country finals, won the East Asia regional finals, and then finally made it to the top 12 finalists now preparing for the final stage of the competition to be held on June 22 – 25 in France.
The winning concept of Santos and Sta. Romana is called the Electrifilter, a device that turns waste water into electricity that can power up lampposts, light up sidewalks and roads, provide charging or energy stations, enable security systems, charge batteries and can divert the excess energy to the main power grid. Not only that, the device filters the waste water to make it good enough for general use and makes natural fertilizers out of the impurities filtered out. The team is also working on improving the design to make the filtered water potable so that in times of calamities both electricity and clean water will be available to affected communities.
The PUP engineering students to the global competition have been planning for the finals since Go Green in the City made the announcement of the top 12 on April 17.
Santos told GoodNewsPilipinas, "We are now improving our communication skills, enhancing our presentation skills, the content of our slides and highlight the strength of our research. We are also improving our prototype for better performance and output. Also preparing how we will present in Paris, France as well as the possible questions that will be asked during the competition and interviews."
Schneider Electric established the Go Green in the City competition to involve the youth in formulating and discovering environmentally-friendly and sustainable energy technologies.
Back in 2013, Alyssa Tricia Eloise Vintola and Lorenz Ray Payonga from the Ateneo de Manila University came home from France as the Grand Champions of Go Green in the City. The champions are now coaching the PUP team as it now seeks to once again bring pride to the Philippines as it represents the country against the world's best universities.
Facebook Comments