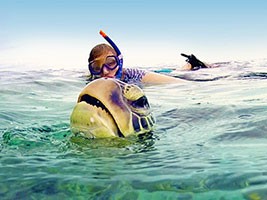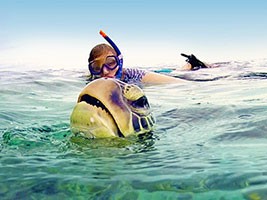 Want to see for yourself why travelers keep coming back to the Philippines? Sab's got you covered.
Sab or Sabrina Iovino runs a blog called Just One Way Ticket where she has written about her multiple visits to the country.
The German Italian traveler and photographer encourages readers to include the Philippines in their bucket list for 2015, noting that the country is "becoming the next big travel destination in South East Asia."
Sab's most recent annual visit to the Philippine islands inspired her to share 20 photos that showcase the country's beauty and best offerings and adding more reasons for visiting.
Sab has been traveling around the globe since 2008 and has been to 50 countries. She proudly declares the Philippines as her favorite country, which has the most beautiful beaches in the world from her perspective.
In her 7 years of world travels, she has been to the Philippines 5 times, starting in 2009 and coming back every year.
The Filipinos have a warm and welcoming culture. Sometimes, a tourist loves the country enough to want to become Filipino. Some like Sab make her visits an annual tradition.
Following are some more reasons Sab says everyone should come to the Philippines.
Travel the Philippines 2015: 20 Photos that will make you pack your bags and go
Perfect beaches

It is easy to see why Sab would rank the Philippine beaches at the top of her list. She says it is the most convincing reason why everyone should visit the Philippines. Perhaps one look at the photos of beaches like Calitang Beach in El Nido, Daku Island in Siargao, Boracay's famous White Beach, Paliton Beach in Siquijor ,Guyam Island in Siargao, Sugar Beach and Malapascua's Bantayan Bounty Beach will already be reason enough to make anyone visit the country.

Colorful Festivals

The Philippine culture has a wealth of various festivals and celebrations. Sab says that you simply cannot leave the country without experiencing some of these festivals that make the country unique. She also advises that everyone should mark their calendars for 2015 if they want to catch any of these festivals: For the summer, Marinduque's Moriones and Vigan's World Costume take center stage. For the rest of the year, there is Bohol's Sandugo in July, Davao's Kadayawan in August and Bacolod's Masskara in October.

The Beauty of Palawan will leave you Speechless

With the amount of recognition Palawan has been getting like Palawan ranking #1 on Conde Nast Traveler's Top Islands in the World, Sab doesn't think that anyone needs anymore convincing and instead lets the pictures do the talking.
To read up on the rest of Sabrina's list, visit her blog post.
You can reach Sab on Facebook and Twitter. Follow Sabrina's blog, Just One Way Ticket for her travel adventures and straightforward, no-nonsense advice for travelers and wannabe travelers alike.
Facebook Comments