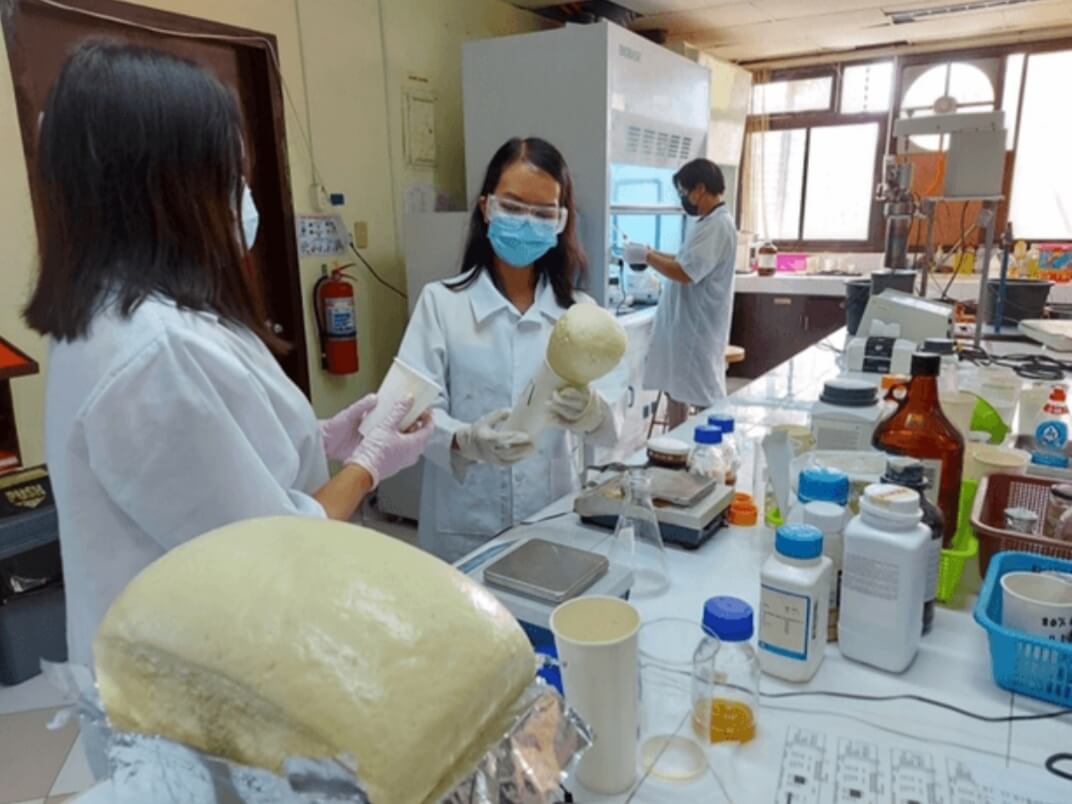 Plant-based packaging material have been developed by researchers from the Mindanao State University-Iligan Institute of Technology (MSU-IIT).
The MSU-IIT team was able to convert plant-based raw materials and its waste by-products into valuable and renewable polyols and polyurethanes (PU) that can be used for commercial production of coatings, insulation, and packing foam materials.
The innovation uses renewable feedstock to produce highly functional polyols and PU-based bioproducts for commercial applications such as rigid insulation foams, semi-flexible packaging foam materials, and waterborne anti-corrosive coatings.
The sophisticated green technology of Dr. Arnold A. Lubguban and his team at the MSU-IIT BioProducts Research Laboratories (BPRL) was developed in collaboration with the Department of Science and Technology – Philippine Council for Industry, Energy and Emerging Technology Research and Development (DOST-PCIEERD).
The project had partner industries that provided support that include Chemrez Technologies, Inc. and Nuevochem Specialties, Inc.
"One of our innovations provides baseline data and methods for the commercialization of biomass-based polyols (Phase 1) and polyurethane foam insulation sheets (Phase 2) through an environmentally friendly process that is also characterized by reduced production costs because the raw materials are readily available by-products or waste products," said Dr. Lubguban.
DOST-PCIEERD executive director Dr. Enrico C. Paringit underscored the council's pivotal role of becoming a good corporate neighbor and a responsible steward by providing innovative solutions that will preserve and sustain our natural resources for future generations.
"Our main goal is to fully harness the potentials of science, technology, and innovation and constantly improve what is essential to the lives of those we serve," Paringit remarked. "We will constantly provide new opportunities and invest in more efficient and environmentally sustainable greener technologies to build a more livable community," he continued.
This year the project team will focus on the pilot scaling and optimization of their bio-based polyols to about 40 liters for PU insulation, coatings and packing applications. Once successful, this innovation will definitely give valuable contribution to various industries and at the same time benefit the environment at large for more sustainable initiatives.
The "Production of Bio-Based Polyols and Polyurethanes for Industrial Applications," is a 36-month program with two (2) project components that are aimed at developing bio-based polyols and PUs from renewable resources. For more information, please contact Dr. Arnold A. Lubguban at aalubg@gmail.com  or check out their Facebook page https://web.facebook.com/BPRL.msuiit
Alternatives to plastic material have been developed by Cavite's De La Salle University-Dasmarinas Senior High students including an alternative plastic straw using Saba fruit feelings and rice- water-based alternative to single-use plastic.
SHARE THIS STORY about the new plant-based packing material developed by MSU-IITand DOST to encourage others to innovate using green technology.
Good News Pilipinas is celebrating its 15th Anniversary in 2021 by giving away prizes! Subscribe to our Good News Pilipinas! TV YouTube channel and enter the raffle by sending us an email to editor@goodnewspilipinas.com
Facebook Comments