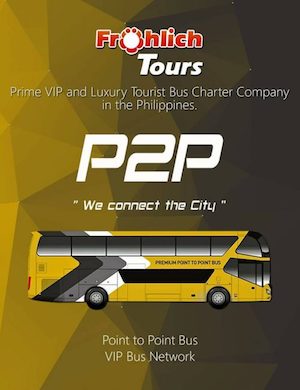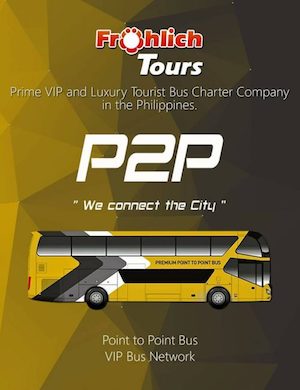 New point-to- point buses have been deployed in EDSA to ease traffic jams on Metro Manila's main highway.
The double-decker buses cut travel time by loading and unloading only at terminals and leave on time according to a fixed schedule, allowing passengers to get a ride at their preferred time, according to the Department of Transportation.
The P2P buses charge PhP55 per trip from Ayala in Makati to Trinoma in Quezon City. The yellow buses operated by Froehlich Tours offer 50% discounts on weekends.
The new premium VIP transport also promises passenger comfort with pre-booked guaranteed seating for reclining sleeper seats with foot rests and monitors with the latest movies.
The lower floor of the buses features a cabin with restrooms, lounge, cooler, flatscreen TV monitors with KTV functions.
The P2P double deckers are PWD-friendly, equipped with CCTV cameras, and passed Euro 5 emission standards.
The point-to- point bus service is among measures being implemented by the government to ease chronic traffic jams in the capital of 12 million people, which a Japanese study says results in daily economic losses of P2.4 billion.
Facebook Comments