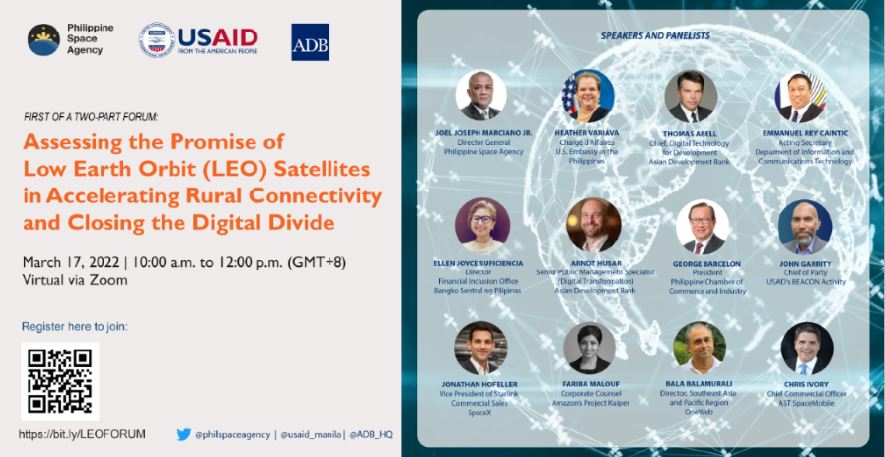 The public is encouraged to attend a virtual public webinar to analyze the promise of low Earth orbit (LEO) satellites in meeting the demand for internet connectivity in remote areas in the Philippines.
The webinar titled, "Assessing the Promise of Low Earth Orbit (LEO) Satellites in Accelerating Rural Connectivity and Closing the Digital Divide", will be held on March 17, 2022, via Zoom.
The Philippine Space Agency (PhilSA) together with the United States Agency for International Development's (USAID) Better Access and Connectivity (BEACON) Activity and the Asian Development Bank (ADB) is organizing this public information initiative ahead of the planned satellite internet test deployments through PhilSA's INCENTIVISE (Introducing Non-Geostationary Satellite Constellations Test Deployments to Improve Internet Service) project.
PhilSA accepted the proposal of London-based satellite internet company, OneWeb, in February 2022, after launching an open call and inviting non-geostationary orbit (NGSO) satellite internet operators (SIOs) to test services in the country ahead of possible full commercial service.
The capability of LEO satellite constellations to provide affordable and high-speed connectivity in previously isolated parts of the world is immensely promising, especially for an archipelagic nation like the Philippines.
Invited speakers from PhilSA, USAID, ADB, the Department of Information and Communications Technology (DICT), National Telecommunications Commission (NTC), Bangko Sentral ng Pilipinas (BSP), and the Philippine Chamber of Commerce and Industry, as well as satellite operators OneWeb.
Amazon Project Kuiper and other invited LEO operators and speakers will take a closer look at how satellite internet would be able to address geographical and financial challenges in bridging the digital divide in the Philippines.
John Garrity, Chief of Party of USAID's BEACON Activity, will moderate the discussion and the open forum. This webinar is the first of a two-part series, with the second scheduled in May 2022.
The Philippine Space Agency and United Nations are also working on international space cooperation.
TELL US your good news story tips by messaging GoodNewsPilipinas.com on Facebook, Twitter, Instagram, or e-mail editor@goodnewspilipinas.com and WATCH Good News Pilipinas TV YouTube & Good News Pilipinas TikTok for more Filipino Pride stories!
Facebook Comments